The worldwide electric cars market is expected to reach $256.13 billion by the end of 2023 and $1.103 trillion in 2030. What is the current state of the electric vehicle market, and what does its future look like? 
The Current State of EVs
Electric car and vehicle sales have already broken records in 2023. Over 2.3 million electric cars were sold in the first quarter of the year, which is about 25 percent more than in the same period of 2022. Experts also predict to see 14 million in sales by the end of 2023. As a result, electric cars could account for 18 percent of total car sales across the full calendar year.
If the EV sales growth experienced in the past two years is sustained, CO2 emissions from cars can be put on a path in line with the Net Zero Emissions by 2050 Scenario. The scenario shows a pathway for the global energy sector to achieve net zero CO2 emissions by 2050 and aligns with the United Nations Sustainable Development Goals.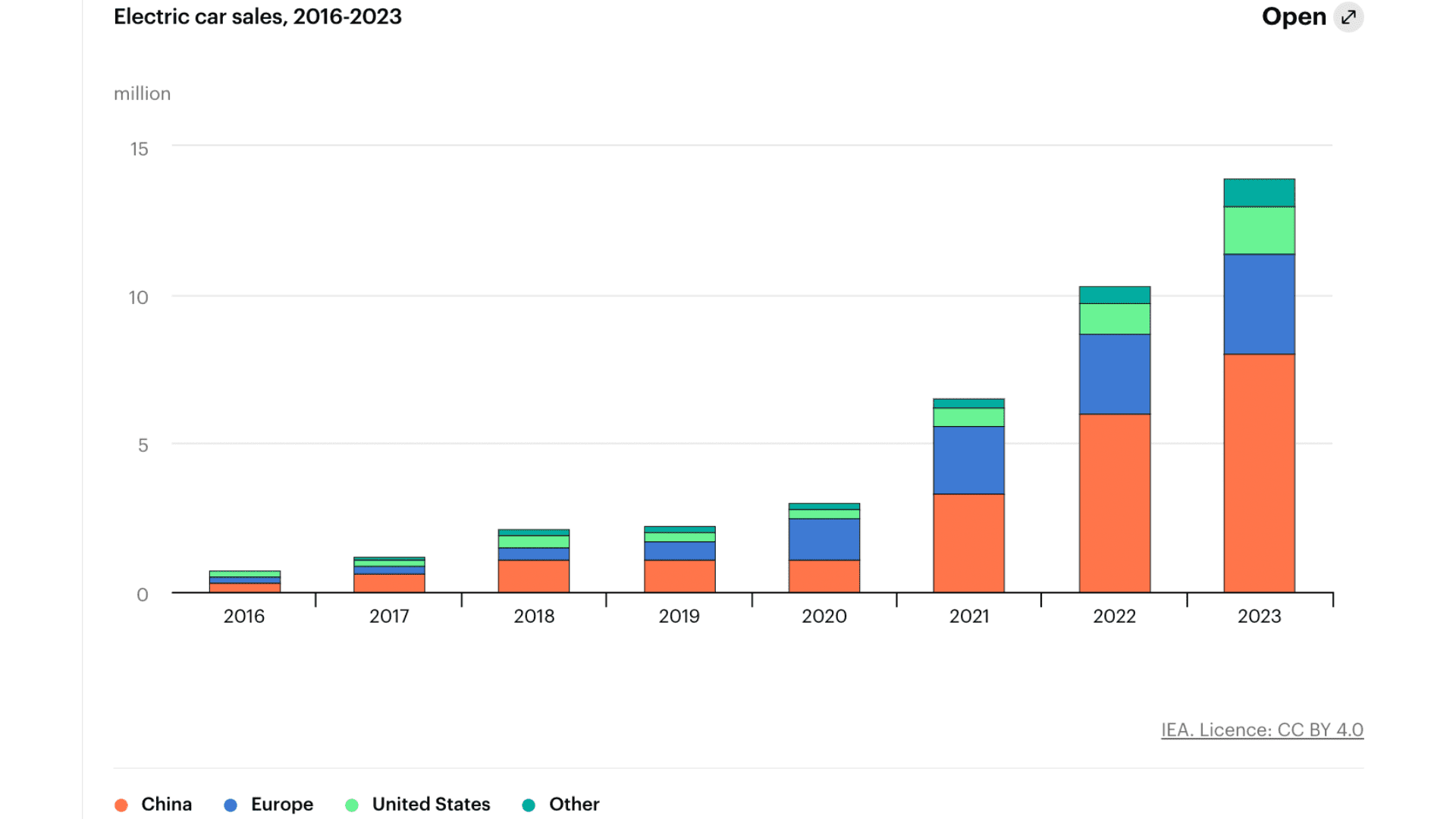 However, despite growth in select places like China, some countries in Europe, and some U.S. states, electric vehicle sales need to grow a great deal in other regions around the world to reach net zero emissions by 2050. Notably, China accounted for nearly 60 percent of all new electric car registrations globally in 2022. Norway also leads in rates of EV deployment, with the share of electric car sales reaching 88% in 2022. 
Investments in EV Infrastructure and Policy
Some of the most impactful drivers for current and future growth in the electric vehicle industry are policies, incentives, and infrastructure that promote and/or reward electric vehicle investment.  
In the United States, for example, the Inflation Reduction Act of 2022 (IRA) allocated a great deal of money and incentives for the electric vehicle industry. The law allocates $3 billion for electrifying the United States Postal Service fleet and $1 billion to states, municipalities, Indian tribes, or non-profit school transportation associations to replace class 6 and 7 heavy-duty vehicles with clean EVs. It also extends the EV tax credit of up to $7,500 per vehicle through 2032, which will allow millions more consumers to utilize this credit. 
Some U.S. states are also taking matters into their own hands. Nine states, including New York, California, and Washington, have recently adopted the Advanced Clean Cars II rule that will require all new passenger cars, pickup trucks, and SUVs sold in the state to be zero-emission vehicles by 2035.
The European Union has adopted similar CO2 standards. Starting in 2035, all new cars and vans sold in the EU will be zero-emission vehicles. The plan also requires that the average emissions of new cars drop by 55 percent by 2030, as compared with 2021's vehicle emissions.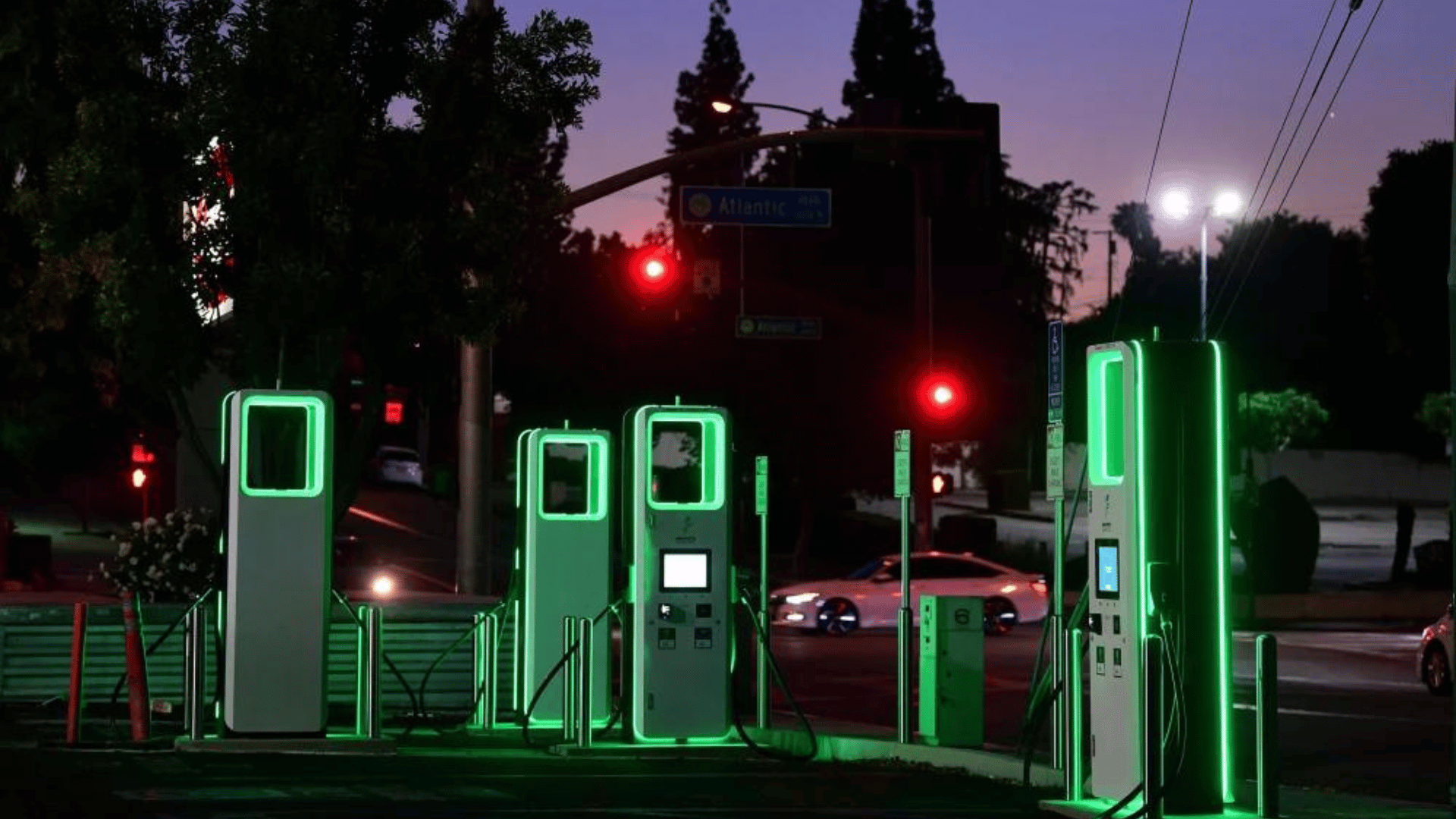 Publicly accessible electric vehicle infrastructure such as charging points is also increasing globally. At the end of 2022, there were 2.7 million public charging points worldwide, which is an increase of about 55 percent as compared to 2021.
According to the Net Zero Scenario, 17 million publicly available charging stations will need to be installed by 2030. Some companies are working to reach this number. For example, General Motors, BMW, Honda, Hyundai, Kia, Mercedes, and Stellantis recently announced their joint plan to build a large North American electric vehicle charging network that will nearly double the number of quick-charging plugs in the U.S. and Canada by 2030. Given that the United States and Canada currently have just under 8,700 direct-current fast-charging stations, this partnership is vital to speed up electric vehicle sales in North America. 
Sustainable Steel & Electric Vehicles
One advancement for the electric vehicle industry is the advent of more sustainable manufacturing products. For example, U. S. Steel announced that the production of its new electrical steel product, InduX®, will begin this fall. InduX is a wide, ultra-thin, and lightweight electrical steel that carries the unique magnetic properties needed to make EV motors run more efficiently. In an EV, the better the magnetic properties, the better the motor efficiency, resulting in more vehicle mileage.
InduX will be produced at U. S. Steel's Big River Steel facility, the first steel mill in North America to earn site certifications from both LEED and ResponsibleSteel™, a global organization focused on decarbonization through the socially and environmentally responsible production of net-zero steel. The InduX manufacturing process produces up to 75% less CO₂ emissions versus integrated steel making, and the steel itself uses up to 90 percent scrap steel as a raw material. Once in operation, the mill is expected to manufacture up to 200,000 tons of InduX electrical steel per year. 
As U. S. Steel Senior Vice President and Chief Strategy and Sustainability Officer, Richard L. Fruehauf, explained in a statement, "We know achieving our goal of net-zero GHG emissions by 2050 requires extraordinary action from everyone, and we are doing our part by collaborating to find new business approaches and to develop new technologies. Moreover, steel's adaptability and near-infinite recyclability make it the ideal material to build safe, modern, and sustainable societies."
For more information on InduX® electrical steel and U. S. Steel, check out the full episode now: