The NFL uses digital twins, a virtual model that accurately reflects a physical object or person, to boost safety, sustainability, and efficiency across the league. 
Digital Athlete 
As a core component of its health and safety initiative, the NFL developed the Digital Athlete with Amazon Web Services (AWS). The Digital Athlete leverages AI and machine learning to create a virtual representation of an NFL player, sorted by position group. It can be used to better predict and prevent player injury, making the game safer for players. 
AWS' technology is combined with the NFL's data on player activity, equipment choices, speeds, weather, and more to get an accurate picture of each athlete. Given the enormous amount of data garnered from each play in every football game, the algorithms that run in-game scenarios are constantly improving and becoming more accurate. 
As Sam Huddleston, the Principal Data Scientist at Biocore, the NFL's Engineering Partner, explained, "We're leveraging computer simulation in order to generate injury reconstructions." For example, the algorithms can simulate if a player had been wearing a different helmet or cleat and if the game had been played in different weather or on a different field surface.
With help from the Digital Athlete, the NFL will "…develop individualized training and recovery regiments, conduct real-time risk analysis for injuries during games, and identify and evaluate additional player safety initiatives, including around equipment, rules changes, and coaching techniques."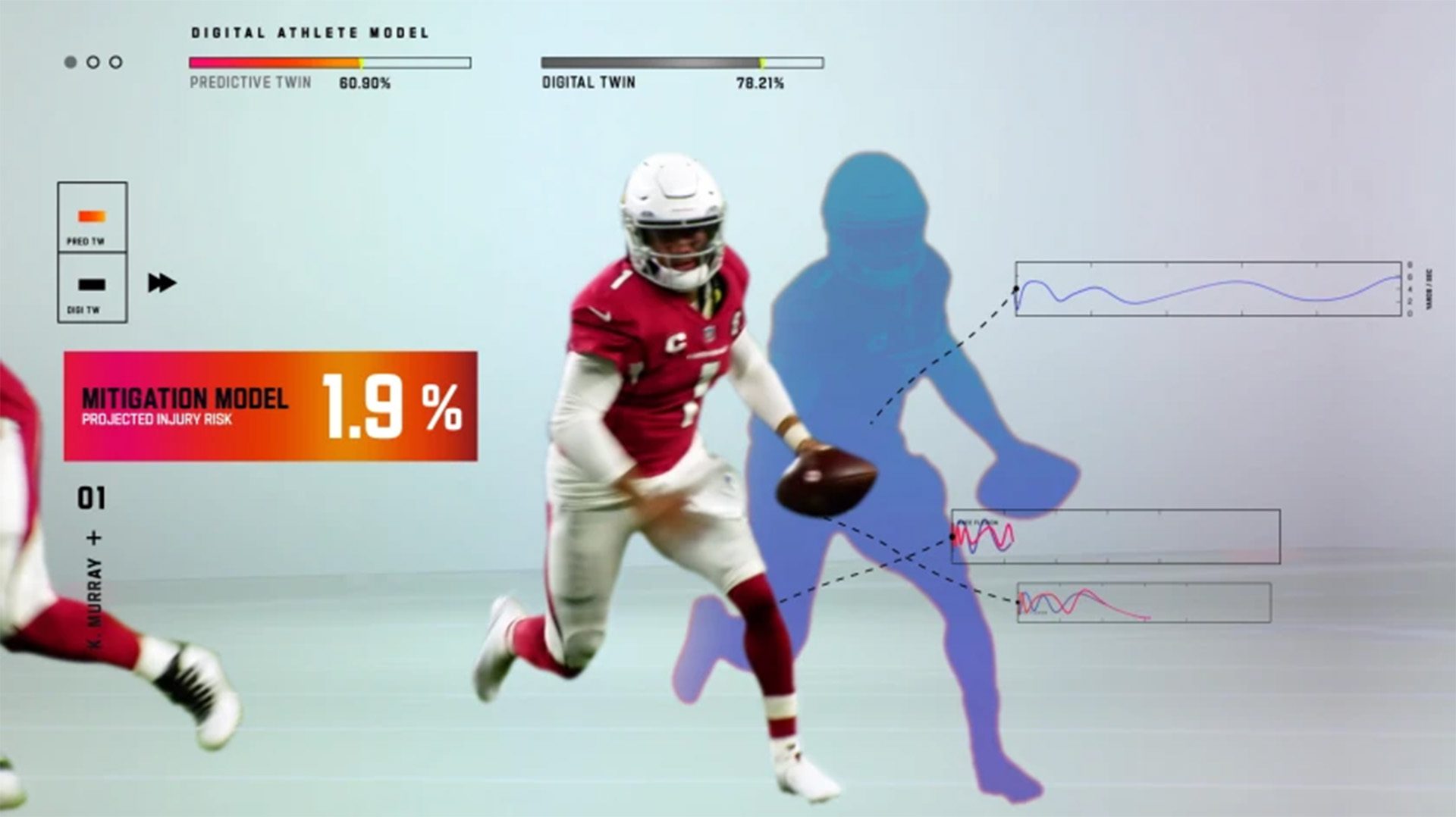 Stadiums' Digital Twins
Apart from players' safety, NFL teams' stadiums are starting to use digital twins for sustainability and efficiency purposes. For example, the SoFi Stadium, one of the world's most innovative stadiums and the host of last year's Super Bowl, utilizes digital twin technology.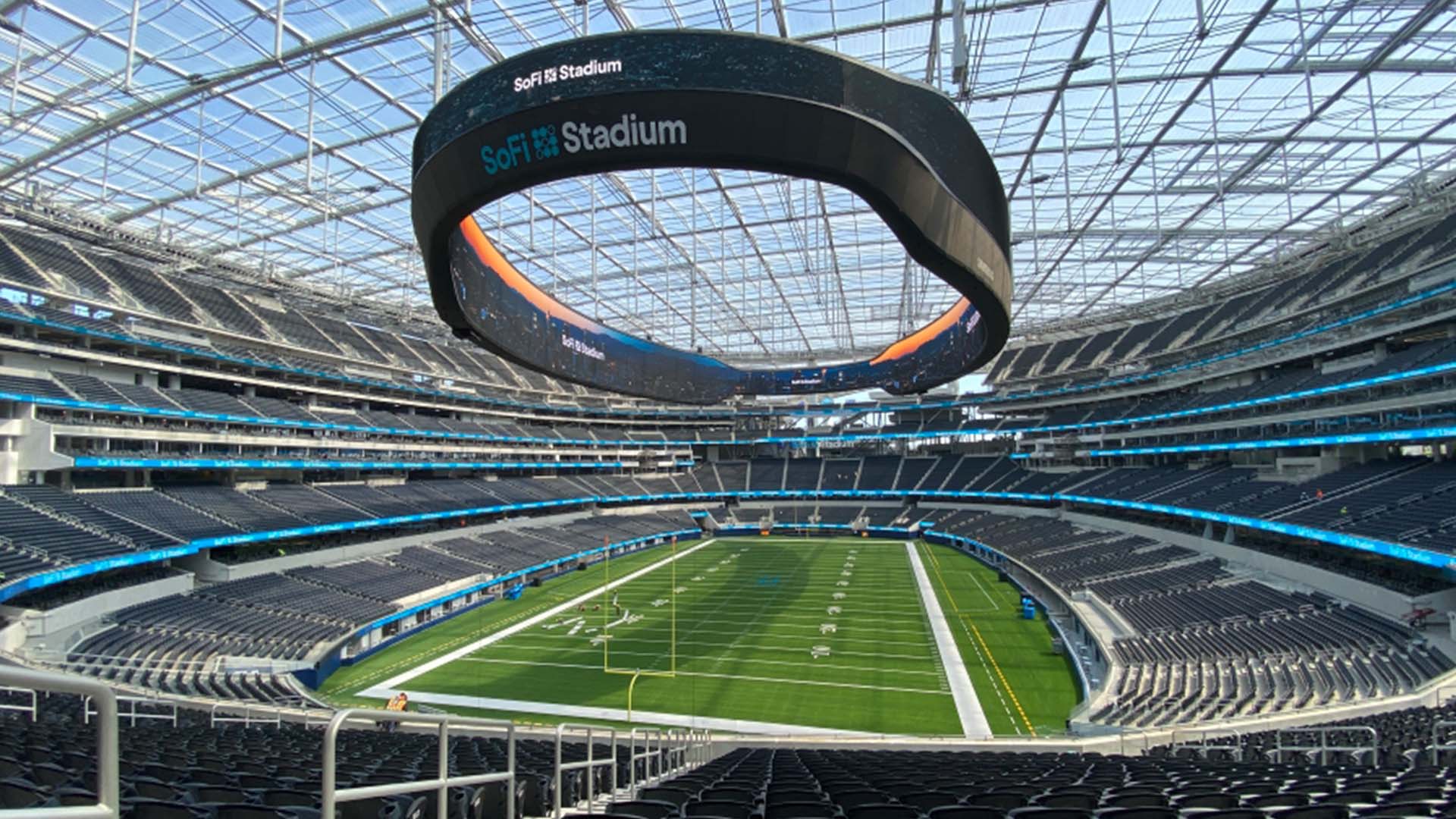 Designed by global technology company Willow, SoFi Stadium uses its digital twin to support the daily management of the building. With the stadium covering 3.1 million square feet with a 70,000-seat capacity, this virtual model is vital for management. The digital twin includes information on the facility equipment, current conditions in the building, and more to give management a holistic view of the stadium, its spaces, and how to best utilize them. 
For example, the digital twin detected an area of the building that had an elevated temperature setting. Willow's analytics team quickly identified which unit was cooling that area of the stadium and addressed the problem immediately. 
The digital twin of SoFi stadium also helps with game day operations. On a typical NFL game day, there are 6,000 frontline staff members and 500 full-time employees working at SoFi Stadium. For special events like the Super Bowl or the 2028 Olympic Games that the stadium will host, this number of staff greatly increases. The digital twin shows new employees or people not familiar with the arena exactly where they are supposed to be. It also provides contractors and vendors with a concise depiction of the building plan before they even step onto the site.
As Chan Onechach, Vice President of Facility Operations at SoFi Stadium and Hollywood Park, discussed, "The digital twin has become extremely useful as a time-saving mechanism in our day-to-day operations. I have no doubt we will continue to find ways to improve how we run the stadium thanks to what it can tell us."
Check out other technology innovations of the 2022 NFL Season HERE. 
For more information on digital twins, check out everything you should know about digital twins, Singapore's digital replica, the digital copy of Ancient Olympia, and how the NFL uses digital twins. 
To see how digital twins work in action, we visited Microsoft's campus in Redmond, Washington. Check it out: