With new art forms born each day, it's easy to lose touch with our roots. Trends like latte art and virtual art are fun and innovative, but they can make us lose sight of valuable art forms that have been around for ages. Take glassblowing: the techniques from this art have been passed down from master to apprentice for roughly two thousand years. Even though artists now use more technologically advanced means, the art of glassblowing is still very much alive. One way this art form has evolved, however, is via mobile glassblowing. Technology now allows glassblowers to travel with their craft, bringing workshops to cities across the country and around the world.
In order to have a mobile glassblowing station, an artist needs the proper tools. Previously, glassblowers needed a studio or workshop because furnaces were bulky and impossible to transport. Today, there are mobile furnaces. These glass furnaces are portable and can fit into station wagons, SUVs, and vans and can be taken on the road with the artist. The mobility allows  artists and instructors to make themselves available for classes almost anywhere.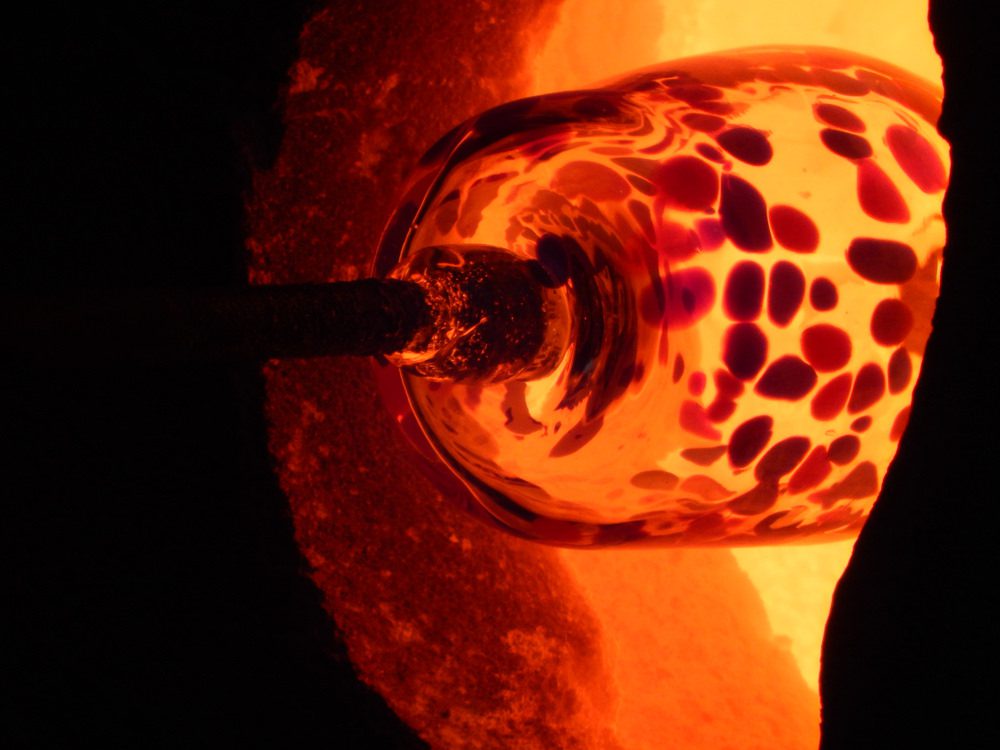 Glassblowing has become a multi-faceted art form. It can be a visual art: finished pieces can be exhibited, displayed or sold as art pieces. It can also be taught in classes or workshops to stimulate creativity. Even if you're not a master, mobile glassblowing makes it possible for anyone to learn this art from virtually anywhere. As performance art, mobile glassblowing studios also offer demonstrations by the artists. The artisans will perform advanced glass blowing techniques while an audience watches.
The classes offered by mobile glassblowing companies vary from beginner to advanced techniques and provide several interactive and collaborative workshops for all ages. Hot Glass Academy, based in Americus, Georgia, offers a Clay Mold Blown Glass Cup Workshop, which is meant for children aged 8 and older.  After a safety lesson,  students create an individualized clay mold design by pressing a variety of fun objects into the the sides of a clay slab. They'll pick a glass color and then are guided through the process of blowing a molten bubble of glass into their clay mold. Some classes even have students work in pairs for this exercise, which emphasizes team building and collaborative thinking. Each participant leaves the class with an utterly unique creation.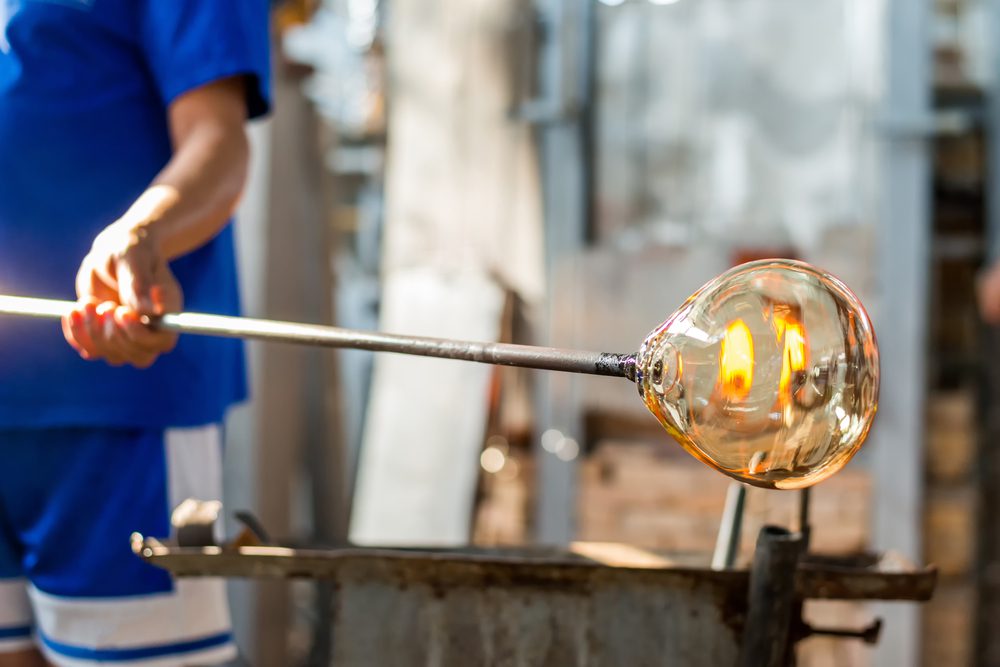 Henderson, Nevada's Frus Glass also offers similar team-building workshops. For their first event they traveled over seven hundred miles to Garland Elementary School, where they provided age-appropriate demonstrations on Glassblowing to kids ranging from kindergarten to fifth grade. In addition to the workshops, Frus Glass has conducted n introduction of glassblowing to the community and held raffles to raise money for the school's art programs.
Some museums have even taking to the seas, such as the Corning Museum of Glass in New York, who announced at the end of last year that they'd be launching a mobile glassblowing studio. The studio, called the GlassBarge, will be sailing New York's waterways in tribute to the Brooklyn Flint Glass Company voyage made in 1868 to Corning, New York. They'll stop at ports in Yonkers, Kingston, Albany, Syracuse, Rochester, and Buffalo where they will perform free glassblowing demonstrations from the boat's deck.
Along with specific workshops, mobile glassblowing studios offer demonstrations, private parties, one on one instruction, and even summer camps for kids. Artists will also make their professionally-made products such as vases, bowls, paperweights, ornaments, glasses and even flowers available for sale and display.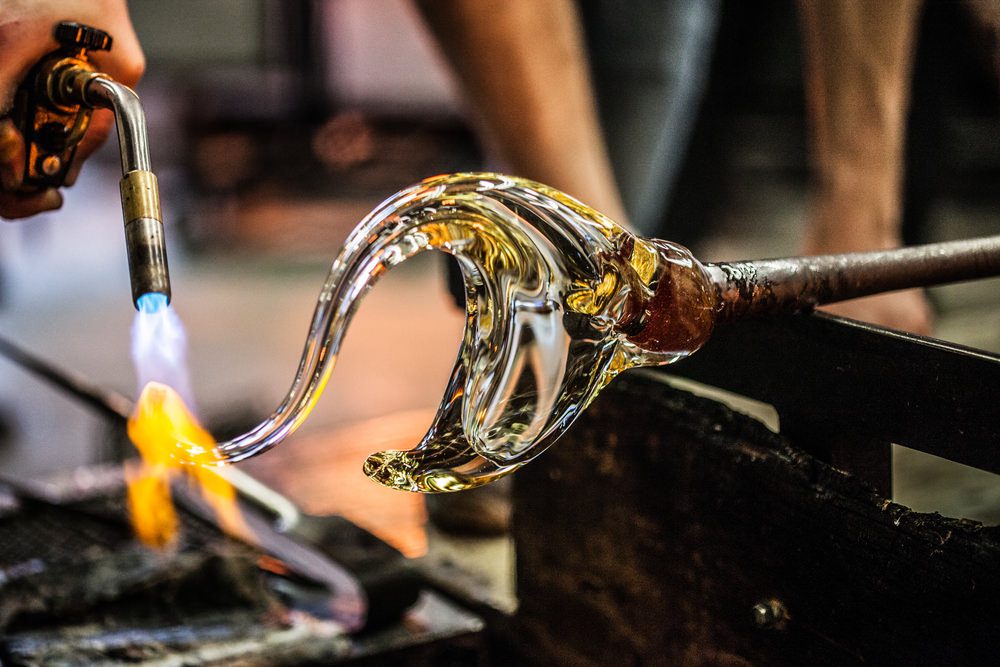 Glassblowing artisans draw their inspiration from several sources. The art form is thousands of years old and various techniques have been passed down from artists in different countries. One glassblower, Ryan Gothrup of Gothrup Glass, emphasizes that he uses a "combination of Italian, Swedish, and German techniques with an American twist."
In regard to his personal connection with the art form, the founder of Hot Glass Academy, Devan Cole, states on his website, "Glass art offered me a transformative identity as I found a material that fit my means of creation. I can fill the world with any positive of glass I want. It allows me to imagine a new visual language."
This newfound mobility in the glassblowing industry offers a more streamlined way of ensuring this ancient art form continues to be passed down for generations to come. One thing is for sure: if you ever find your way to a workshop, or rather if one finds its way to you, it's sure to blow your mind.