To assist with preparing over 100 million pounds of avocados a year, Chipotle has unveiled its latest innovation: the Autocado. The collaborative robot cuts, cores, and peels the avocados that create Chipotle's renowned guacamole.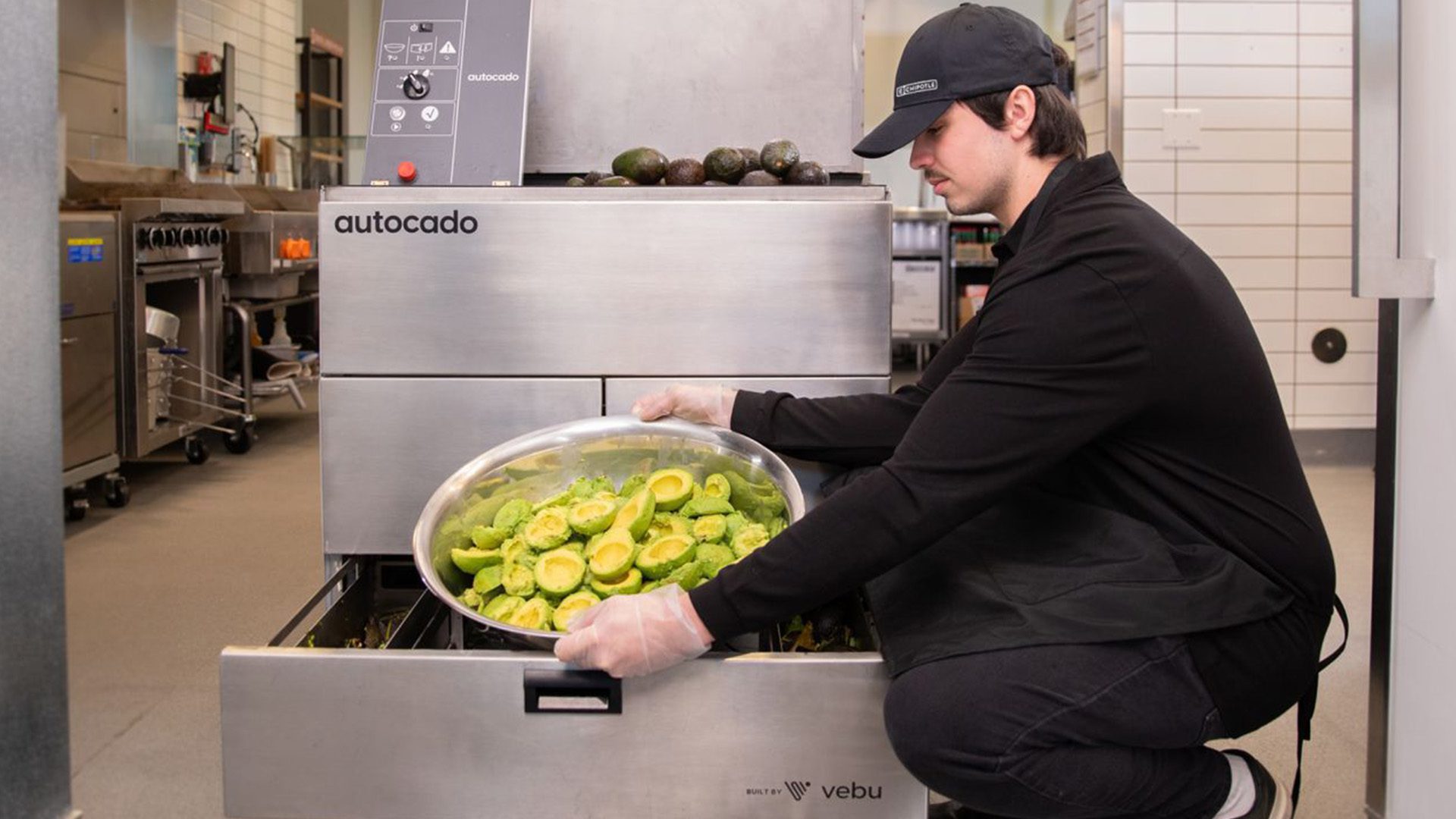 The Autocado
Developed in collaboration with restaurant technology solution provider Vebu, the Autocado prototype can hold up to 25 lbs of avocados at once. It first orients the avocados vertically and transfers them to the processing device where they are sliced in half. Next, the device automatically removes the core and skins, collecting the fruit in a stainless-steel bowl. The employees can then quickly add ingredients and hand-mash the mixture to create guacamole. 
It currently takes approximately 50 minutes to make a batch of guacamole, with a great deal of this time spent cutting, coring, and scoping avocados. The robot has the potential to fully automate the labor-intensive part of the process and reduce the prep time by up to 50 percent. This would give Chipotle employees more time to focus on serving guests. 
As Curt Garner, the Chief Customer and Technology Officer at Chipotle explained, "It's essential for us to maintain the experience of and preparing the guacamole to our exact standards. The device was designed specifically for Chipotle with the goal of easing identified pain points for restaurant employees."
The Autocado prototype is currently undergoing testing at the Chipotle Cultivate Center in Irvine, California. Vebu is working to improve Autocado's processing speeds and leverage AI and machine learning to further enhance efficiency. If the trial is successful, the robot could be implemented in the company's over 3,200 restaurants in the United States, Canada, the United Kingdom, France, and Germany. 
Innovations in the Restaurant Industry
Chipotle is working on other technology-driven initiatives, such as implementing a new kitchen management system. The system utilizes machine learning to optimize ingredient freshness and minimize food waste. Data from real kitchens and food operations simulations create algorithms to reduce costs and waste by allowing restaurants to accurately predict demand at any given time.
Other chain restaurants have similarly been innovating their processes and technologies with AI, machine learning, and robots. For example, fast food companies Hardee's and Carl's Jr. are bringing robots to their drive-thrus. This May, the twin burger brands announced that AI voice bots will take drive-thru orders at many locations nationwide. 
Similarly, Wendy's launched a generative AI-powered drive-thru experience in Columbus, Ohio called Wendy's FreshAI. The chatbot will create a quicker and more consistent ordering experience by having conversations with customers, understanding made-to-order requests, and generating responses to frequently asked questions. This is all powered by Google's foundational large language models that have data from the Wendy's menu, established business rules, restaurant hardware, and a Point of Sale system.