Just in time for summer, Domino's Pizza announced the Domino's Pinpoint Delivery on June 20. This innovative technology allows customers to receive a delivery nearly anywhere, including parks, baseball fields, and beaches. 
Pinpoint Technology
To use Pinpoint Delivery, customers must have the Domino's app. From there, they can easily drop a pin on the map to receive their order at a countless number of dynamically created hyper-local spots without a typical address. The Google Maps platform was used to help pull this off.
The technology allows customers to track their order with Domino's Tracker®, see their driver's GPS location, view an estimated time of arrival, and receive text alerts about their delivery. Additionally, Domino's will alert customers when their delivery expert arrives at the pickup spot and at which time they can activate a visual signal on their phone, which will help the driver spot them.
As Christopher Thomas-Moore, Domino's senior vice president – chief digital officer, explained, "With Domino's Pinpoint Delivery, customers can get their favorite menu items just about wherever their adventure takes them – whether they're soaking up the sun at a beach or having a picnic with friends in the park. Domino's Pinpoint Delivery makes enjoying pizza more accessible than ever."
Thomas-Moore also added that this technology marks the first quick-service restaurant brand in the U.S. to deliver food to customers with the drop of a pin.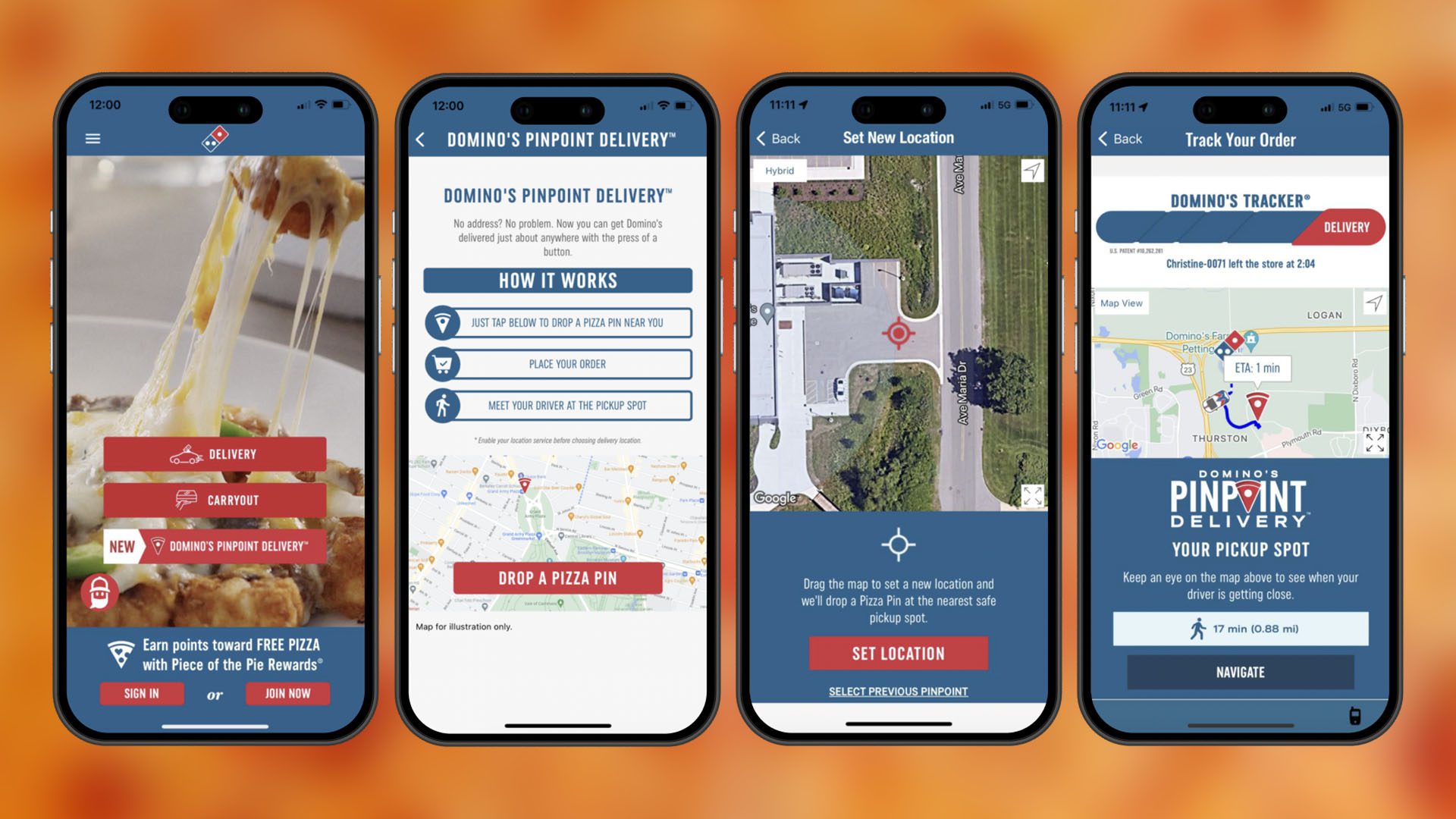 Fast Food Innovations
Domino's Pizza is a fast food company that has been pioneering within the delivery space since 1960 when they pioneered pizza delivery. Since then, they launched the industry's first Domino's Tracker® and rolled out the largest electric pizza delivery fleet in the country. Domino's has also developed several inventive ordering platforms, including those for Apple CarPlay, Google Home, Amazon Alexa, Facebook Messenger, and more.
Other fast food companies have similarly been innovating their processes and technologies, particularly in the drive-thru. For example, this month Wendy's is launching a generative AI-powered drive-thru experience in Columbus, Ohio. The goal of the technology, called Wendy's FreshAI, is to create a quicker and more consistent ordering experience. 
Wendy's chatbot can have conversations with customers, understand made-to-order requests, and generate responses to frequently asked questions. This is all powered by Google's foundational large language models that have data from Wendy's menu, established business rules, restaurant hardware, and a Point of Sale system.
Fast food companies Hardee's and Carl's Jr. are also undergoing technological advancements in their restaurants by bringing robots to their drive-thrus. This May, the twin burger brands announced that they will use AI voice bots from Presto Automation to take drive-thru orders at many locations nationwide.