Grover, a consumer electronics rental startup, hit a unicorn valuation of over $1 billion in April 2022. The company, founded in Europe in 2015, opened a headquarters in Miami in 2021 to tap into the U.S market and further spark its expansion and success.
Grover's mission is to create the most innovative ways for everyone to get the technology they want and need. Subscribers get access to over 4,000 tech products including smartphones, laptops, VR gear, smart home appliances, and more on a flexible monthly rental basis. Rentals are currently available in the U.S., Germany, Austria, the Netherlands, and Spain on grover.com.
The service allows users to choose, use, switch, and return the products based on their needs and budget. They can choose to rent for three, six, or 12 months, where the tech will then be returned to Grover and reused properly.
We are excited to announce that we have raised $330 million in our Series C funding round, bringing our valuation to $1bn+! 😍🚀 The funds will be used to continue our international expansion and grow our subscriber base. pic.twitter.com/R0I7LvJ9pp

— Grover (@getgrover) April 7, 2022
As Michael Cassau, Grover's Founder and CEO, said:
"With Grover we are building the global leader in consumer-tech subscriptions. The tech rental movement is a major worldwide societal shift, one that will transform how we access and use technology to be more flexible and sustainable…Our joint goal is to simplify access to consumer tech and to bridge the tech gap for people all around the world."
Grover's Goals
The startup's goals are threefold: affordability, circularity, and accessibility.
In terms of affordability, Grover works to serve individuals who simply need a product for the short term and don't want to purchase the tool at full price. For example, a student that needs an iPad for school, families that need a laptop on short notice, or a creator that needs a GoPro for a specific project. Grover is also looking to expand their business-to-business rental service for companies like technology startups to manage their spending. With B2B, customers can rent devices like laptops and smartphones for an entire company.
For accessibility, Grover offers over 250 products including Apple Watches, iPhones, and Microsoft Xbox consoles. This allows customers to try out some of the hottest technology trends that may go in and out of style quickly without having to commit or pay too much. In turn, this ideally eliminates the action of throwing out products once the newest product launches.
Lastly, and arguably most importantly, Grover's program benefits circularity and thus sustainability. In 2021, only 12.5 percent of e-waste was recycled with 85 percent of consumer e-waste being sent to landfills. With more than 500,000 devices already circulated (equivalent to saving over 1,500 tons of e-waste), Grover reduces product under-use and the number of electronic devices that end up in landfills. It also increases product lifetime by recirculating devices an average of four to five times.
Once Grover's products reach their end of life, they are reused or recycled according to their components. Working assets in bad shape get sold on B2C multi channels, such as marketplaces and retailers. On the other hand, broken assets are used for harvesting, sold to repair partners, and/or recycled appropriately.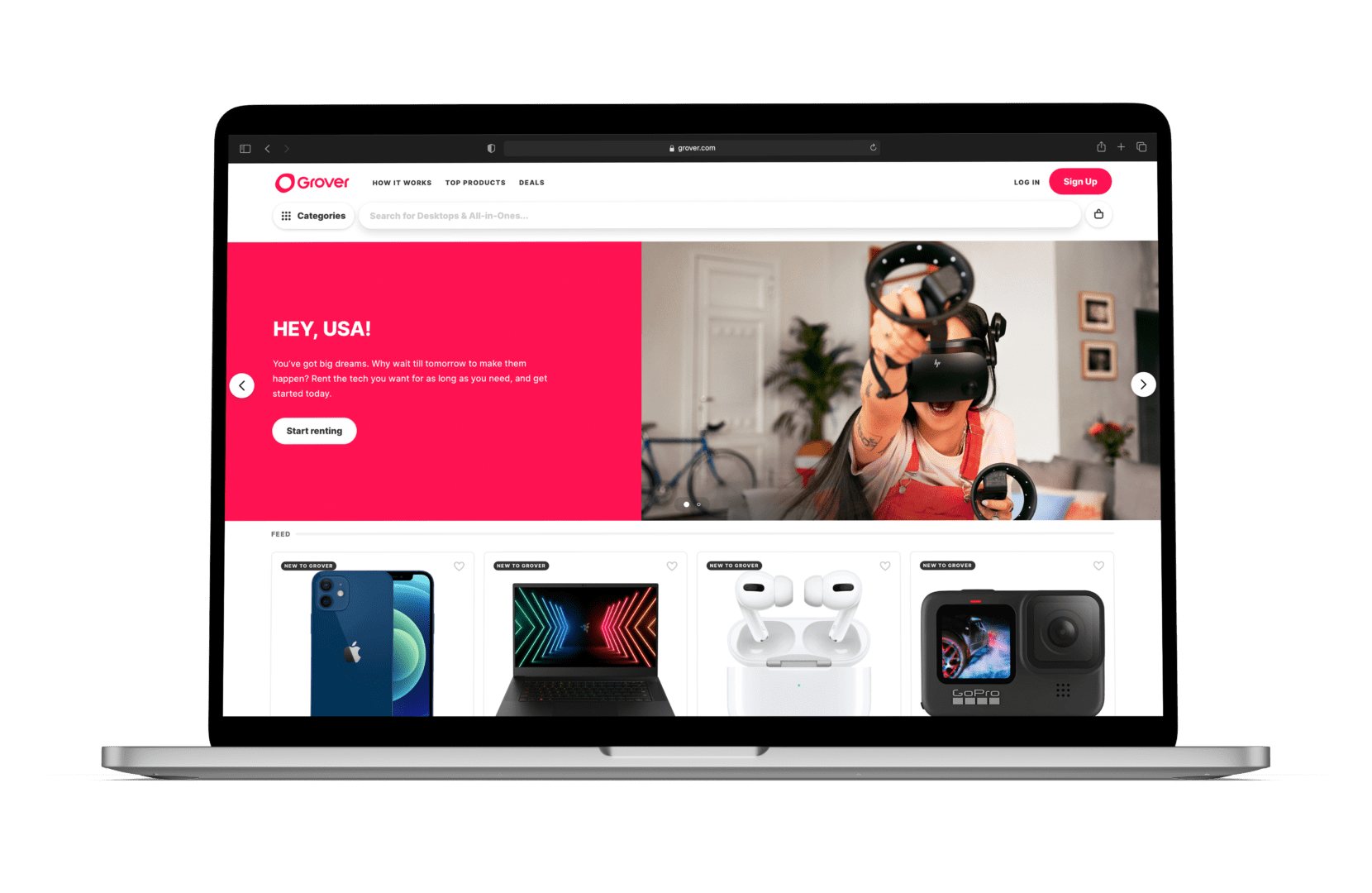 NFT Innovation
To celebrate the company's unicorn status and recent growth, Grover gave every single employee an NFT. In describing why, the company explained to Tomorrow's World Today that Grover's rapid growth is based on a strategy that capitalizes on growing consumer demand for affordable and sustainable ways to use tech. NFTs represent Grover following through on that "first mover" mindset by pioneering a movement in the US as one of the first companies to give out NFTs to its team.