Traveling is an exciting and memorable experience that connects people from all different cultures together. However, amongst the excitement it's easy to forget how much traveling impacts the environment. From planes to hotels to eating habits, tourism is responsible for about 8 percent of the world's carbon emissions. Here are 5 ways to reduce your carbon footprint while traveling.
1. Choose a sustainable hotel
The United Nations World Tourism Organization reported that the hotel sector accounts for about 1 percent of total global greenhouse gas (GHG) emissions; they added that this percentage is set to increase. As a traveler, you have the power to travel with a hotel or accommodation that is dedicated to changing its practices to reduce its carbon footprint.
Eco-friendly practices of a hotel include installing energy-efficient fixtures and appliances, utilizing renewable energy, automating temperature control, sourcing products locally, or buying carbon offsets. The voco Dubai hotel even converts the plastic used on-site into luxury duvets and pillows for the hotel guests! To see how this works, we went all the way to voco Dubai. Check it out here or below:
One hotel group that is actively working on reducing its carbon footprint is IHG. IHG pledged to implement a 46 percent reduction in emissions from energy used across their owned, leased, and franchised estate by 2030. Also by 2030, 100 percent of new-build hotels will be targeted to operate at very low/zero carbon emissions, non-reusable single-use items will be eliminated, and food waste will be minimized.
As Catherine Dolton, IHG's Chief Sustainability Officer and Vice President of Corporate Responsibility, told us at Tomorrow's World Today,
"At IHG, we believe it is imperative we reduce our carbon emissions, not only for the long-term resilience of our business, but also to protect the world around us and ensure its beauty and diversity can be explored for generations to come. Working with our colleagues, owners, and partners, we're taking action to drive energy efficiency in our hotels, switch to renewable energy sources, and develop zero-carbon hotels of the future. But we know that travelling more responsibly is becoming increasingly important to our guests and corporate customers too. That's why, we're passionate about finding more and more ways to bring our guests with us on this journey, and making it easier for them to make sustainable choices when staying in one of our 6000 hotels."
2. Stay environmentally conscious in your lodging
Once you've decided on the right hotel or accommodation, there are many things you can do to be as sustainable as possible throughout your stay. One of the most simple ways is to leave the "Do Not Disturb" hanger on your door for the duration of your trip. You don't change your bedding and towels every day at home, so why would you do so on vacation? The frequent use of washing machines, dryers, and vacuum cleaners significantly increase carbon emissions during your stay, so try to opt out if possible. (Of course, if you do need some cleaning, you can always take the sign down.)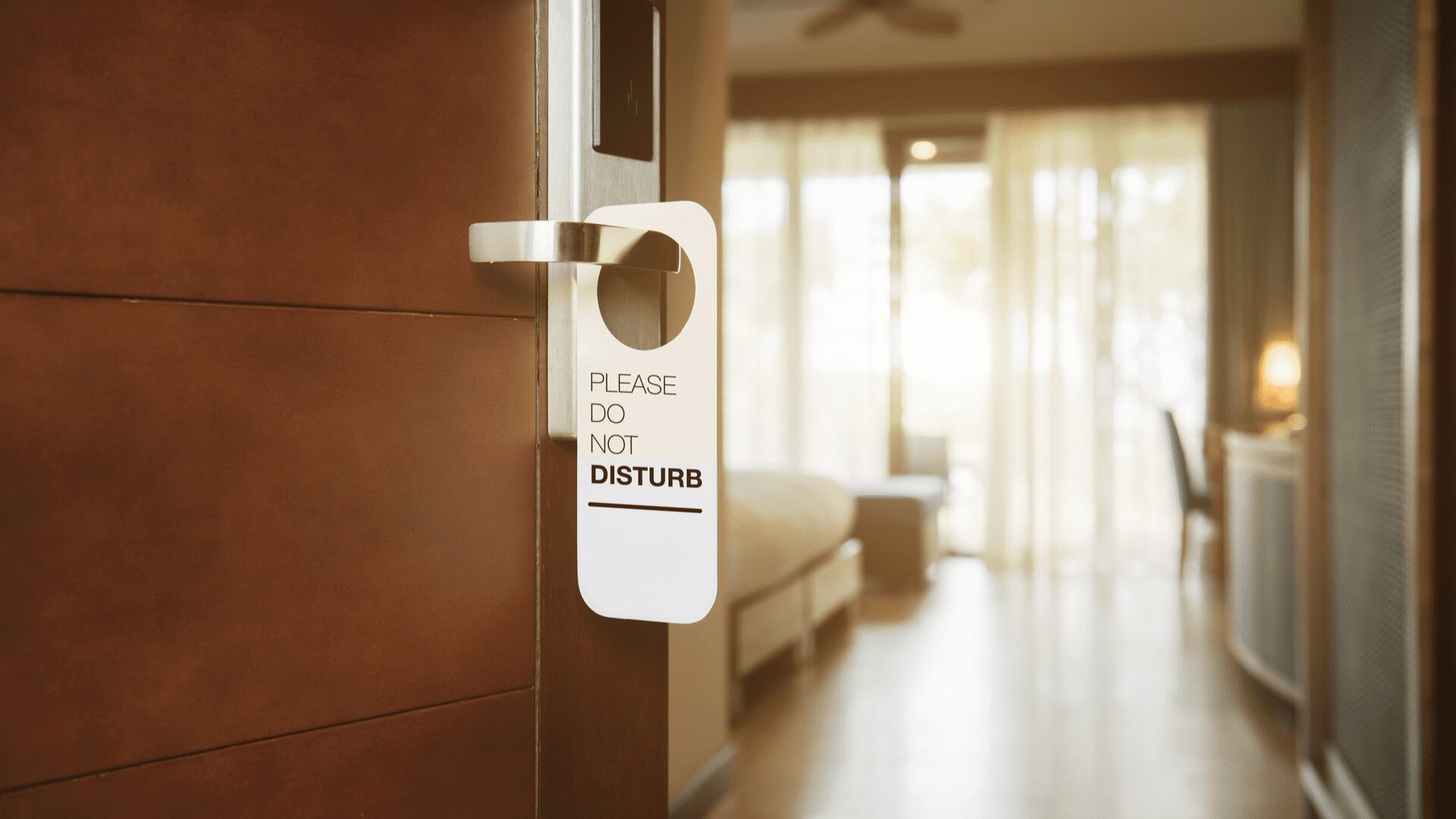 As a general rule of thumb, act like you are paying the electric bill yourself. While it may be tempting to take a luxurious, long shower and blast the A/C while staying at a hotel, these practices affect the environment just as much as they would if you did them at home. Even though you may not be monetarily responsible for it, excessively using the lights, heating, and A/C increases your carbon footprint while traveling.
Another sustainable travel practice is to take any leftover, opened toiletries with you. They'll likely be thrown out otherwise, so may as well simultaneously reduce waste and get a new product to take home!
3. Avoid cars when possible
Together, cars and trucks account for nearly one-fifth of all US emissions, emitting around 24 pounds of carbon dioxide and other global-warming gases for every gallon of gas. On your next vacation, opt for public transportation, walking, or cycling when and if possible, rather than renting a car or taking a cab. Google Maps, Citymapper, and Moovit are great apps to download for efficiently getting from Point A to B while traveling.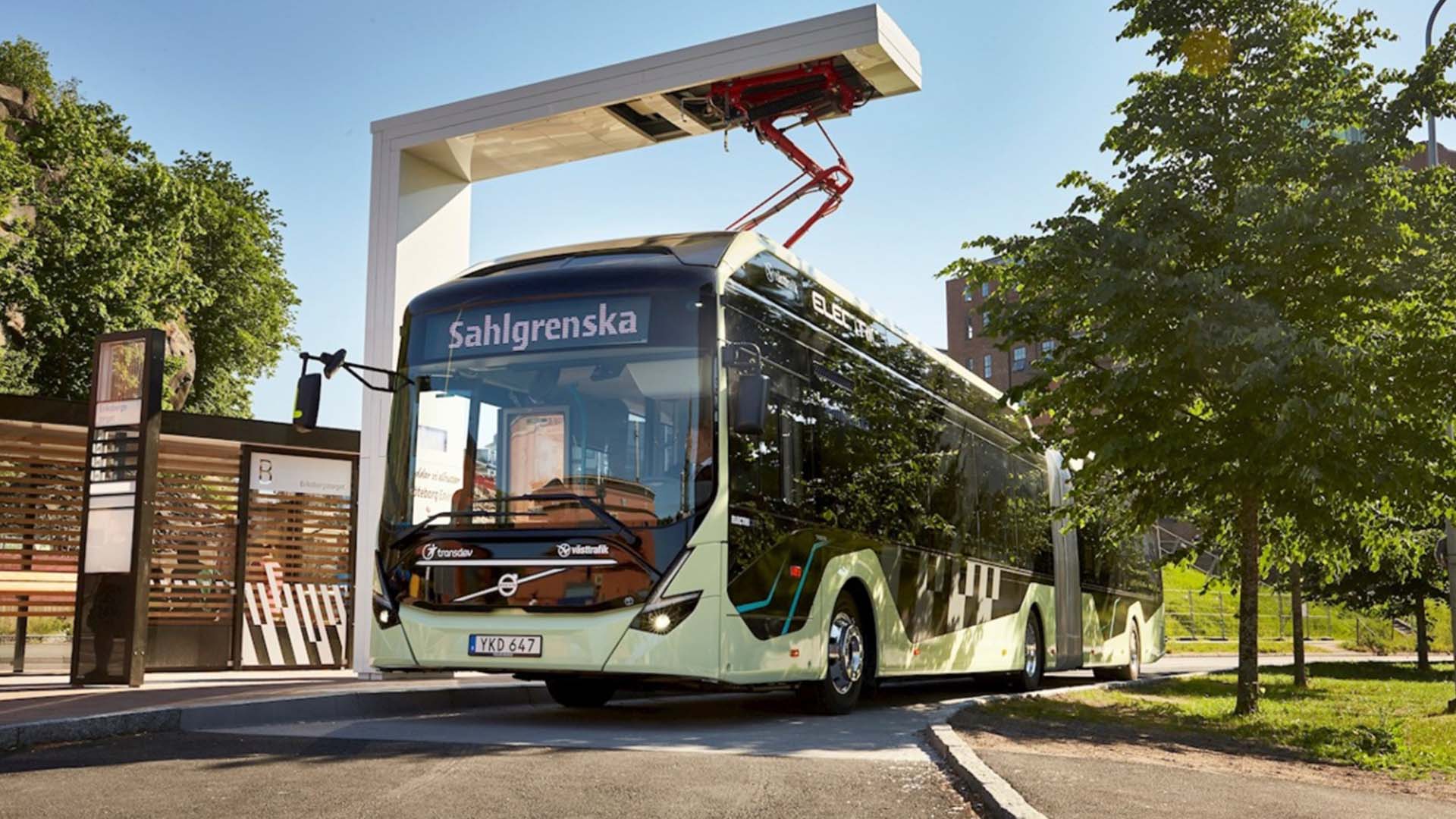 Some innovative cities have exceptionally sustainable public transportation. In Stockholm, Sweden's public metro, for example, local trains, and buses have been using 100 percent renewable energy since 2017. Norrtälje City in Stockholm already has an entire bus transport system using electrically powered vehicles; the rest of the city is working to implement this bus system.
If reducing your carbon footprint isn't enough, public transportation, walking, or cycling are often the best way to experience a city as a local rather than a tourist. It's also always cheaper than renting a car or taking a cab! If you do rent a car, choose a hybrid, electric, or smaller car instead of an SUV, pickup truck, or van.
4. Eat local cuisine
Speaking of saving money, one of the most enjoyable ways to reduce your carbon footprint while traveling is to eat local cuisine whenever possible. Find farm-to-table spots and restaurants that use locally-sourced ingredients. Not only will this help you experience your destination authentically, but it is also much better for the environment.
Transportation accounts for 11 percent of food's greenhouse gas emissions, so the less it has to travel, the better. Imported foods also require more packaging and refrigeration to preserve them along the journey.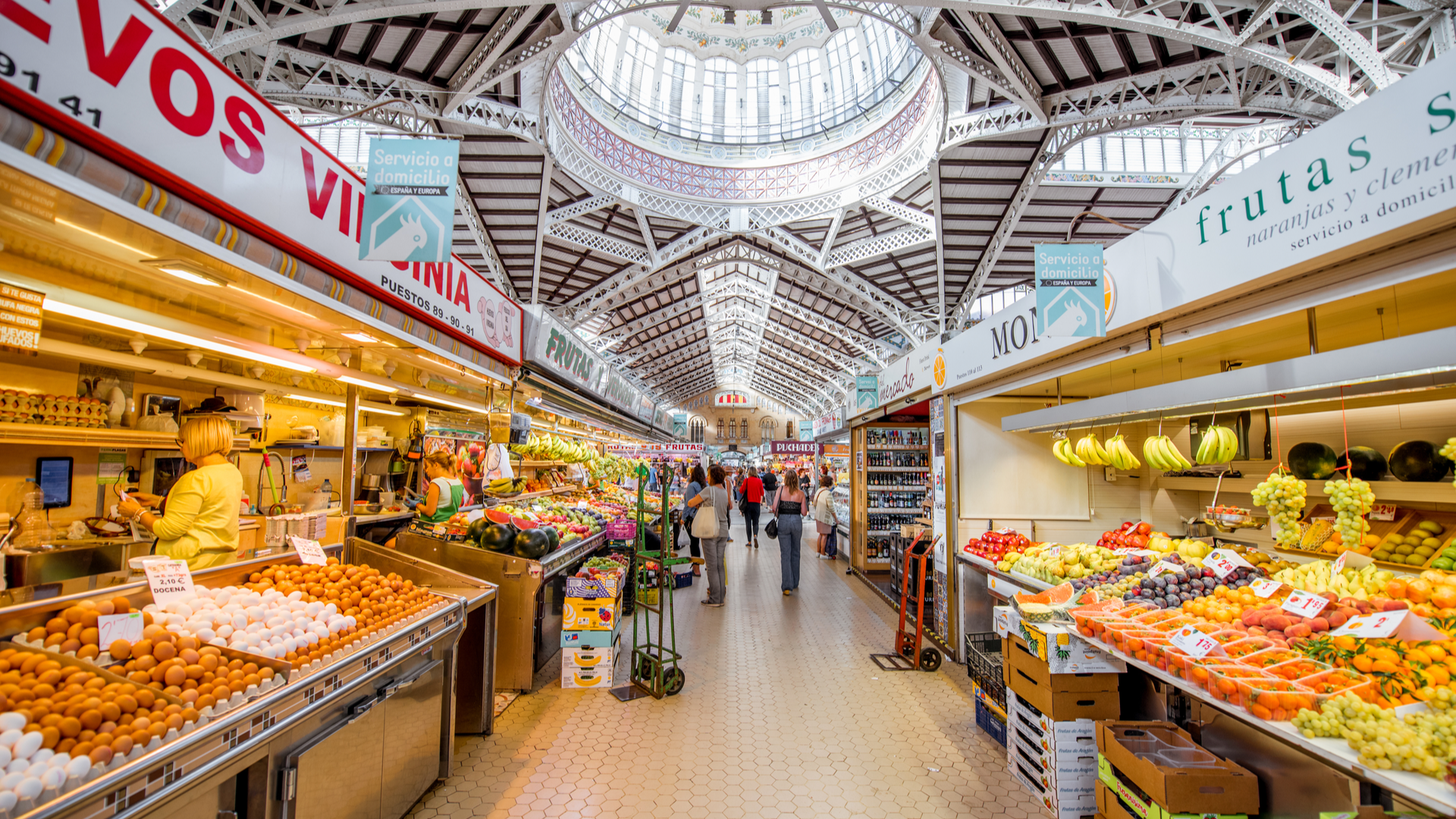 An easy place to find eco-friendly, fresh, and healthy food is a local farmers' market at your travel destination. These markets are full of delicious food and products that come from the area. They are also a great place to experience the authentic food culture while supporting the local economy!
5. Pack light
One of the most dreaded parts of a trip is deciding what to pack, and this decision affects more than just your wardrobe options. The more you pack, the heavier the plane, car, bus, or train. And, the heavier your chosen transportation is, the more fuel is required. In fact, researchers estimated that each passenger carrying a phone on Southwest Airlines cost the company $1.2m annually in weight-related fuel expenses, with each passenger carrying a laptop costing the company $21.6m annually.
Now, we aren't urging you to leave your phone or laptop behind, but simply keep the effect of your luggage's weight in mind. There are many easy ways to lighten your baggage while traveling, thus reducing your carbon footprint. For example, rent bulky gear (like skis and snowboards) at your destination, use miniature refillable containers for toiletries and pack versatile items that can be worn multiple times.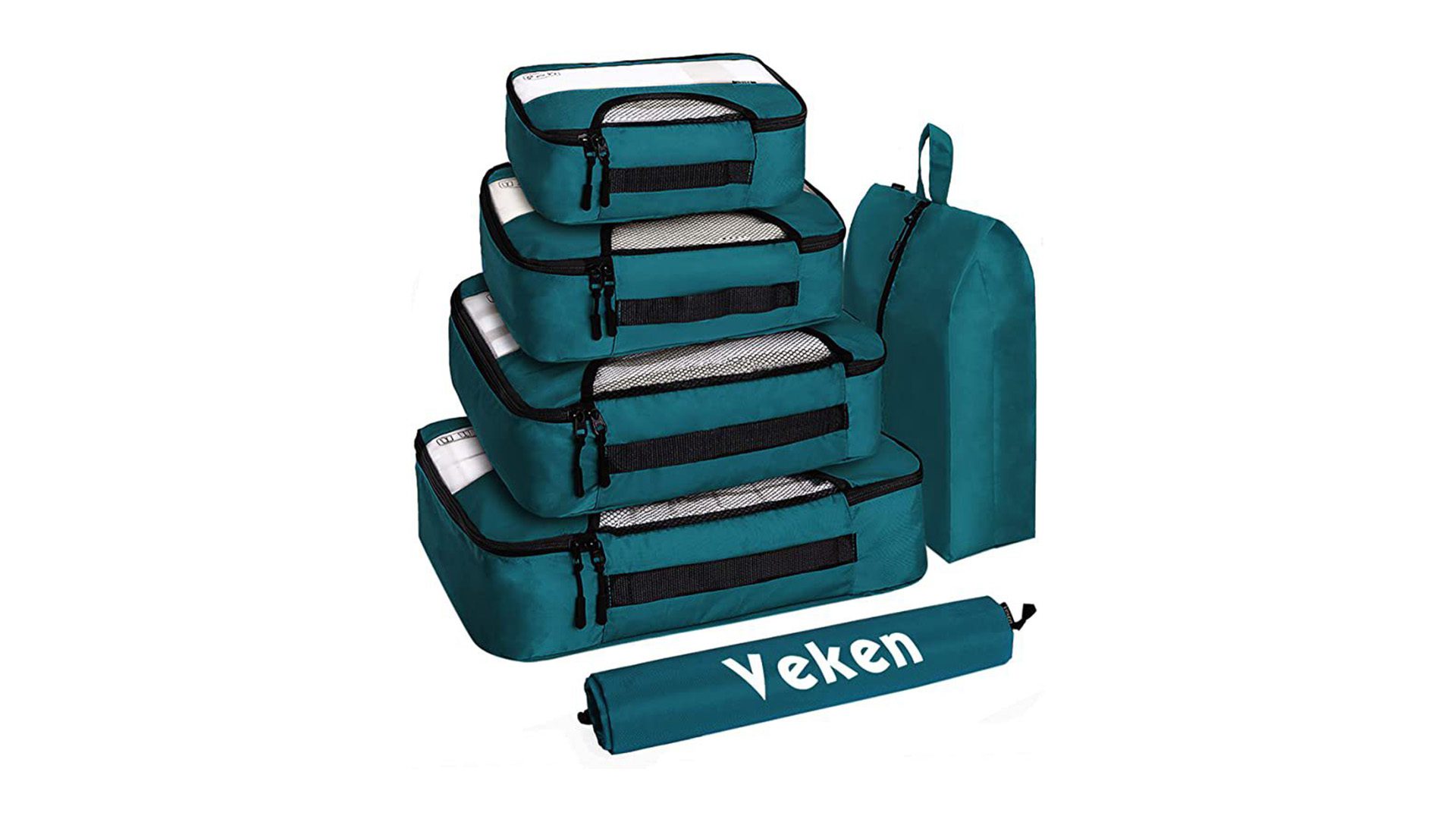 One tip for fitting everything you need in hand baggage is using packing cubes like Veken's packing cubes pictured above. These ensure that you fit your belongings in easily and lightly without checking a bag.