The Olympic Games have historically been a time for the host country to showcase its best technology, and the 2022 Beijing Winter Games is no exception. From sustainable venues to hardworking robots, here is some of the most innovative technology used in the Beijing Winter Olympics. 
Venues
The Games' venues have undergone many innovations. One major one is the world's first venue that shifted from a swimming center to a curling sheet: the National Aquatics Center. Formerly known as "Water Cube," as it hosted the swimming and diving competitions in the 2008 Summer Olympics, the center is now called the "Ice Cube," set to host curling competitions. It features multi-zone climate and humidity controls; following the 2022 Games, the venue will continue to be used for both winter and summer sports, switching between the two depending on the season.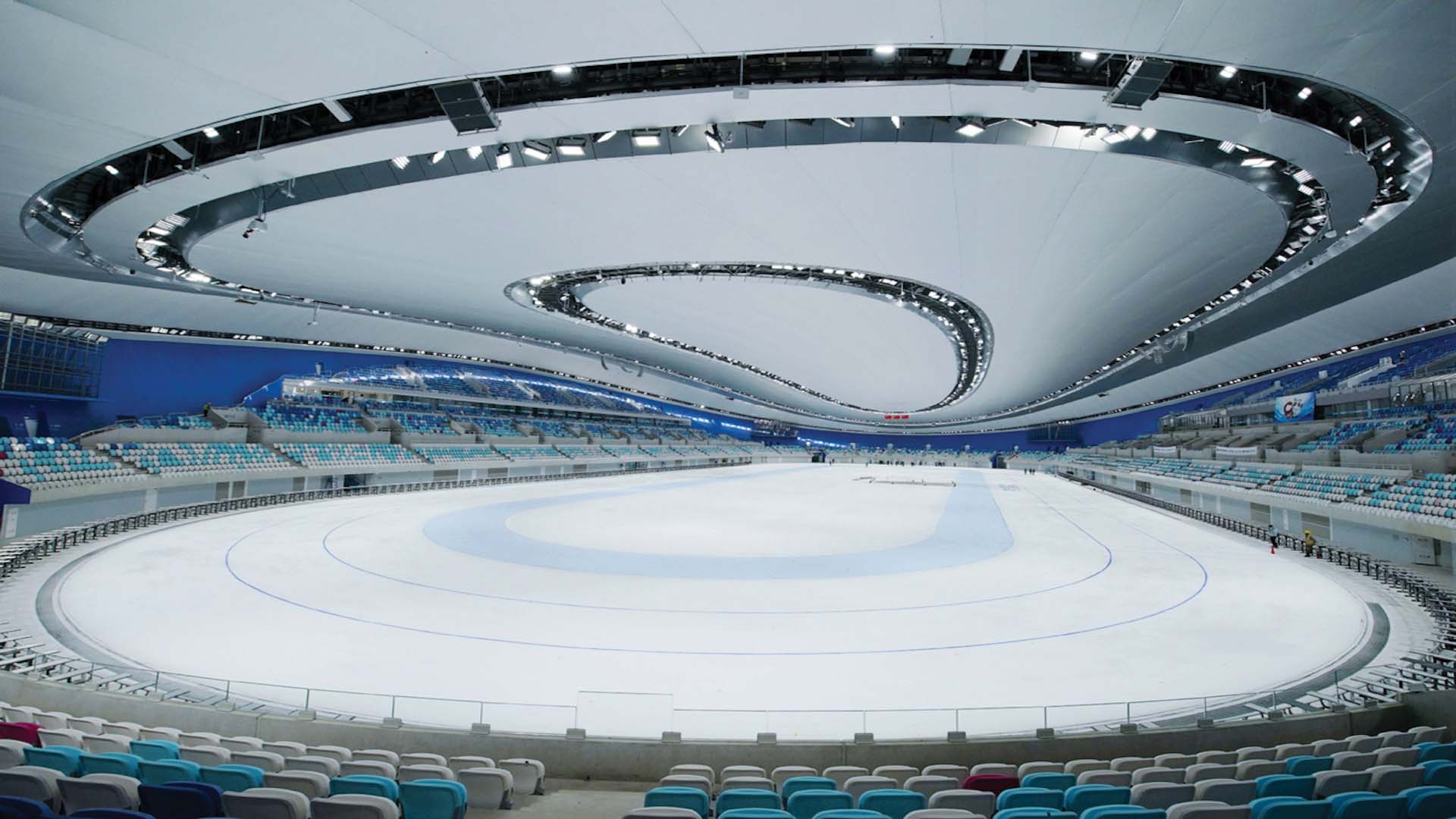 The Ice Ribbon, China's National Speed Skating Oval, has also undergone many innovations in order to get close to zero carbon emissions. It does this by using transcritical carbon dioxide (CO2) direct cooling technology. In other words, the venue's ice-making system runs on natural refrigerant CO2, which has an Ozone Depletion Potential (ODP) of zero and Global Warming Potential (GWP) of one. This technology innovation makes the Beijing Olympics have the lowest GWP in the history of the Winter Games. Experts also say that the adoption of the transcritical CO2 cooling system sets a model for the world in environmental protection and sustainable development. 
Training
Technology innovations are also changing how athletes are training for the Beijing Olympics. For example, at a national winter sports training and research center, a wind tunnel helps athletes find their dynamic postures that generate the least amount of air resistance. Similarly, at a training base in Laiyuan County, Nordic combined athletes have their speed, take-off angle, dynamic posture, and other data immediately pop up on screen because of their micro wearables.
Transportation
The Games accelerated the construction of the Beijing – Zhangjiakou High-Speed Railway which connects the three competition zones. It can run at a top speed of 350km/hour (217 mph), reducing the travel time between the two cities from more than three hours to 48 minutes! This high-speed railway is also high-tech–it allows riders to watch live events, charge devices wirelessly, and enjoy a 5G connection. This makes it the world's first high-speed train to feature a 5G live broadcast studio, which can broadcast content using 5G. The train also includes air-cleaning devices, lockers for ski gear, and wheelchair-accessible spaces, as well as supporting the BeiDou Navigation Satellite System.
Shopping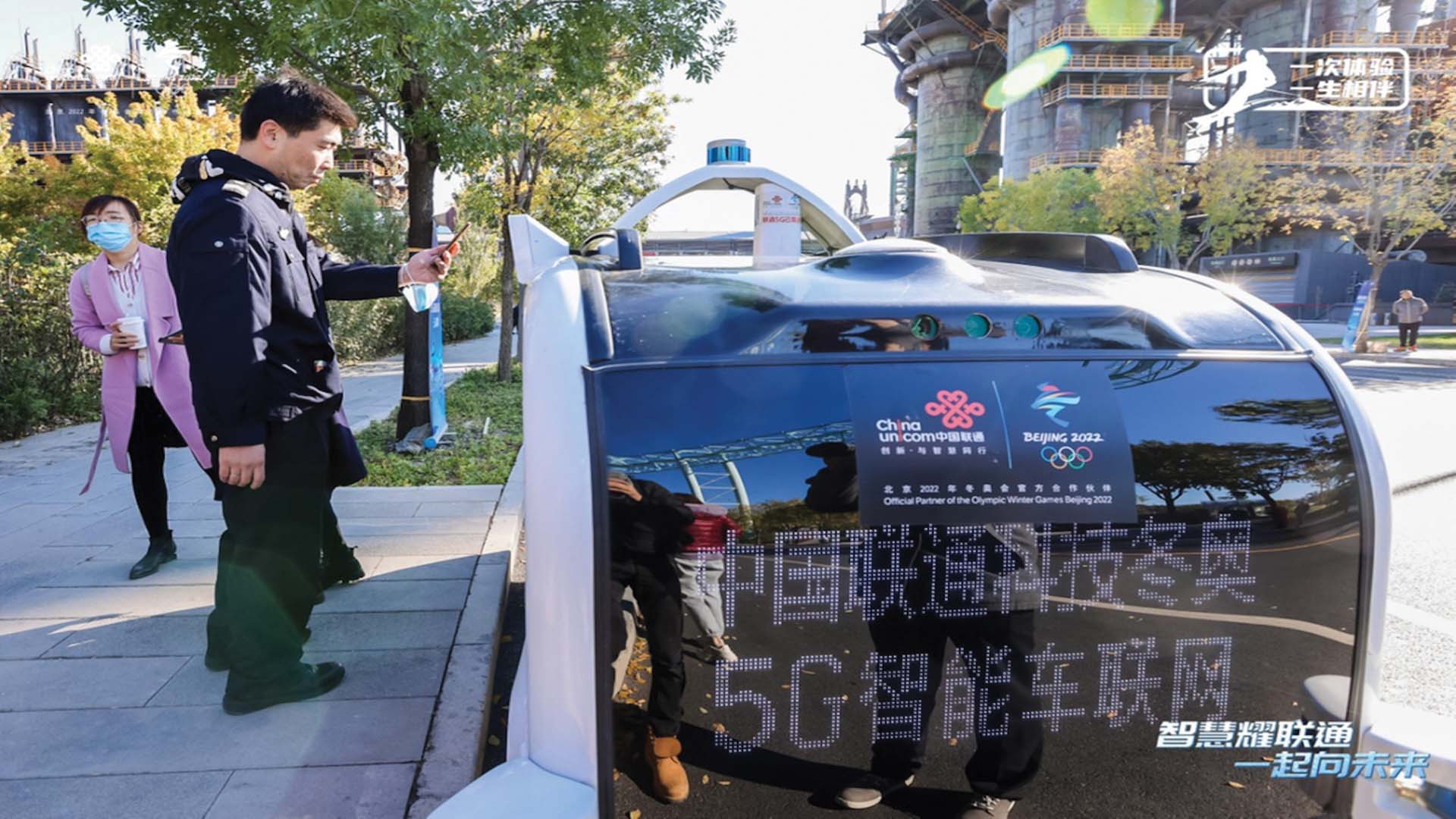 The BeiDou Navigation Satellite System also connects shoppers to a 5G-enabled, driverless minibus. By simply waving their hand, shoppers at the Shougang Industrial Park in Shijingshan district can summon the minibus to stop near them to buy over 20 items from the Games. This minibus is expected to bring the first systematic application of Level 4 autonomy to an Olympics.
As for more general shopping, e-CNY, China's digital currency will be available through wallet apps, cards, and wearables like smartwatches, badges, and even ski gloves. The ski gloves utilize near-field communication (NFC) technology, allowing the digital wallets to function without an internet connection. Shoppers simply wave a hand near a pay area to complete a transaction.
Broadcasting technology
Due to COVID-19, the Beijing Olympics banned international and national fans from being spectators at the Games. Fortunately, China Unicom developed innovative technology to broadcast the Beijing Olympic events live with virtual reality and augmented reality features. The International Olympic Committee (IOC) will also stream the event in 4K high dynamic range (HDR); during specific events such as the opening and closing ceremony or ice and snow sports, event broadcasters can relay the event as an 8K ultra high definition (UHD) transmission.
As for broadcasting technology in Beijing, event organizers will use the new high-speed moving target tracking and camera shooting system. This quickly locates the target and automatically tracks and film Olympic athletes such as the downhill skiers who move at a high speed of 170 kilometers per hour (106 mph).
Robots
The Beijing Olympics are putting many robots to work. For example, the medical center will have surgical robots in case of emergency—each can operate in a more precise, less invasive manner than their human colleagues. To lessen COVID-19 transmission, there will also be robots that dispense hand sanitizer, monitor guests for compliance with mask usage, and spray mist to clean the air and ground. There will even be bartending robots who can make guests a cocktail in 90 seconds!
For more Beijing 2022 Winter Olympics news, check out how the Games could be the most sustainable Olympics ever, Team USA's innovative and sustainable uniforms, and the Beijing Olympic Agora.