Most museums warn you not to touch the exhibits, but on occasion there are more interactive exceptions. These are particularly common in children's and science museums, but art museums are joining the movement too. This is thanks to interactive art, where interactions from the guest or artist directly allow the art to be viewed. The interactivity can range from a walk-through to manipulating something, but it's a far cry from a painting on a wall. Guests can truly experience the art in a way that a landscape or portrait doesn't provide. It's a sensory adventure that involves more than just the eyes. Across America, there are plenty of examples of interactive art for families or adults. These are just a few of our favorites.
THE CITY MUSEUM, ST. LOUIS
This St. Louis institution has been encouraging visitors to play with their surroundings long before the phrase "interactive art" was even uttered. Founded and artistically directed by sculptor Bob Cassilly, the City Museum is in a former shoe factory. Now it houses climbing structures, salvaged and repurposed industrial objects, and even has fountains on the roof. An outdoor play area, called MonstroCity, features ball pits filled with dodgeballs. It was recently named one of the World's Coolest Places. If the icicles on the first floor are any indication, it's easy to see why.
MATTRESS FACTORY MUSEUM, PITTSBURGH
According to The Mattress Factory Museum's website, all the exhibits featured in their "experimental lab" are built on-site "by artists in residence from around the world." Founded in 1977, it's built by artists, for artists and all of its exhibits are built specifically for the museum. Audio and video feature heavily in many exhibits, and everything- including the resident artist's apartment- is on display. However, not everything is considered "interactive" art, with some installations being a touch-free sensory adventure. That said, photography is encouraged.
WONDERSPACES, ARIZONA, SAN DIEGO, PHILADELPHIA, AUSTIN

This traveling experience is currently open in Arizona, with a VR experience in San Diego. Two new locations in Austin and Philadelphia are due in 2020. Many of the exhibits at Wonderspaces utilize the modern technology of VR to fully immerse guests.  "Hoshi" (pictured above), uses light, mirrors, and sound to engage visitors into an immersive, large-scale experience. Another exhibit, "Confessions," lets visitors privately write and submit their own confessions on a wooden plaque which are then are then added to the exhibit anonymously.
MEOW WOLF'S HOUSE, SANTA FE
Funded by George R. R. Martin of Game of Thrones fame, the full name of this interactive art location is "Meow Wolf's House of Eternal Return." The Santa Fe location opened in 2016. It leads visitors through the home of the fictional Selig family, whose Victorian house has, according to the website, "dissolved the nature of time and space." Guests are encouraged to solve the mystery of the house and family by uncovering portals and secret passageways to various structures and installations, mostly made by local artists, in the 20,000 square foot space. However, it's just as engaging to simply enjoy the atmosphere and the trippy world you're now immersed in. Meow Wolf has plans to open two new experiences, both totally new, in Las Vegas and Denver by 2021.
ASLEEP IN THE CYCLONE, LOUISVILLE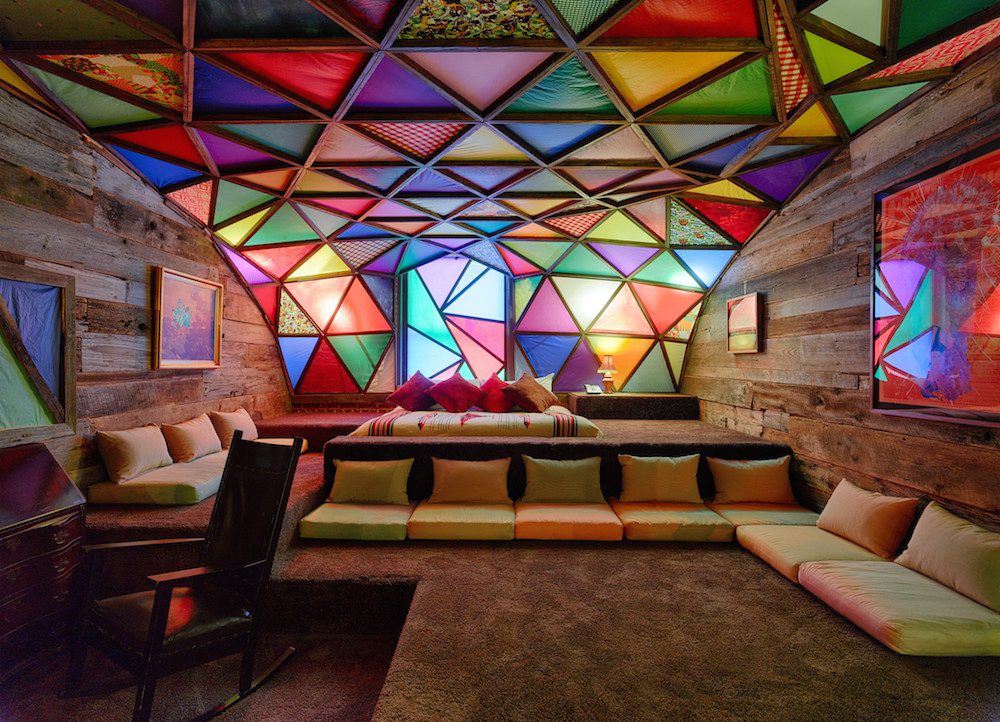 Within the 21C Museum Hotel in Louisville is a peculiar guest room. Designed by artists Justin Lowe and Jonah Freeman, they describe it as a parallel world for guests to inhabit. While the Mattress Factory might have beds on display for guests to enjoy, this is the only installation that is also an exclusive hotel experience. While the price tag is hefty, the opportunity to stay overnight in an exhibit is priceless. Among the unique amenities offered are a specially curated collection of records from the artists, an antique writing desk, and handpicked linens and blankets. Liam Gillick, a British artist, said this example of interactive art "reconnects the mind-blowing nature of wonder to the everyday experience."
Fun fact- we recently covered the Museum of Ice Cream here on Tomorrow's World Today, which many consider a defining example of interactive art. What's your favorite installation or exhibit? Let us know in the comments or on social media!
Learn more about the World of Creation, and discover the history of pottery, how recycled art turns trash into treasure, and what NFT art is.