We all know the struggle of jean shopping too well—the legs are too long, the waist is too wide, the fabric is too tight, etc. Sustainable startup unspun is taking the headache (and sizes) out of buying jeans by using AI and digital twin technology to create a custom pair of jeans for each customer.
Sustainability 
As unspun's flagship product, its made-to-order jeans are as sustainable as clothes can be–each pair is made individually for each shopper. This means that there is no giant holding center for the products to get burned or shredded once the pair goes out of style. Considering that 30 percent of the 6 billion pairs of jeans made per year are never worn, unspun's elimination of inventory is a huge deal.
The jeans themselves are also eco-friendly, with 100 percent of the fabrics being vegan and 89 percent of unspun's fiber composition being plastic free. Additionally, the jeans are washed to have the lowest environmental impact possible, conserving all of the recycled water and treating the post-laundry wastewater.  
As a Certified B Corporation, unspun also qualifies for a rigorous certification process to prove that it upholds high standards for social and environmental performance, public transparency, and legal accountability. 
Technology 
To get measurements for the jeans, customers take a 10-second body scan via unspun's free app. The scan is simple: you wear tight-fitting clothing, stand away from the phone so you're fully in view, and spin around 360 degrees over ten seconds. unspun's proprietary scanning technology then uses depth data from iPhones' Face ID sensors to determine the distance of the pixels. 
As Kevin Martin, one of unspun's co-founders, explained to us at Tomorrow's World Today, "The output of an unspun scan is a literal millimeter accurate, full Digital Twin 3D model of your legs that stitches together all of those images and data points taken as your body rotated." 
The 3D model of a customer's legs is paired with their chosen jean style and fit to analyze how the customer's shape, volume, and curves will work with the jeans. By the time the jeans are sent to the factory for production, unspun has run hundreds of different iterations of the perfect pair of jeans for each customer. The final result is a pair of jeans completely unique to any pair ever created.
Order Experience
To test out unspun's innovative app and product, one of our writers ordered a pair of unspun jeans for herself.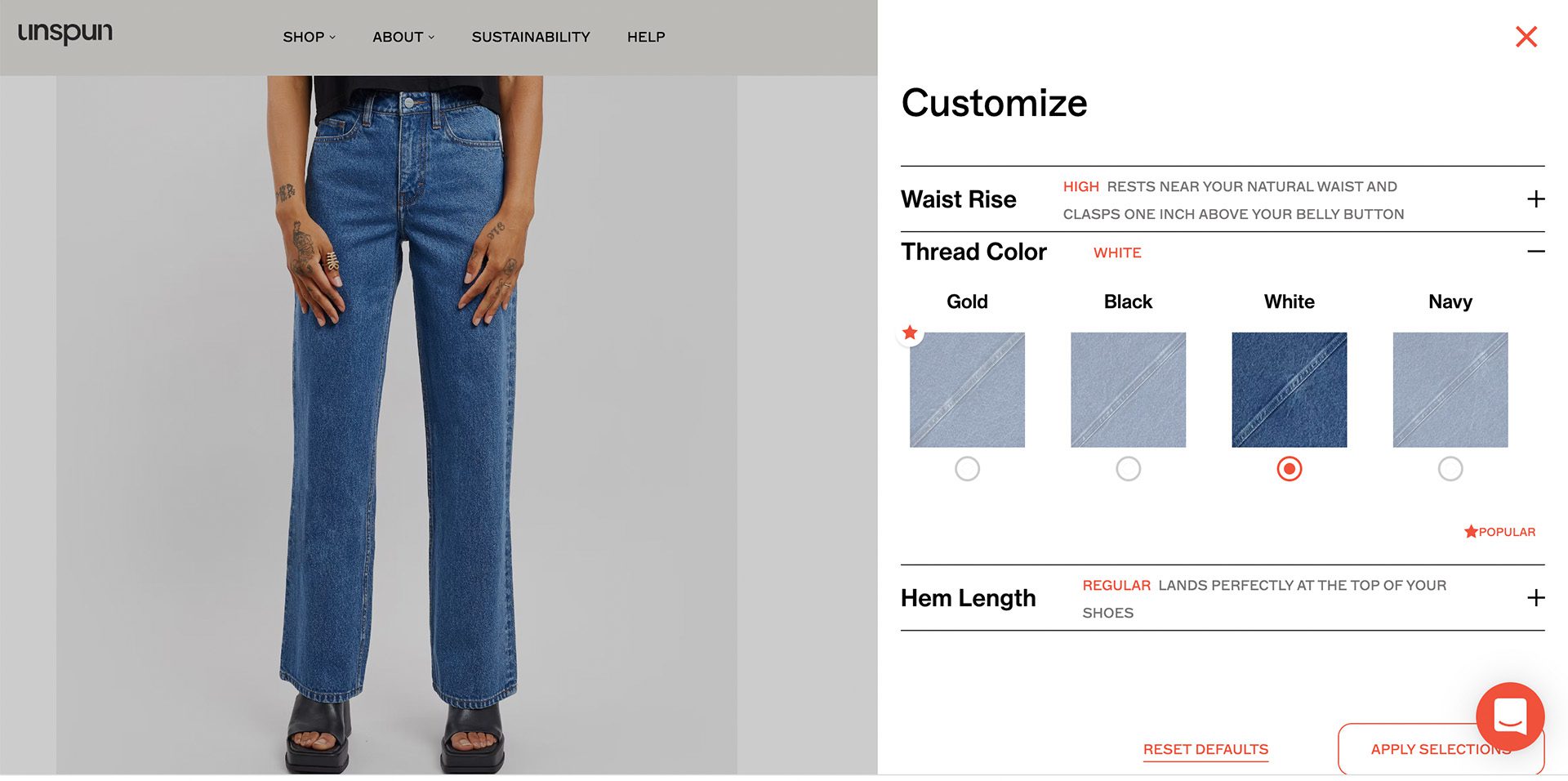 After downloading the free app and signing up for an account, she mulled over her preferred hem length, wash, thread color, and waist rise. With help from unspun's Fit Quiz, she landed on the Feminine Wide Leg Jeans in Organic Mid Vintage, customized with white stitching, a regular cuff, and a high waist. She created the 3D body scan, and, as easy as that, the jeans were on their way. 
Just over five weeks later, her jeans arrived in the mail. As she explained, "unspun's jeans fit so perfectly that I reopened the app to double check that I didn't include my height, weight, hip width, or any measurements. Turns out that I didn't–the technology is just that accurate. The material feels as comfortable as denim can be, and they fit my exact height, hips, and legs."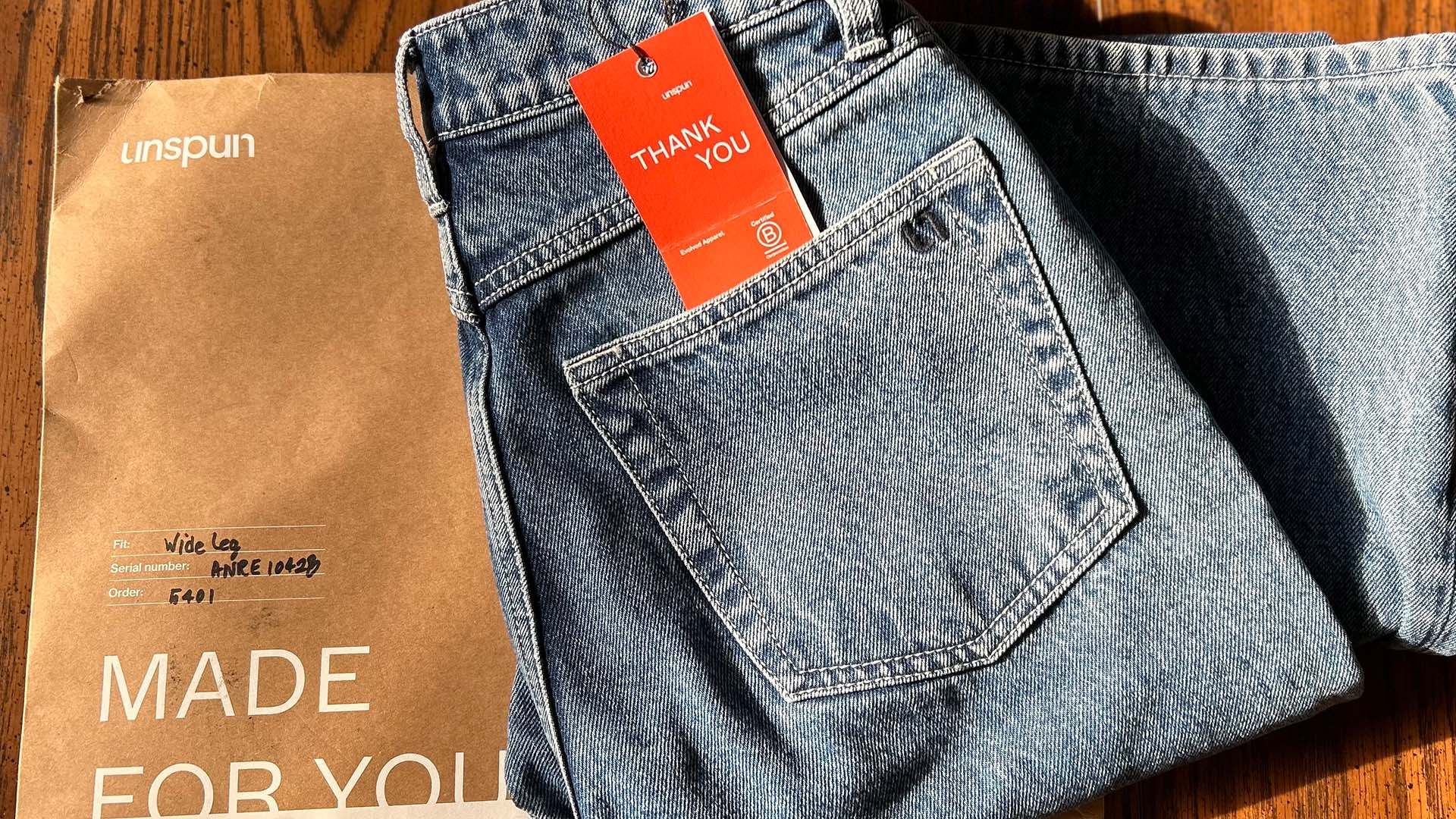 For more information on these sustainable jeans, check out our full interview with unspun's co-founder HERE.
Try this innovative technology and perfectly fit jeans for yourself! Get $40 off your first pair of unspun jeans HERE.