Grounds for Sculpture, located in Hamilton Township, New Jersey, is a museum, outdoor sculpture garden, and arboretum. The facility is designed to allow art and nature to work together, with nearly 300 contemporary sculptures across 42 landscaped acres. Additionally, indoors, there are temporary exhibitions from renowned and emerging artists scattered across six galleries.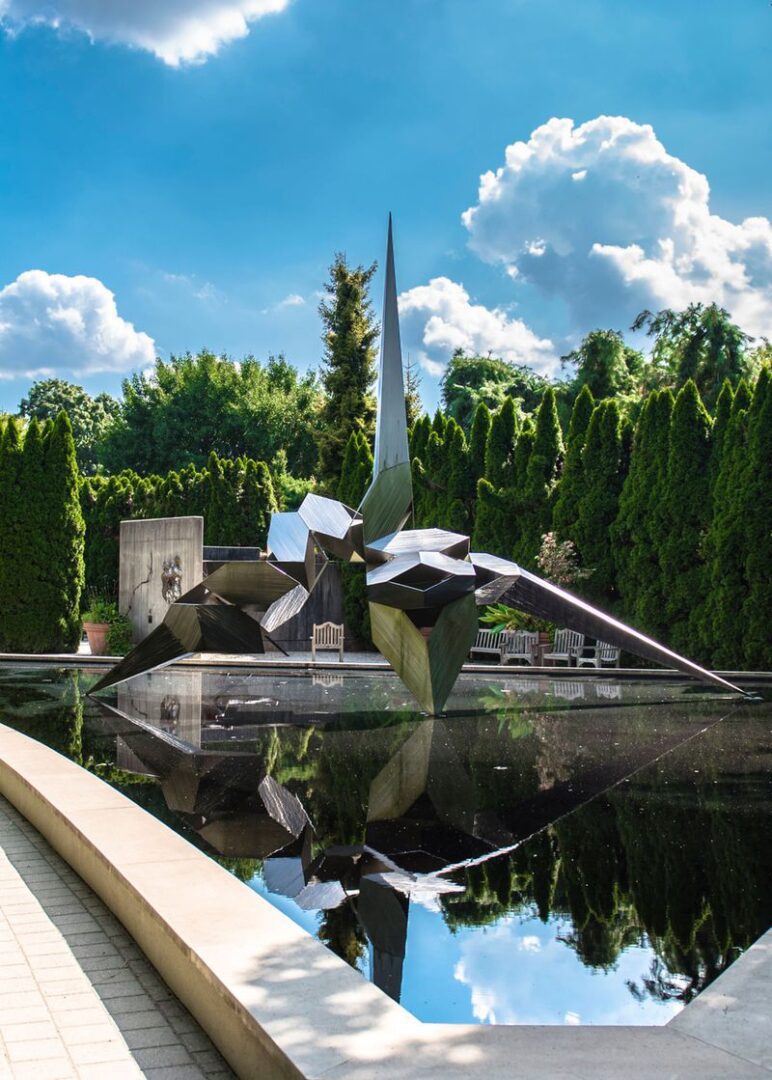 This unique museum was opened in 1992 by Seward Johnson, an artist and philanthropist. It opened on the former New Jersey State Fairgrounds and was an extension of its predecessor, The Johnson Aletier. After hundreds of artists had showcased their work at The Johnson Aletier, Johnson saw the potential of the fairgrounds as a place where art could be showcased within the landscape.
Fast-forward to now and more than 700 artists have displayed their work at Grounds for sculpture. The ground's current collection contains works from over 150 artists, including Anthony Caro, Clement Meadmore, George Segal, Joyce J. Scott, Beverly Pepper, Willie Cole, and founder Seward Johnson.
And Grounds for Sculpture's most recent exhibit called Night Forms is an… illuminating experience. The Grounds for Sculpture recently launched a two-year partnership with the Klip Collective in order to create a unique after-hours multisensory exhibition. The show will present a series of distinct light and sound works that directly interact with contemporary artworks and horticultural features across the park.
As immersive art continues to become increasingly more popular, Night Forms will incorporate this into the Grounds for Sculpture exhibit by using a series of mapping and lighting which will be choreographed with a soundtrack. This light and sound show also works to create a unique conversation surrounding specific artists' pieces as the show interacts with their work, including that of Bruce Beasley, Michele Oka Doner, and Michelle Post.
The creative director and founder of Klip Collective, Ricardo Rivera, is a site-specific media artist and a pioneer in projection mapping. He has experience directing sound and light media experiences, including Nightscape (Longwood Gardens) and Electric Desert (Desert Botanical Gardens, Phoenix).
In regard to their new exhibition, Gary Garrido, executive director of Grounds for Sculpture, had this to say, "Grounds For Sculpture continuously surprises and delights visitors through the interaction of art and the environment, and, by design, is an experience that changes seasonally. Through this newly commissioned series, we are intentionally experimenting with the possibilities of a nightscape… We are thrilled to collaborate with Klip Collective to bring their vision to life on our grounds and create a unique response to our art that delivers an entirely transformed atmosphere."