2022 was a year full of new museums opening, exciting art exhibitions, and many up-and-coming artists. Now, as we look ahead to the art world in 2023, here is a list of emerging artists to keep your eye on this year.
View this post on Instagram
Tymon de Laat 
Visual artist and muralist working out of The Netherlands, Tymon de Laat's work is inspired by his love and appreciation for Latin America and Mexican culture. Finding inspiration from the photography he takes during his travels, Tymon de Laat translates the photos of the people he met into vivid and detailed portraits on both canvas and concrete.
Blending the mediums of painting and sculpture, Frieda Toranzo Jaeger's paintings evoke futuristic themes. Her multi-paneled paintings create elaborate three-dimensional scenes with a scale that invites her audience to participate in her works. Her most recent installation, Autonomous Drive, involves a series of futuristic takes on vehicles which, according to Jaegar, is about, "How to navigate the experience of being." The collection can be viewed at the MoMA until March 13, 2023.
View this post on Instagram
Arnold Fokam
Arnold Fokam's signature style involves a mixture between transparent portraits and aquatic natural elements. His work explores the symbiosis between humanity and water, the source of all life, using a bright, colorful, and dream-like style. Through painting and sculpture installations, Fokam's work also evokes themes of environmental conservation and the protection of aquatic ecosystems.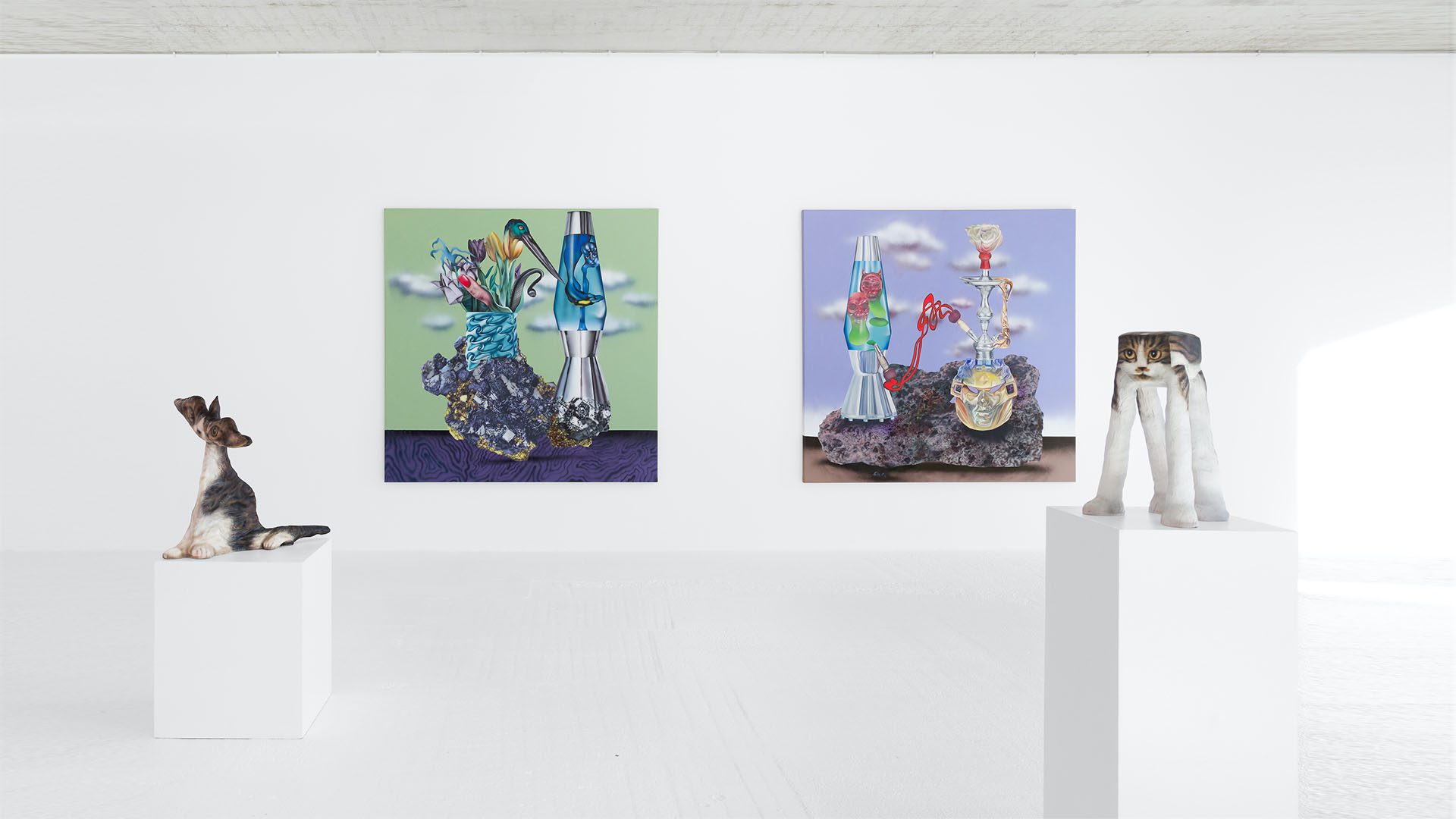 Ahn Tae Won
Seol-based artist Ahn Tae Won walks the line between virtual and reality by distorting internet memes into 3D works of art. Utilizing a process similar to texture mapping, in which a two-dimensional image file is applied onto the surface of a 3D model in a graphic program, Won distorts an image from reality and then applies it to a flat or 3D body using an airbrush. Creating an illusion of distorting or glitching, Won's work is themed around the internet and how the current generation processes information through humor and memes.
View this post on Instagram
Dana-Fiona Armour
Combining science and art, Dana-Fiona Armour's work evokes a comparison between human and non-human existence. In the age of bio-editing and the Object-oriented Ontology movement (a school of thought that rejects the privilege of human existence over the existence of non-human objects), Armour's work creates hybrids where the organic blends with rigid forms of minimalism and conceptual art. Having collaborated with researchers and doctors on some of her pieces, Armour's latest project titled MC1R Project involved a collaboration with biotechnology company Cellectis and utilizes gene-editing technology. Her previous works have used materials such as marble, animal bone powder, glass, pig skin, VR technology, and more.
View this post on Instagram
Jonathon Downing
Combining a love of basketball and classic figure painting, Jonathon Downing's aesthetic stems from his background in photo montage. Earlier this year, Downing debuted a completely sold-out solo show titled "Countryside Jumpshot" which featured facially abstract portraits in a countryside setting with themes around basketball. Exploring the relationship between idol and idolizer, Downing stated regarding his style, "My paintings aim to depict subjects that are simultaneously monstrous amalgamations of portraiture and honest, complex readings of people… These subjects are naturally seen as the idolizer, but upon closer inspection, could be seen as mirror images of the idols themselves, adapting aspects of the latter in search of a singular identity. It is through this relationship, my process, and the aesthetics I curate, that my paintings allow for new conversations to be made about an age-old game."
View this post on Instagram
Mimosa Echard
French visual artist Mimosa Echard creates pieces inspired by the co-existence of the living and non-living, humans and non-humans. Exploring the areas of contact and contamination between organic objects and consumer items, Echard's pieces incorporate medicinal plants collected from her garden or from inhabitants of her native village to create hybrid ecosystems. The combination creates a symbiosis between nature, cosmetic products, and electronic components (for example, copper foils and metal chains bind to snail shells, lichen, and cherry pits).
For more blogs about 2023, check out space events happening this year, the year's best travel destinations, our 2023 clean energy outlook, and inventions turning 100 this year.