As museums were forced to close and implement new safety measures during the COVID-19 pandemic, it's not far-fetched to predict that future museum architecture may take this as an opportunity to evolve. Seeing the negative effects that a pandemic can have on the art industry, it is likely that many architects and artists alike will be proactively devising preventative solutions to ensure the continued enjoyment of in-person art exhibitions.
Lobby
Although most museums provide the ability to purchase tickets online or via a kiosk, that doesn't eliminate the need for lobby spaces and ticket checking lines. According to a Smithsonian Magazine interview with Bea Spolidoro, a WELL-certified architect and principal at FisherARCHitecture in Pittsburgh, it is likely that architects will begin to move toward the incorporation of outdoor lobby spaces, "Being outside is always better than being inside in terms of particles spreading around… But at the same time, in windy conditions, particles can spread. So museums with courtyards could be another design solution that can keep people outside with less wind to spread germs."
Additionally, as AR technology continues to advance, museum architecture is likely to shift toward outdoor spacious designs. In 2021, the National Gallery in London created an outdoor installation in central London that allowed people to activate artwork on their phones using a QR code. At the Van Gogh Immersive Experience Pittsburgh, entrance lines were structured to be outdoors and the indoor exhibition room was spaced out on the floors using benches and projections of circles on the floor. It's possible that future museums will incorporate specific architectural elements such as tiling patterns or carpet squares that are designed to indicate the six-foot marker.
"Super sad vinyl sheets … or painter's tape on the floor, that's a wartime fix for when you really have to do it," Spolidoro says. "But when you're thinking about design, it would be a different, more thoughtful approach on the patterns and the volumes of architecture. Museums could be conceived as a more experiential environment."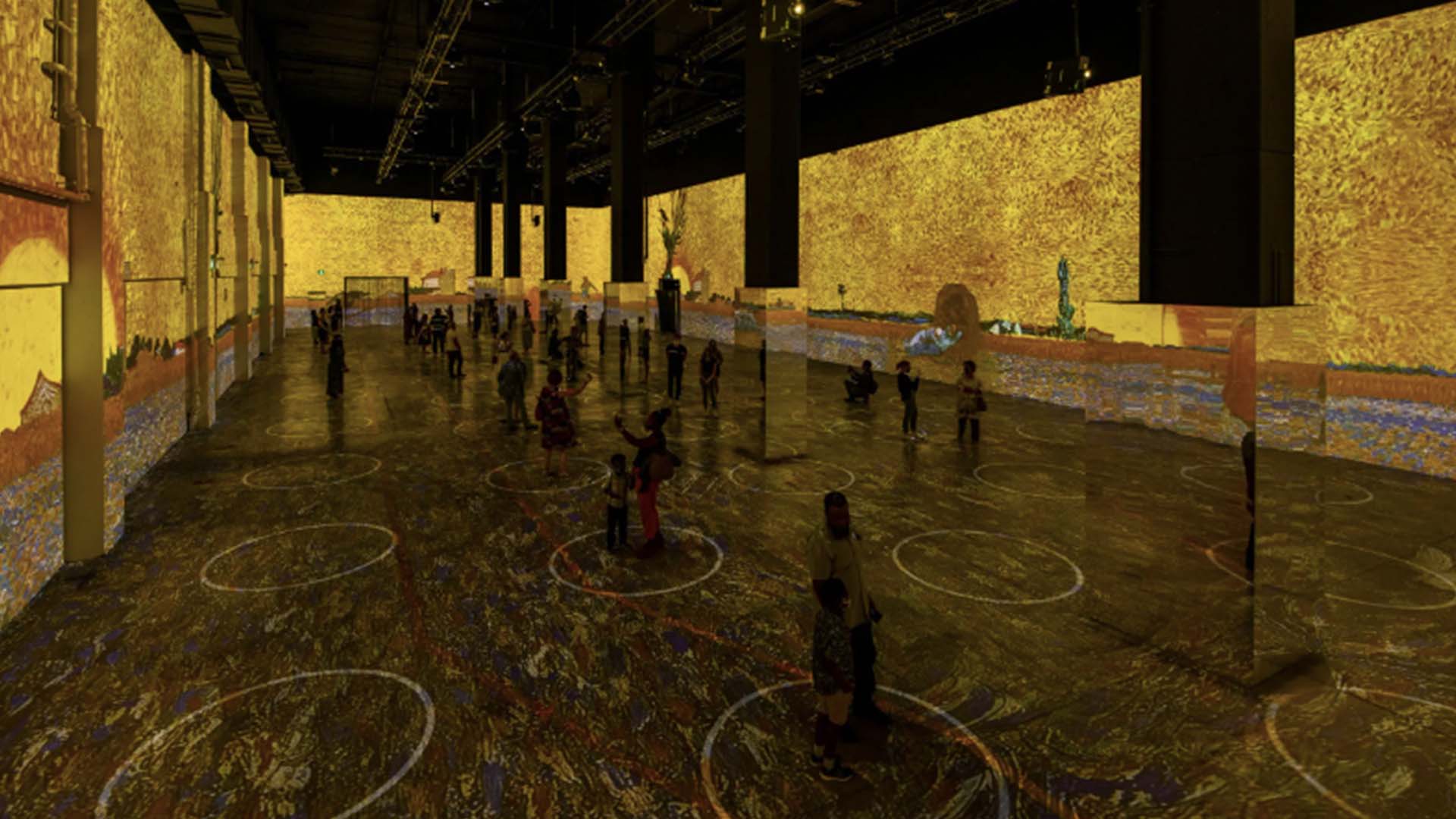 Gift Shop
The gift shop is a problematic source of germ spreading as it's common for visitors to pick up items and set them back on the shelf. One suggestion by Spolidoro is to design the gift shop as a museum itself, not allowing items to be handled by patrons, and build a pick-up window at the end where people can order items. Additionally, gift shop items could be displayed around the rest of the museum along with exhibits, patrons can place orders for the items by scanning a QR code with their phones, and then they can pick up their items at the museum's exit.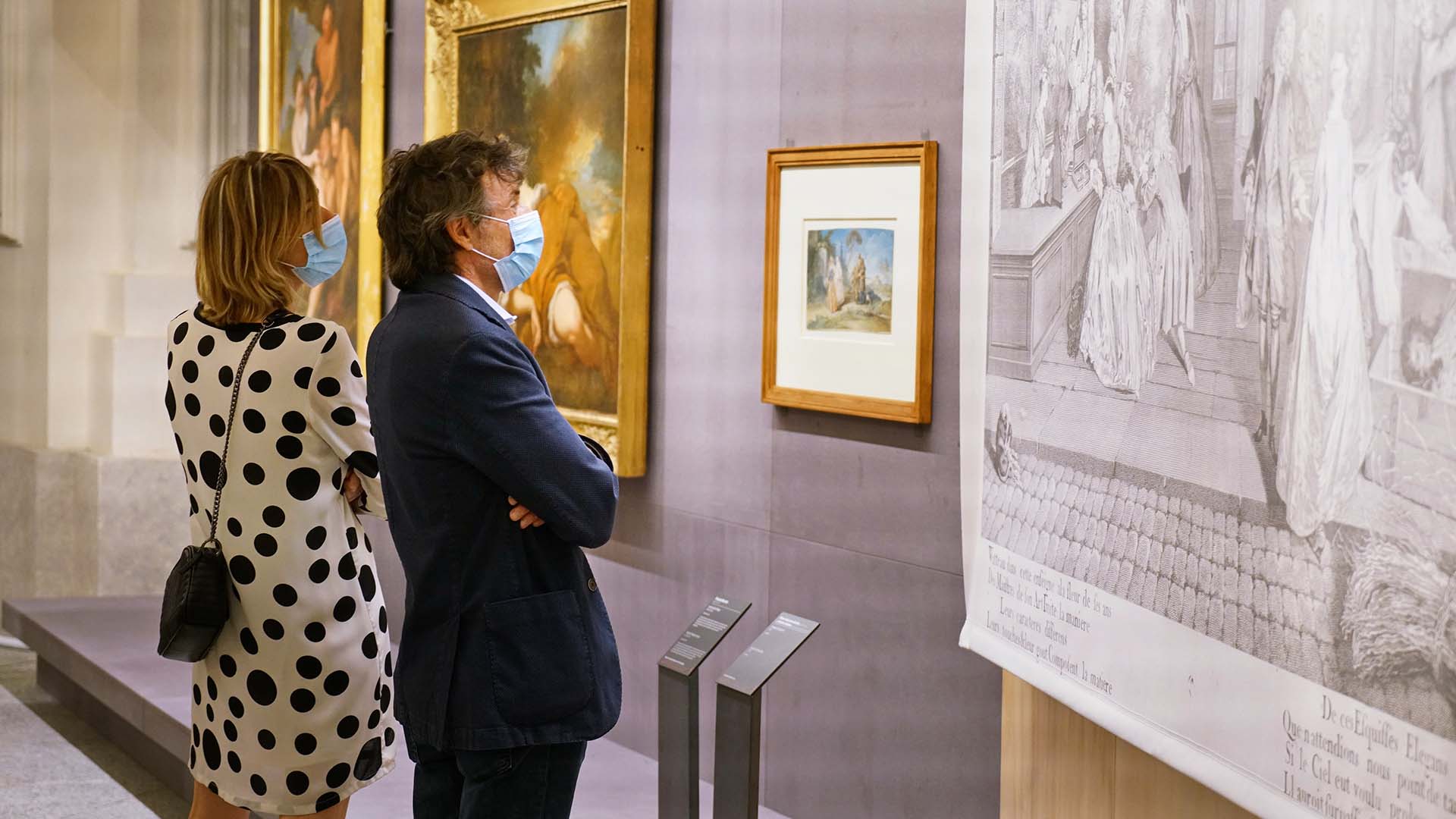 Exhibit Design
Museums architecture typically contains large open rooms with art lining most of the surrounding walls. On crowded museum days, the lack of adequate space between artworks is not very social distancing friendly. Not only will future museums likely be designed to keep artworks more spaced out, but they could also favor more traffic control measures in their design in order to eliminate overcrowding.
One of the biggest struggles when it comes to exhibit design is wall text displays, which can be a nuisance when it comes to social distancing. According to Michael Govan, director of the Los Angeles County Museum of Art (LACMA) and a leader in exploring how the public interacts with art, one possible solution could be mobile and digital displays like videos or pamphlets that you can experience before or during the exhibits which provide the necessary information about the various pieces.
As art continues to become more accessible through virtual museum experiences, museum architects must evolve and design spaces where patrons can feel comfortable experiencing and enjoying art in person.
For more architecture news, check out the world's first net-zero city, Los Angeles' newest skyscraper, how AI programs help architects, and buildings inspired by nature. 
Discover the World of Creation, and uncover the history of calligraphy, anamorphosis art, and pottery.