You know what they say: what happens in Vegas, stays in Vegas…except when you're catching it on video because you're shooting a TV show! The TWT crew and I journeyed to Las Vegas to shoot part of Episode 107, which is focused on the technology of flight. Ironically, this was the episode for which I spent the least amount of time in the air, as I only flew out one way and then drove back home to LA. Road trips from Vegas to LA are a rite of passage, and while this was not my first time making the pilgrimage to the neon city, I'm glad the crew was able to experience it firsthand (and yes, we made the required pit stop in Barstow).
Sightseeing
For part of our story on drones, we met with the Las Vegas Police Department and I got to see a side of Vegas that I've never seen before (no, not jail! I behaved myself on the trip!). We were shooting about forty minutes outside of the Strip in a rather deserted, mountainous area. I was surrounded by hills and rocky outcroppings and these incredible, low-hanging clouds. It was quiet, absolutely gorgeous…no neon in sight. Definitely not how you'd typically picture Vegas!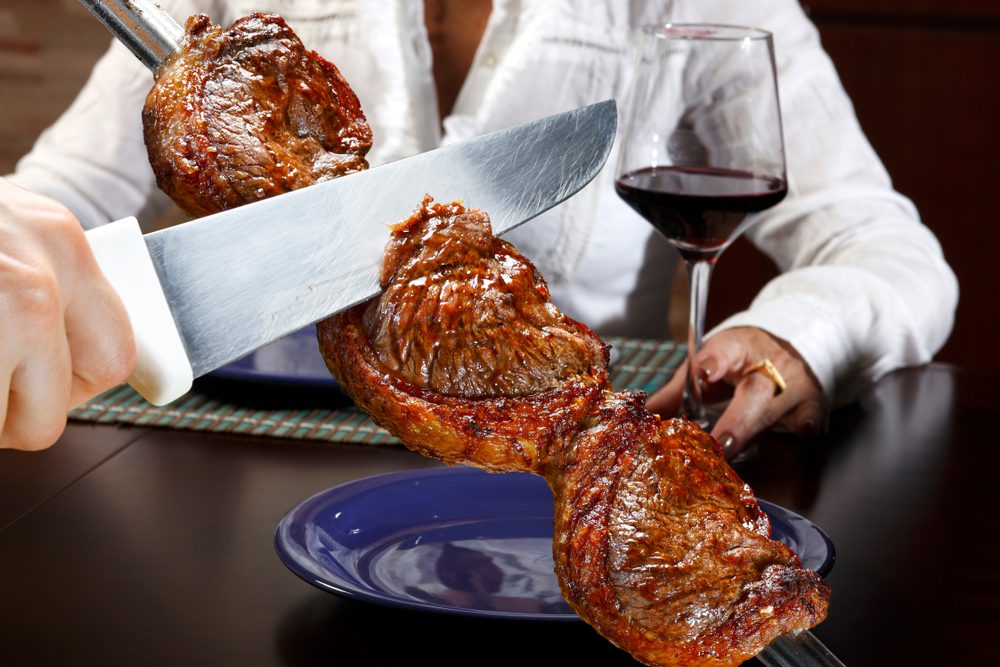 Foodie Flavors
There are lots of amazing foodie destinations in the Las Vegas area, and after a day shooting outside in the chilly desert, the chosen spot for the hungry TWT crew was Fogo de Chao, a Brazilian steakhouse. Apologies to all the vegetarians out there, but I'm a bit of a carnivore and it was extremely tasty!
The People
While doing our drone story, I had a blast talking with the Vegas Police Department and our new friends from drone company Yuneec about advances in technology and how they are using drones for search and rescue missions.
I spent a fair amount of time chatting with Officer Dave between takes. While demonstrating the drones, his genuine love and passion for all the technology he gets to 'play' with each day clearly shone through. The drones help the police do their job more efficiently – they help them help people – and he was very generous in sharing his knowledge with me.
Another guy I talked to had a dual background in production and aerial tech. It was fascinating to hear how his diverse interests have come together through the work he now does with drones.
Adventure Time
As you all know, a favorite part of shooting this show is the opportunity I have to try new things. Fellow sci-fi fans – this one's for you!
Because we were talking to the Vegas P.D. about how they use drones for search and rescue missions, I decided to challenge them to a little game of hide-and-seek to see how quickly they could find me using the drone's infrared technology. And that's how I found myself sprinting along a deserted river bed, attempting to escape the buzzing machines overhead as I channeled my inner Sarah Connor. I felt like I'd been transported into a post-apocalyptic dystopian future, trying to find an escape route from imagined evil overlords, yet never able to outrun Big Brother…(I should stop with this scenario right here…I'm up late writing this and if I keep going, I'm going to give myself nightmares!).
Overall Thoughts
As much as I loved my sci-fi adventure (and my Picanha steak), my biggest takeaway from the trip wasn't about the destination, but rather the people with whom I experienced it.
We started shooting TWT last October and when we shot in Vegas, we had just finished our sixth month of production. At this point, the TWT crew knows each other really well as a result of hours spent together shooting, exploring new places and some pretty darn long road trips! We know who likes to get up early, and who's not exactly what you'd call a morning person. We've spent many dinners talking about everything from our families to favorite movies to whether the laws of nature are immutable. We've kept each other awake on long road trips, shot in freezing snowstorms and sweated it out together in sunny cotton fields. Oh, and we've all tried to win the mobile trivia game HQ!
Growing up, I spent my summers at sleepaway camp, where I developed an appreciation for bonding with people you meet in specific, contained, intense situations. Throughout my life, I've found myself replicating these "mini-families" through the work that I do, such as projects like TWT. And I'm very glad that the bond that has formed between the cast and crew isn't something that'll stay in Vegas, but rather travel with us for many adventures still to come.