Tamara Krinsky, our Field Reporter for Tomorrow's World Today, wears a lot of different hats so we thought it would be fun to take a deeper dive into just how this actress/broadcast host/writer/producer/mom/wife balances it all.
You do a lot of different things. Do you even have what one would call a "typical" day?
Not really! My work and creative life really vary day to day. So whether I'm in Pittsburgh shooting something with Tomorrow's World Today or back in L.A. doing a play with Antaeus (my theater company), the daily routine is always changing. But I feel very lucky that I get to do so many different kinds of things.
So how do you structure your day if it's always changing?
The structure of my day depends on whatever my current projects and most pressing deadlines are. And of course threaded throughout it all is the constant of being a mom.
I think that sometimes there's a general impression that all of us who work in the entertainment industry have tons of help with taking care of our families and our lives, but the reality is that there is a whole population of what I'll call "working class actors" who work regularly but aren't the superstars you see splashed across the covers of People and US Weekly. We don't have nannies or assistants or – for some of us – even additional family living nearby. We're just people working our butts off as we try to figure out how to simultaneously take care of our kids, pay the bills and fulfill that creative mojo that burns inside us.
And have you figured out how to balance all of those things?
If you saw the overflowing pile of clothes in our bedroom hamper, you'd know that the answer is a big hell no! (laughing) It's all definitely a work in progress.
My husband Matt is a wonderful partner – it all starts there. And we have been very lucky to have awesome friends and babysitters who help us out, as well as parents who come out to visit a few times during the year to "Granny Nanny." But it's always tricky. We do have a few basic routines down that keep us sane.
Such as?
Well, during the week, the first task of the day is getting my daughter ready for school. My husband and I will tag-team making breakfast, prepping her lunch and getting her out the door. Neither of us is exactly what I'd call a morning person, but we've learned to function….though he's waaay better at it than I am!
After she's gone, I try to workout. I strongly prefer to exercise in the morning…it gives me energy throughout the day, and if I wait, I'll just find too many excuses to not do it.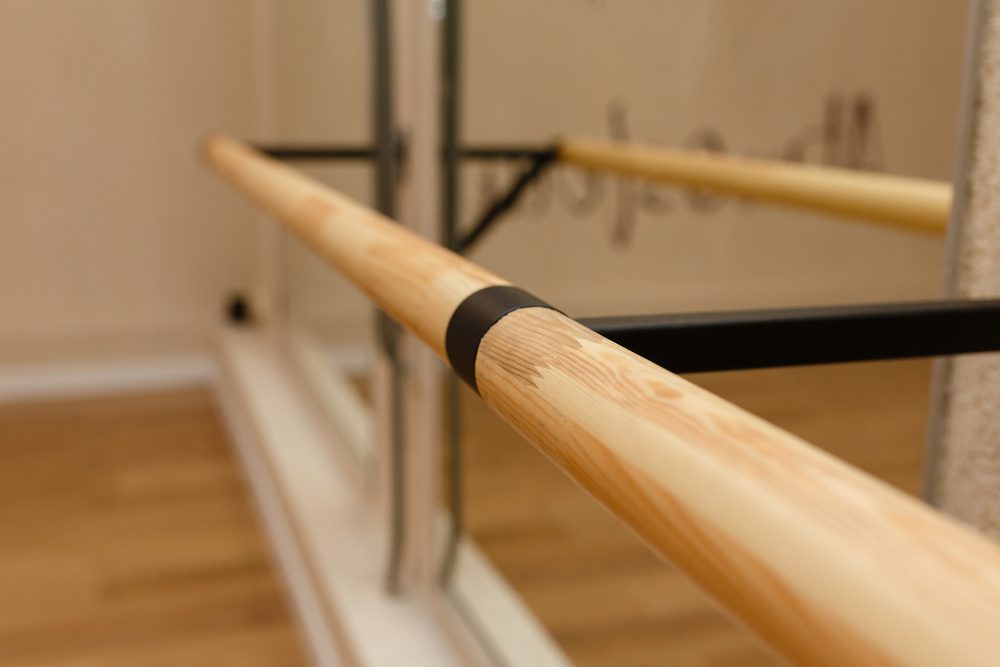 What kind of workouts do you like to do?
I get really bored doing the same thing every day – I'm guessing you're sensing a theme here! – so I try to change up my routine throughout the week. One of the things I love about L.A. is the ability to run outside for most of the year, so I try to get in a run a couple of times a week. I'm also a big fan of Bar Method, which is loosely based on ballet barre movements – they make you do these teeny, tiny sculpting moves which result in making you painfully aware of muscles in your legs and butt you never even knew you had! My latest obesssion is HIIT workouts (high intensity interval training) – shout out to Sweat Garage and HIIT House LA – their instructors dose out just the right amount of tough love to keep me motivated and challenged. And then there are the days when it's really hard to motivate, so I'll just get on a treadmill or a stationary bike at the gym and read a book or watch a T.V. show.
What's next after the gym?
Checking the To Do list! I live and die by my lists and scheduling deadlines (and if my parents are reading this, they'll laugh because my dad is also addicted to list-making).
If it's a "writing" day, that usually means I'm focusing on one of several projects: award show writing, social media clients, or episodic writing. This can involve doing research or conducting interviews in addition to the actual writing part.
When it comes to award shows, it's always fun to script things for celebs you admire…and it's a blast to hear an audience laugh at your jokes! I also script events for several organizations that work with students, such as Big Brothers Big Sisters of Greater Los Angeles and Point Foundation, and part of my work involves helping them figure out how to tell their stories more clearly and effectively. It's very fulfilling to have a small part in helping these incredible kids and college students find their voices.
Right now the episodic work I'm focused on is tied in with Scirens, a creative team that I co-founded with my partners Taryn O'Neill and Gia Mora. We're all actresses/writers with a passion for science. Our name is a play on "screen sirens for science," and our two main goals are advocating for scientific literacy in the general public and creating science-infused entertainment. We are currently writing a half-hour comedic TV pilot and working on a treatment for a non-scripted show; we basically function like a mini-writers room.
And of course, there's writing for Tomorrow's World Today which is a blast because I get to research different technological and scientific innovations from around the world.
And by the way, everything I'm talking about is when I'm not shooting or on the road with TWT. When I am on the road…it's an entirely different situation.
Are there things you do on the road to make it easier?
There are just different things to figure out. While shooting TWT, routine pretty much went out the window, as my day-to-day was completely determined by our shooting schedule. I still try to fit in a few regular things every day – exercising, social media, writing projects – but I'm always working around whatever/whenever/wherever we are shooting.
One of the quirks of this particular show was that for me, everything was an "on location" shoot – even when on set at our "home base" in Pittsburgh. That meant a lot of time spent in airports and on roadtrips as we caravanned to different locations. I think I now know where to get the best Caesar salad in every airport on the East Coast! I have become a big fan of my phone's personal wifi hotspot, which allowed me to get online from almost anywhere. If I'm connected, I can get work done in almost any setting, from the backseat of the production van to my dressing room on the TWT set to the airport gate! I also like to catch up on sleep on planes. One of the benefits of being 4'11" is the ability to curl up in an airline seat. Tall people, please don't hate me…
I know you do a lot of work with Marvel, but unless you're an actual real superhero, you've got to take a break sometimes, right? What do you do to recharge?
When I have a break, I can get cozy and go into total nesting mode. I love cooking. It calms me down and centers me. Fun fact: I'm very bad at cooking small batches of things. I blame my mom! Growing up, we spent a lot of time preparing food for big holiday dinners together, and she is brilliant when it comes to cooking for a LOT of people. I'm not sure I'm brilliant, but she did kind of bake in the idea that if I'm going to actually spend time making something, why not make enough so we can at the very least have leftovers?
Any specialties we should know about?
My husband, daughter and I are big fans of fish tacos – I love sauteeing up a bunch of spicy peppers and vegetables, and my kiddo has become a whiz at making homemade guacamole. I know how to make multiple kinds of chicken (thanks Mom!), but I'd say our favorite is baked Panko Chicken, which is like a healthier version of fried chicken. The trick is to use a little bit of sweet French dressing to get the panko crumbs to stick to the chicken. I'm also big on salads. One of my secret ingredients is raw pumpkin seeds. It adds some crunch and balances out the acidity of a vinaigrette really nicely.
So when am I coming over for dinner?
Next time you're in LA, let me know!
The other thing I love during down time is disappearing into a book. Current faves include sci-fi (recently read Join and currently reading The Wanderers) and political or STEM-oriented non-fiction. I'm also really grateful to my book club – we all have different tastes, so I've read a lot of contemporary fiction with my friends that I might not have initially picked up on my own.
But no matter what book I'm reading, my favorite place to do it is on the beach. That's one of the few places I can totally relax.
I'm also a T.V. junkie…though I have finally become resigned to the fact that there are just way too many good shows out there that I'll never have the time to watch! Gotta let that FOMO go!
Any recommendations?
I'm all over the map – depends on what kind of mood I'm in. It's probably no surprise that I love dystopian sci-fi like Handmaid's Tale and Altered Carbon. And of course, Game of Thrones. When I'm in the mood for drama, it can range from shows like Grey's Anatomy and Scandal (bye bye Olivia Pope!) to The Good Fight (the spin-off of The Good Wife). I also love my superheroes – faves include Marvel's Luke Cage and Jessica Jones. On the lighter side, I'm loving The Good Place and black-ish. You'll also find non-fiction shows in my DVR queue like Last Week Tonight with John Oliver, Rachel Maddow's show an, of course, a bunch of different science shows.
Given that your days change so much, do you have a favorite type of production day? One thing you prefer doing over another?
Aw, c'mon – don't ask me to play favorites!
Overall, I'm really goal-oriented and ambitious. There's a lot I want to do and a lot I'm interested in. So my favorite day is more about a rhythm: putting all of my energy into something, working with a great team of people, and then having that build up and final payoff, whether it's an Opening Night at my theater for a show, the crazy adrenaline on the red carpet of a Marvel LIVE! premiere or suddenly finding myself standing in this amazing eco-lagoon in Honduras while shooting a TV show.
Those are my best days – when it feels like I've worked my butt off, and then I get to do these really awesome things and share what I'm passionate about with the world. At the end of the day, I want to make an impact, and getting to do that in so many different creative ways makes the juggling act worthwhile.