Amtrak is currently in the process of building new and more sustainable trains called Airo Trains. The new trains will feature enhanced accommodations and sustainability innovations to meet a "soaring demand for train travel."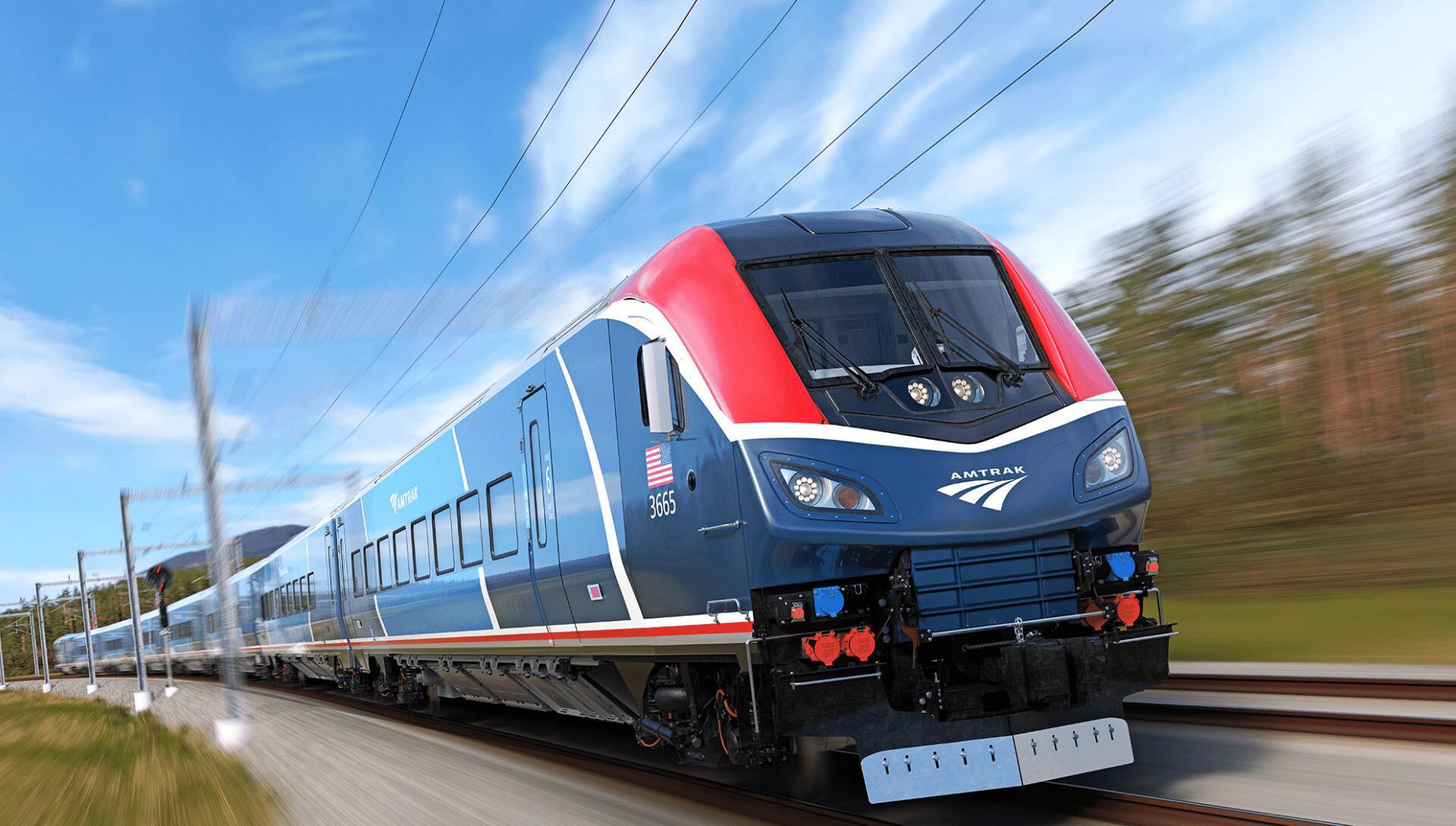 "Offering a more sustainable way to travel and featuring a modern design with world-class amenities, Amtrak Airo will transform the travel experience," a press release from the company stated. "The new trains will elevate the journey with a focus on comfort and efficiency, providing even more advantages to traveling by rail."
Amtrak currently has more than 30 train routes throughout the US, traveling to over 500 destinations in 46 states. The new trains will reportedly be more fuel efficient and produce 90% less particulate emissions in diesel operations.
The trains are capable of running at 125 miles per hour and will eliminate engine changes, which will result in reduced downtime in DC and other stations where locomotive changes could be time-consuming. According to the statement, the new trains will also provide "spacious interiors, panoramic windows, plenty of legroom, double and single seats, dedicated outlets, USB ports and onboard Wi-Fi."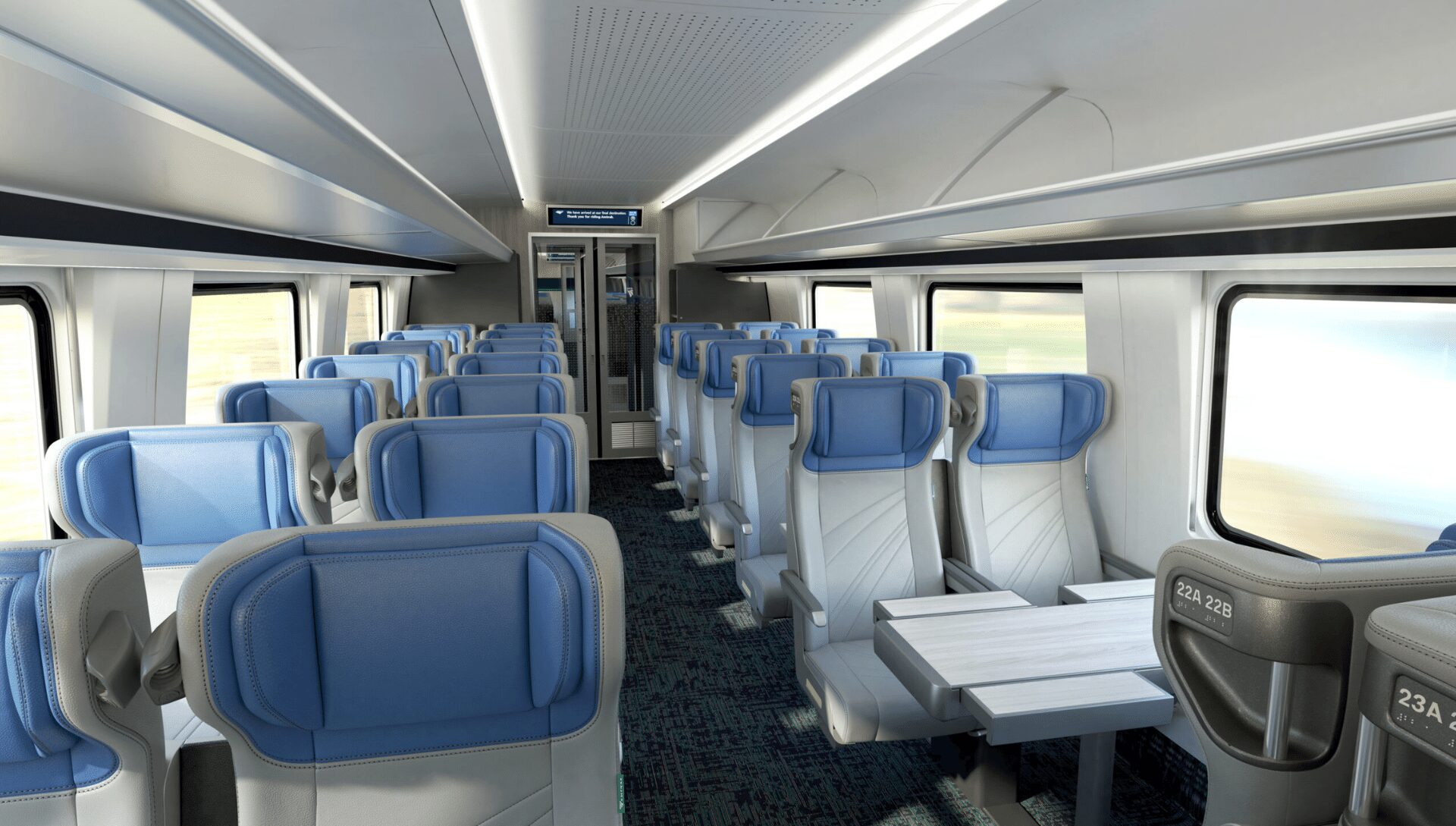 In addition to the added benefits in sustainability, the new trains will provide improved passenger amenities such as modern comfortable seating, a contemporary food service experience with self-service options, spacious restrooms, and more. They will also feature panoramic windows, giving passengers the best possible view of the beautiful sights they will pass through across the country.
Other amenities include enhanced lighting, dedicated individual outlets, a USB port and onboard Wi-Fi, touchless restroom controls, and improved technology with digital customer information systems. There will also be dedicated water stations on each trainset which will provide chilled and filtered water, reducing the need for disposable plastic bottles.
The company also added improved accessibility designs to the new trains, including spacious and accessible restrooms and vestibules, accessible cafe cars, and wheelchair lifts for passengers using mobility devices. Inductive hearing technology will also be featured to assist with onboard announcements.
Airo trains will operate in the Northeast Regional, among other routes including the Empire Service, Virginia Services, Keystone Service, Downeaster, Amtrak Cascades, Maple Leaf, New Haven/Springfield Service, Palmetto, Carolinian, Pennsylvanian, Vermonter, Ethan Allen Express, and Adirondack.
Amtrak has ordered a total of 83 trainsets and the first Amtrak Airo trainset is scheduled to debut in 2026.
"We are thrilled to satisfy the soaring demand for train travel with new state-of-the-art, American-made equipment that ensures the highest standards of comfort, service, and amenities," said Amtrak President Roger Harris. "As we advance this vision, we're committed to getting people where they need to go while reducing road and air congestion, creating jobs, and supporting the American economy."