Transportation, electricity generation, and agriculture are often talked about as the prime culprits of carbon emissions, while heating and cooling are overlooked by these seemingly more obvious sectors. Scott Tew, VP Sustainability and Managing Director for Trane Technologies' Center for Energy Efficiency & Sustainability, believes that this narrative needs to change. We reached out to Tew to find out what he thinks the roadmap for a net-zero future looks like. Here's what he had to say.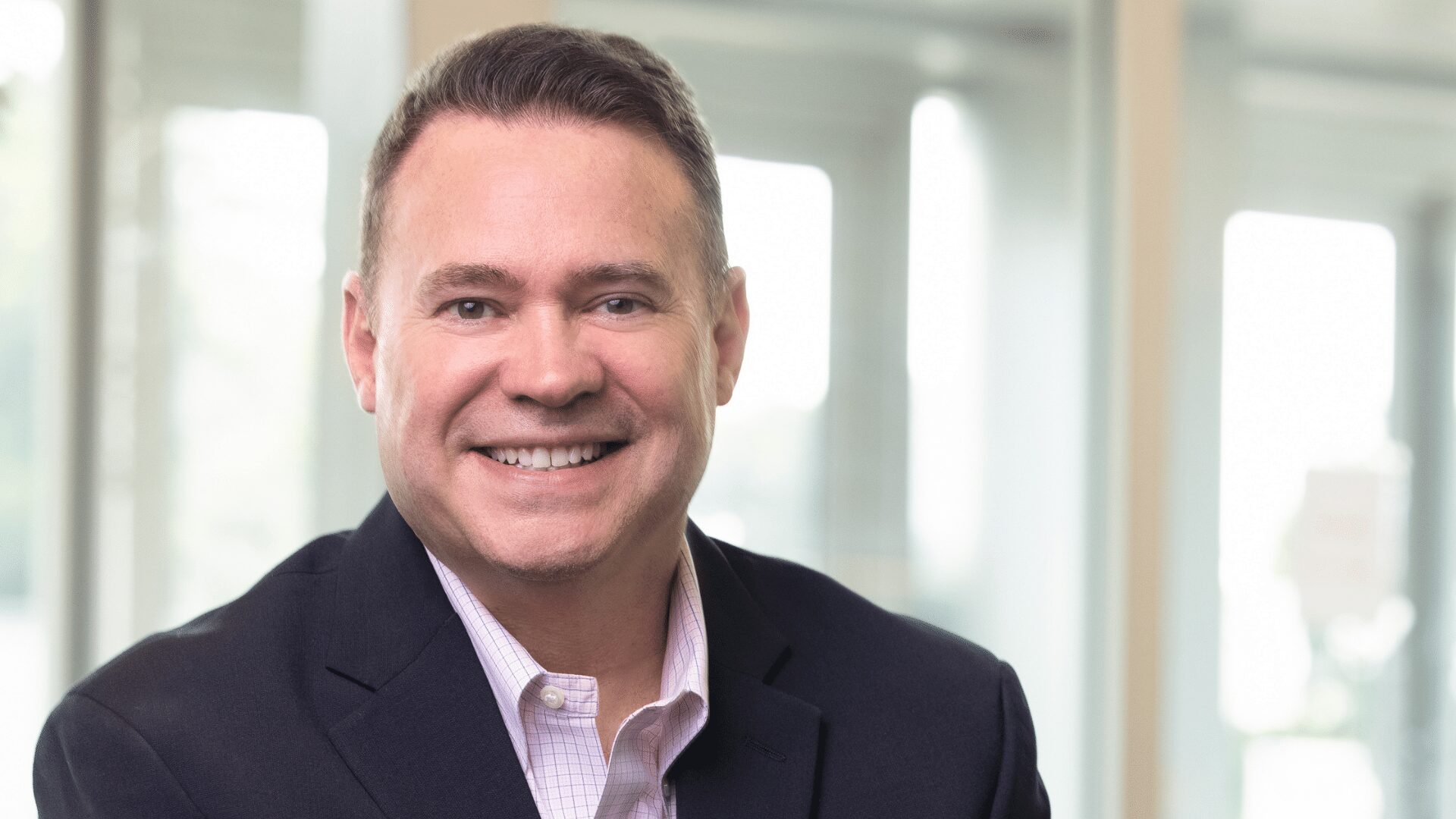 ---
The bottom line for a sustainable world is simple. We will not make great strides in developing the sustainable societies we dream of without seriously considering the substantial emissions from technologies associated with heating, cooling, and ventilation (HVAC), and thus identifying the impact of decarbonizing the industry.
By introducing sustainable innovation and a new realm of building efficiency to the world, we are doing our part to help align with the United Nations Framework Convention on Climate Change, and the ambition of the Paris Accord in a race to achieve net-zero global climate emissions by 2050.
It's also why we are pushing our boundaries, and that of the industry, by setting ambitious, but necessary targets to significantly reduce our environmental impact. Our near-term targets for this decade are big but achievable. We've committed to reducing our customers' emissions by a Gigaton – one billion metric tons – by 2030. To put the scale into a relatable example, a gigaton of carbon is the equivalent of 100 billion gallons of gasoline or 200 million gas-powered vehicles on the road. And while we are helping our customers decarbonize, we've also committed to achieving carbon neutrality in our own operations in that same timeframe.
A vision and a plan for a net-zero future
In 2022, Trane Technologies became the first in our industry—and one of the first companies in the world—to have our 2050 net-zero carbon emissions targets approved by the Science-Based Targets initiative, following previous approval of our near-term 2030 targets. Getting these long-term targets validated was a huge milestone for our vision of a sustainable future. But, setting our sites on 2050 required the courage to make some bold commitments and work toward the answers. That's the path we are on.
As a leader in sustainability, we know it's important to share our plans and encourage others to follow. For the same reason we shared our Gigaton Challenge playbook to help others see a more sustainable path for themselves, we are being transparent about our 2050 Net-Zero roadmap to build momentum for ourselves, our industry, and beyond.  
Here is what our 2050 Net-Zero plan outlines.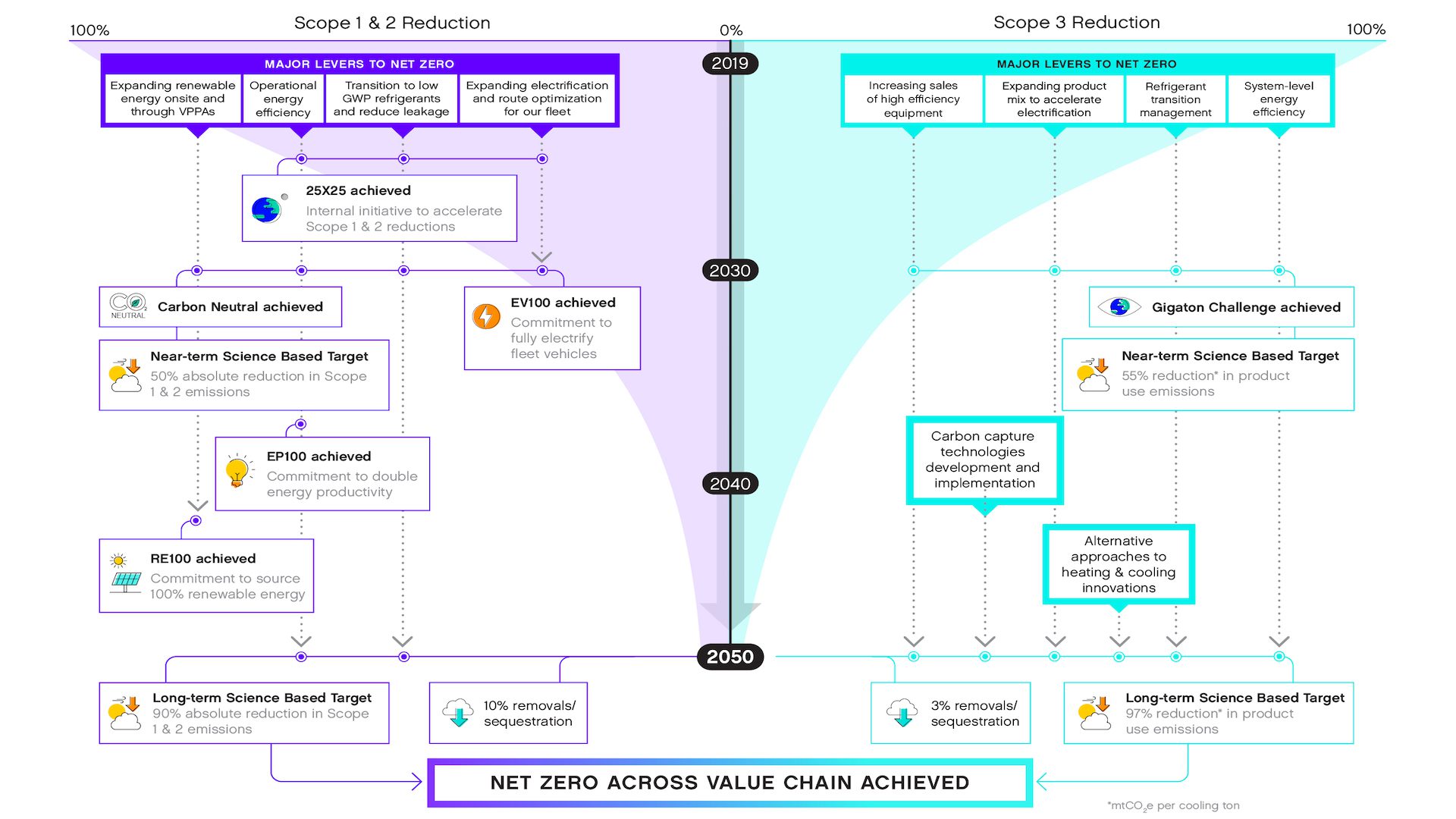 We'll reach our net-zero goal by taking the following actions in our own operations (Scopes 1 and 2): expanding renewable energy at our facilities and through virtual power purchase agreements, increasing our operational energy efficiency, transitioning to low-global warming potential refrigerants and reducing leakage, expanding electrification and route optimization to our fleet, and continuing to accelerate energy efficiency and smart technology
For example—on expanding renewable energy—we're nearing completion of a 10,000-panel solar power installation at our Monterrey, Mexico facility—the largest in the country. When operational, this photovoltaic system, which includes a Tesla Battery Energy Storage System, will supply 70% of the electricity needed to power the facility each year. 
And in our latest ESG Report, we spotlighted our commitment to transition 100% of our global fleet of more than 8,000 vehicles, including service vans and trucks, to all electric vehicles (EVs) by 2030. In alignment with the Climate Group's EV100 initiative, we will help accelerate the transition to EVs in our industry and beyond, while supporting the critical deployment of charging infrastructure for employees and communities near company-owned offices, manufacturing facilities, and service centers. 
Outside our operations, our roadmap includes these actions related to our customer's use of our products (Scope 3): increasing sales of high-efficiency equipment, expanding product mix to accelerate electrification, managing the transition to lower-global warming potential refrigerants, increasing system-level efficiency, and continuing to accelerate energy efficiency and smart technology 
For example, our Trane® business recently the first-of-its-kind Thermal BatteryTM Storage-Source Heat Pump System. This innovative system converges four proven technologies to accelerate building decarbonization: thermal energy storage ice tanks that reclaim and store excess building heat like a battery, air-to-water heat pumps with a reverse vapor compression cycle to extract heat from the air outside to warm the building, all-electric chiller-heaters that recover the excess heat, and intelligent controls that maximize occupant comfort and energy efficiency. 
And our transport business, Thermo King®, is accelerating the electrification of transport refrigeration for our customers, pledging to deliver all-electric, zero-emission solutions for every segment of the end-to-end cold chain by 2025. 
Opportunity across our entire value chain
Our value chain is rich with opportunities to reduce embodied carbon – with suppliers' operations, in how we design and manufacture products, and in how we ship. Last year, as the first in our industry to join SteelZero, we pledged to increase our purchase of low-carbon steel over time to move the market toward near zero materials and technologies. We announced purchase agreements with two supplier partners to purchase low-carbon steel nearly 80% less carbon intensive than traditional blast furnace steel, representing 20% of our annual steel purchase. By 2050, we've pledged to procure, specify, or stock 100 percent net-zero steel.  
Finding new avenues 
While we'll continue accelerating energy efficiency and smart technology, we're open to the idea that we don't know what we don't know, and options that appear to be experimental or beyond our core competencies could end up being something we should pursue. Our chair and CEO Dave Regnery recently said, "It's not often you find an incumbent who is also a disruptor. But that's exactly who we are."
And that's exactly how we will innovate our way into a more sustainable future. Learn more about our net-zero roadmap.
TomorrowsWorldToday.com thanks Scott Tew for offering his expertise.
 For more information on sustainable heating and cooling practices, check out our full episode below: