Like all large buildings, the Science Museum of Minnesota uses a lot of energy. To increase efficiency and protect over 2 million artifacts, the museum has installed a heating and cooling system from Trane©. We talked to Patrick Hamilton, the museum's Manager of Sustainability Initiatives, to find out more.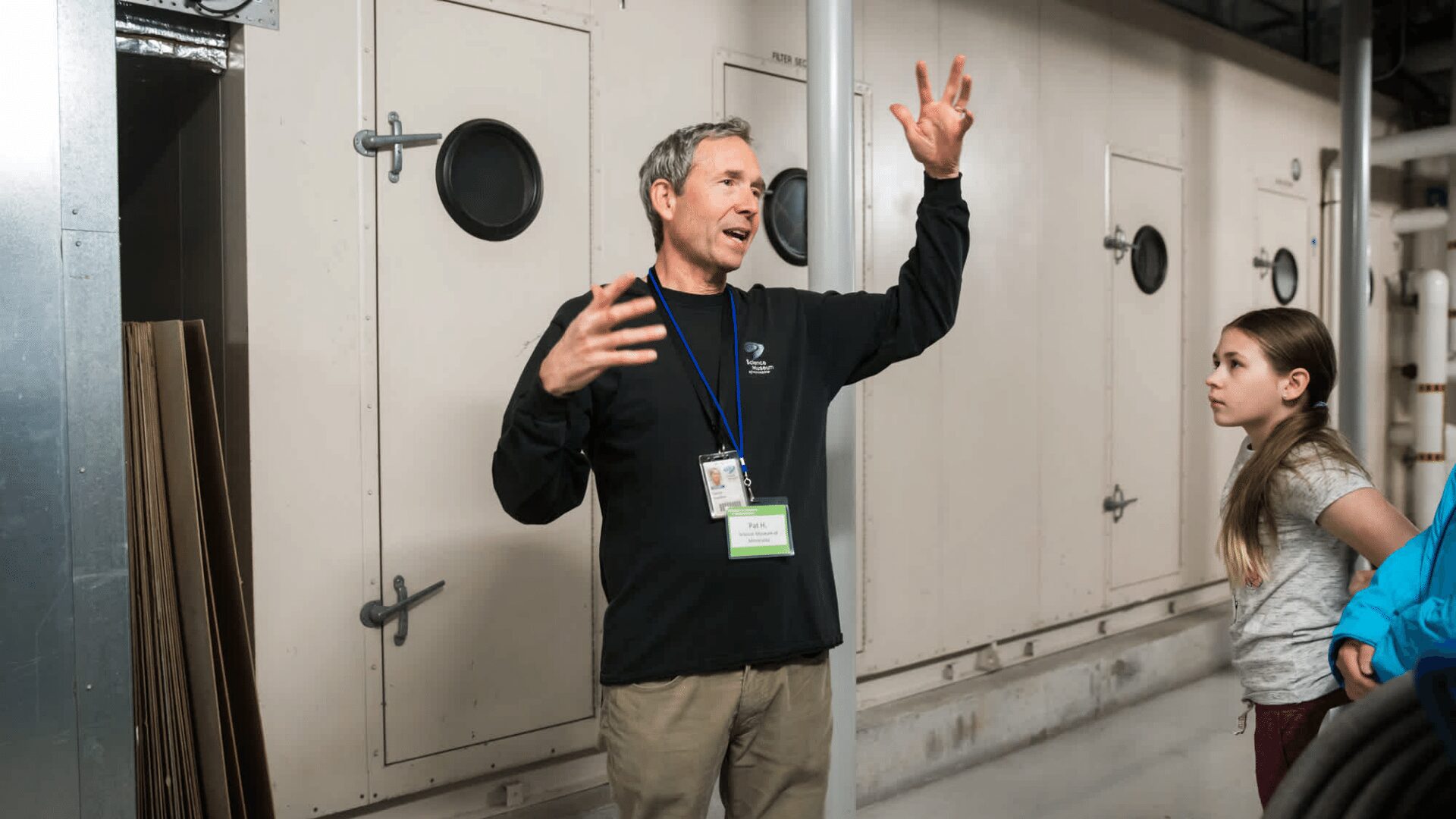 Tomorrow's World Today (TWT): The Science Museum of Minnesota set a goal of achieving 100% carbon neutrality by 2030. Can you talk more about the role museums play in lowering their carbon footprint?
Patrick Hamilton, the Science Museum of Minnesota (PH): The Science Museum has been a strong advocate within its professional organizations, such as the Association of Science and Technology Centers and the American Alliance of Museums, that museums adopt a more visible role in championing climate action. We are called on to actively invest in sustainable infrastructure and plan for ongoing renewal in order to continue to make progress towards the reduction of greenhouse gasses. 
A key opportunity as exemplified by the Science Museum is using our own buildings to showcase how the energy consumption of buildings and consequently their attendant carbon emissions can be dramatically reduced.
TWT: Why did the Science Museum of Minnesota need to change its heating and cooling system, and what was changed?
PH: By 2008, the building automation system installed in the Science Museum back in the 1990s was no longer being supported by its manufacturer. Around the same time, the museum's account manager with its electric utility introduced the museum to a consulting mechanical engineer who was doing remarkable work in improving the energy performance of large buildings. 
It was this engineer who introduced the museum to the concept of heat recovery chillers. Heat recovery chillers enable chillers that would normally reject heat to utilize that energy for heating a building. The museum decided to bundle together the need for a new building automation system with the opportunity to install Trane's heat recovery chillers. 
TWT: What have the results been of installing the heat recovery chillers? 
PH: Since project completion, the museum has reduced its purchases of hot water for its facility by 35-60% in comparison to purchases made in 2012, depending on the severity of the heating season. This has enabled us to reduce our total utility cost by an average of 22%, or $245,000 per year.
TWT: What other sustainability initiatives has the museum implemented to reach this goal of carbon neutrality?
PH: In addition to the heat recovery chillers and controls, the Science Museum has been engaged in long-term efforts to reduce its electricity consumption. From a peak of 7 million kWhs used annually in the early 2000s, the museum's consumption of electricity now is about 4 million kWhs annually—a reduction of about 40%. 
Furthermore, the museum in early 2021 signed a subscription agreement with its electric utility for 100% wind-generated electricity, so the electricity the museum still consumes now is carbon neutral. We also have a solar garden subscription to further support developing renewable energy on the grid.
TWT: How can other museums ensure that they are as efficient as possible? 
PH: They should track their energy consumption. After all, you can't manage what you don't measure. Additionally, they should reach out to their energy providers, especially their electric utilities, to learn what resources are available to conduct energy audits of their facilities so that they can learn what improvements could not only substantially reduce their carbon footprints but their utility bills as well, thereby enabling them to direct more money toward their educational missions. 
They should also invest in their building systems and infrastructure. We cannot meet these goals by operating old equipment that relies on a fossil fuel-powered utility.
TWT: You attend COP (Conference of Parties) each year. Why do you attend, and what are you hoping to accomplish or influence by being there? 
PH: I attend to raise the visibility of cultural institutions in general and science museums/centers in particular as valuable partners in climate action, and I go to elevate the visibility of the Science Museum as a valuable partner in helping to foster an all-of-society approach to climate action.
TWT: Lastly, what is your favorite exhibit, past or present, that has been at the Science Museum of Minnesota?
PH: I was very impressed by the museum's production in 2013 of the exhibit Maya: Hidden Worlds Revealed and am delighted that it is back at the museum for a second run.
Presented in both English and Spanish, Maya gives visitors a glimpse at ancient Maya life—from mighty kings who ruled powerful cities to the artisans and laborers who formed the backbone of society. Millions of descendants of this mighty Mesoamerican society still represent their culture and traditions today.
For more information on sustainable heating and cooling practices, check out our full episode below: