About 64 million households in the United States are actively using smart home devices in 2023. With this number forecasted to grow by 10.2 percent annually, the future of smart homes is bright. To find out more about the home of tomorrow, TomorrowsWorldToday.com talked to NXP Semiconductor's Executive Vice President of Global Sales, Ron Martino, and Vice President of Systems & Applications Engineering, Maulin Patel.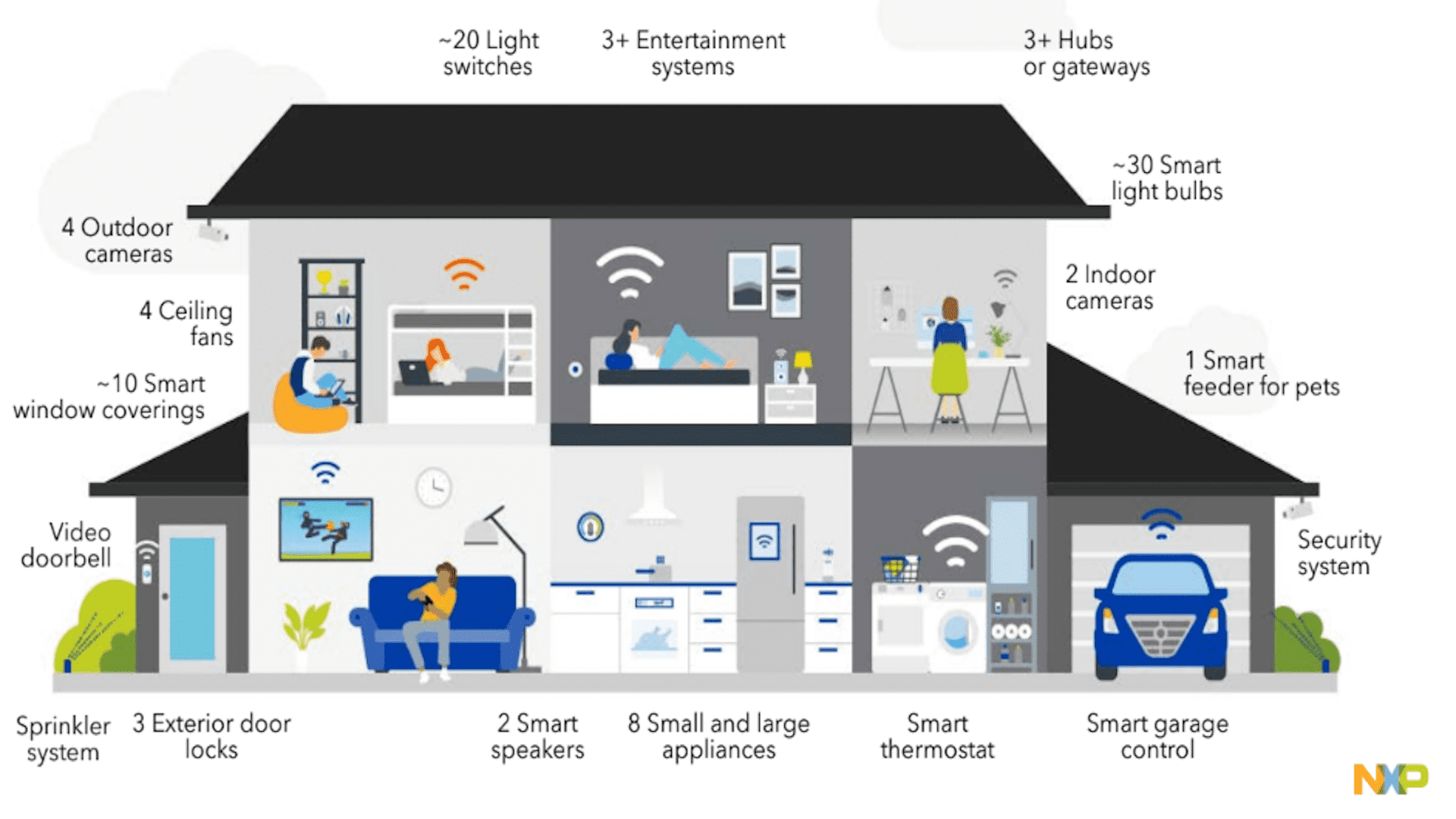 Tomorrow's World Today (TWT): For the past decade or so, the term "smart home" has become a sort of all-encompassing buzzword. How do you define what a smart home is and what it looks like? 
Ron Martino, NXP Semiconductors (RM): A smart home leverages technology to do something meaningful in your life, and what's meaningful in your life varies from person to person. It can help make your home more energy efficient and save you money by cutting utility bills, and it can make your family safer by anticipating situations that could be harmful by addressing those in an automated manner. 
TWT: What role does NXP Semiconductors play in creating smart home technology?
RM: NXP creates semiconductors that go into many different applications, including computing, sensing, actuators, and connectivity products. Connectivity products are electronics that go into everything that's in your home, such as a thermostat, an HVAC system, and an entertainment system.
Some people have security and safety concerns about bringing smart technology into their homes. What do you say to people who may not be fully comfortable with the technology?   
RM: NXP is a leader in payment transactions, government documents, and protection through security that has been implemented around the world. The same technology that allows you to make a transaction with your phone and use a credit card in a very secure manner is the same technology that we place into devices, like a lock for access to your home. 
Our leadership in security technology minimizes the risk that you have of someone who wants to do harm to you or steal your personal property. We have electronic intellectual property and knowledge that helps make our devices some of the most secure devices in the world.
Matter is an open-sourced connectivity standard that allows most smart devices to communicate with each other locally, regardless of who made the gadget. Can you talk more about how NXP helped define the technology, and how integral Matter will be in the future of smart homes?
Maulin Patel, NXP Semiconductors (MP): All of us are trying to address this issue of integration where there is a different ecosystem of devices coming into the smart home. By influencing some of the CSS Standards and the Working Committee, we ensure that we influence the new specs that the company's devices have to adhere to, as well as the interoperability. NXP also brings our security knowledge to help define the security standards to identify that these devices are valid and safe. 
As part of the active participants of the alliance, NXP has certified specific platforms where we can demonstrate integration with any of our devices. The devices are Matter-certified and can be brought into any home and work—our goal is to be seamlessly integrated with the ecosystems of Matter. NXP takes the burden of the technology challenges on our end to make the devices less complex for the end user. 
At TomorrowsWorldToday.com, we love covering innovations that make the world more sustainable. Can you share with us a few of the methods that are being used to make homes more sustainable and energy efficient?
RM: Many different aspects of sustainability come into the technology that we use. I don't know about you, but when I grew up, I was reminded about lights left on. Now, technology can shut the lights off when they shouldn't be on and can even make your house less tense when someone leaves the refrigerator door open and can close it. Smart home technology can also give you information on how your home is using energy so you can extend the life of your battery system that may have kicked on if you have a power outage. Knowing how your home uses energy can also help you cut your bills down.
MP: One of the fun things that we are currently working on is the electric car. By working with some of our lead customers and industry influencers, we found out that electric cars can harness and channel energy into the home if there is an energy crisis or the house loses electricity. Through the smart home, we can also identify which sections of the home to send energy to so that medicines or important things like that can receive electricity. This optimizes the use of energy in your home.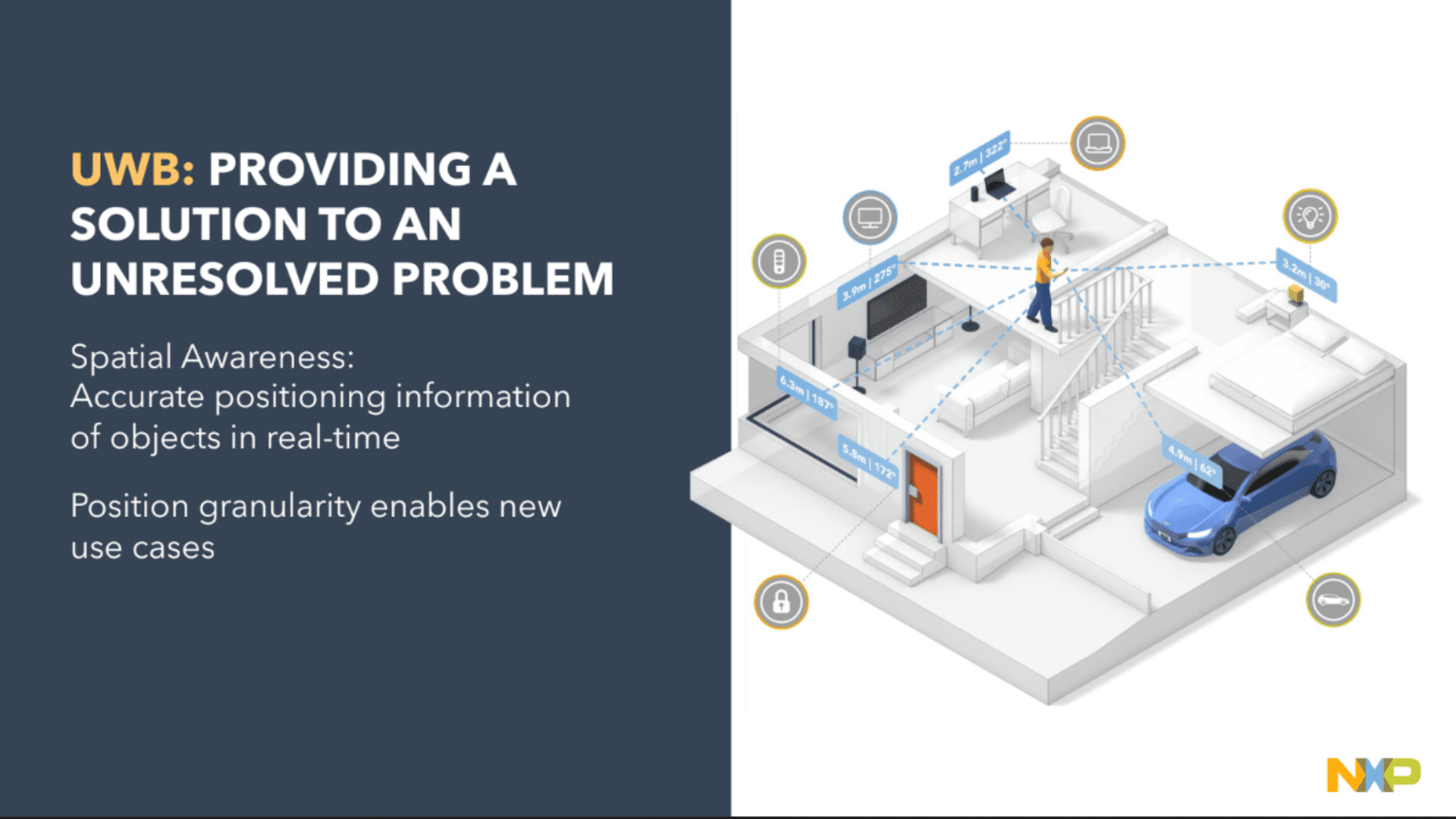 When you hear the term "ultra-wideband technology," you typically think of phone service. How does NXP apply this technology to a home?
RM: Ultra Wideband Technology is currently going into cell phones and interacting with car access such as reducing security threats of people breaking into your car. This technology can determine who you are and where you are within 10 centimeters. It also has the ability to detect individuals or the presence of animals or people without a camera. 
Many different applications come into a potential interest to an end consumer and user, and NXP is finding those different use cases. There are no intrusive or privacy issues, and you can do that with very precise knowledge—you can interact with your home and have your home interact with you in very exciting ways that make time in your home even better.
Is there any smart home technology that does not exist yet that you would like to see created?
MP: One thing I'm interested in is how we can harness more energy out of our plants and grass. It would be so cool to harness that from outside of the home as a green initiative. Everybody has plants, I'm sure there will be some innovations that we can collectively work on to use this energy for the home.  
RM: I'm a dog lover. Today you are able to know where the dogs are in the house, but I think this could be easier to implement these types of capabilities in your busy life.
Do you have any last thoughts on the future of the smart home? 
RM: One passion of mine is extending the quality of life of aging relatives and family members by allowing them to live in their homes. By using smart home technology, they still have the capabilities that they wouldn't have because of their aging effects. Improving the quality of life for people, for personal health or the aging population, is the most impactful thing to many of us that are seeing the need increase because of our aging population. The need is just becoming that much more important. 
It's exciting times for semiconductors—the importance and use of them in all aspects of our life are becoming very relevant and it's a pleasure every day to work on technology that can make such a difference. 
For more information on the future of smart homes and NXP Semiconductors, check out our full episode: