Throughout the NFL's 56 Super Bowls, the technology used to broadcast, watch, and enjoy the big game has gone through many developments and improvements. Super Bowl LVI is no different, with the latest and greatest technology innovations on display, from NFT tickets to free COVID rapid tests.
Virtual Reality, Augmented Reality, and the Metaverse
Virtual and Augmented Reality has been in everything from real estate to the Olympics to theme parks, so it is no shock that it has also been integrated into the Super Bowl. VR and AR experiences have been available for the Super Bowl for a few years now, with FOX Sports broadcasting Super Bowl LI Highlights in near real-time in 2017. Five years later, VR and AR have immensely progressed, with the entire game being able to be streamed in VR on apps like Bigscreen. Bigscreen is a VR app designed to let you watch content with friends in the metaverse.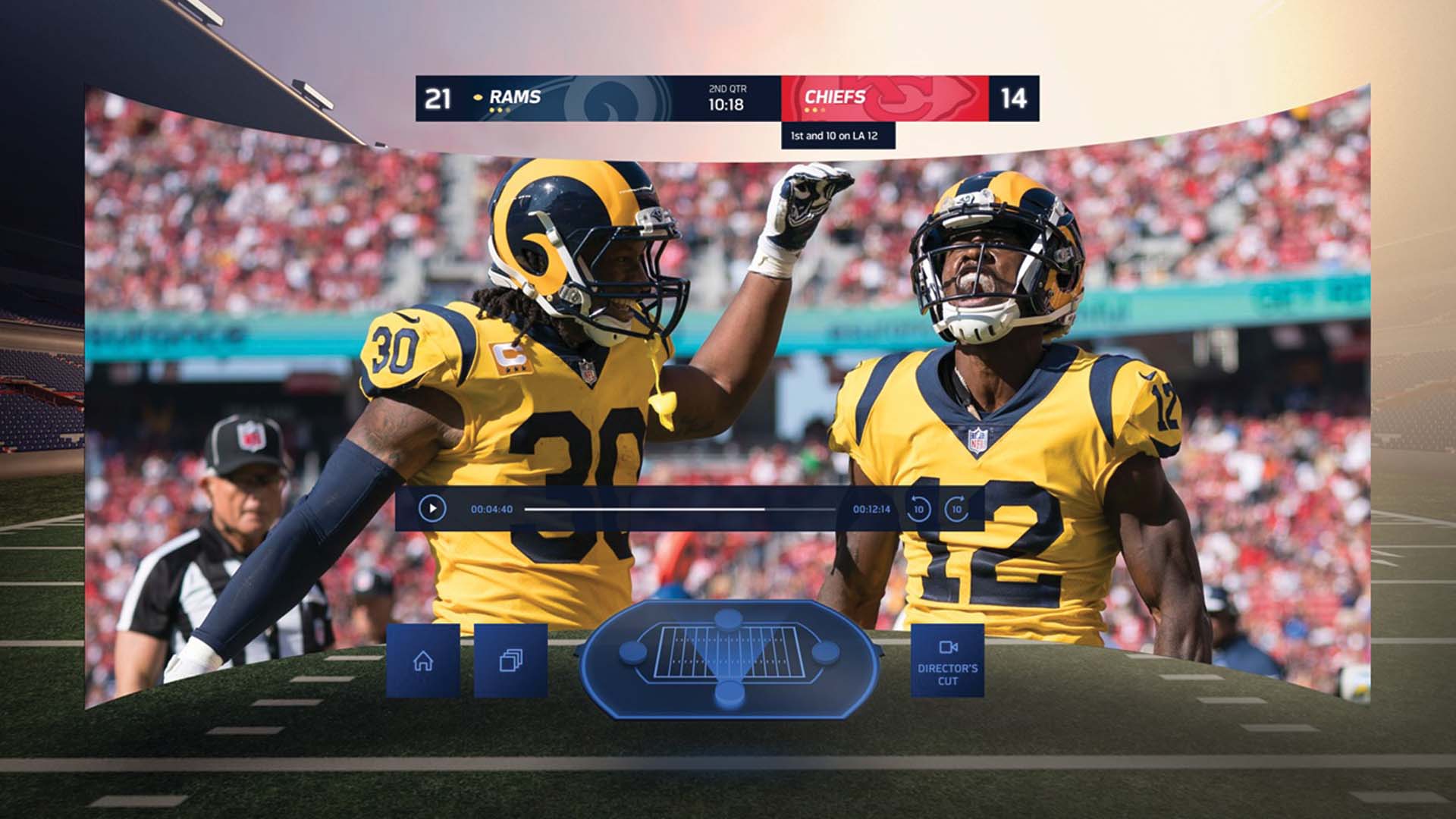 Celebrities and companies are also tapping into the VR world, such as Rob Lowe and the Giving Back Fund (GBF), a philanthropic company that raises money for charities worldwide. The GBF has hosted an exclusive Super Bowl event for the past 11 years, the Big Game Big Give, that raises millions of dollars for charity. This year, Rob Lowe will host this party in the metaverse with a VR experience, featuring a red carpet, avatar photo booth, social impact theatre, and auction. This experience will take place on Horizon Worlds, Meta's social VR experience and platform. 
The NFL has also partnered with Meta to allow fans to decorate their online 3D avatars with virtual NFL merchandise. According to officials from Meta, these 3D, customizable avatars show that the metaverse represents VR and AR, but also more familiar digital platforms like your phone and computer. Small changes like a 3D avatar across all platforms could be a key entry point for people stepping into the metaverse.
NFTs
In another step in modernizing the Super Bowl, the NFL is offering each attendee of Super Bowl LVI a personalized non-fungible token (NFT) ticket that is customized with their seat number. As of now, the Super Bowl NFTs will be considered collectors' items. The NFL could also use the ticket NFTs for future experiences and activations. 
This is the first Super Bowl to use NFTs, but it is not the first NFTs in professional sports. For example, the NFL began offering NFTs in November 2021 to fans who purchased their tickets for select games through Ticketmaster, StubHub, or SeatGeek. The NBA also began offering collectible NFTs for the end of the 2021 season for 21 eligible games.
SoFi Stadium
You can't talk about the innovations at Super Bowl LVI without talking about the SoFi Stadium, where this year's Super Bowl will take place. It also happens to be the most high-tech stadium in the world.
It is the world's first indoor-outdoor stadium due to the roof's ethylene tetrafluoroethylene (ETFE) material and retractable panels. Together, the roof and its panels allow the stadium to have passive ventilation and daylighting strategies while capitalizing on the sun's position and ocean winds. The stadium is also home to the Infinity Screen by Samsung, the largest video board ever created in sports. This over 1,000 ton screen includes more than 25,000 miles of cabling—that's enough cable to extend all around Earth!
Data 
It's no secret that data plays a huge role in the decision-making and play calling in football, and Super Bowl LVI will have the most innovative data and technology available yet. One major reason for this is Next Gen Stats, an NFL program created by the NFL, tracking-tech-provider Zebra Technologies, and Amazon Web Services (AWS). The league has used Next Gen Stats since 2018, and machine learning and its stats have only improved and increased since then.
For example, for the 2021/2022 season, Next Gen Stats added the Stats Decision Guide, revealing predictions about the next play based on hard probabilities and historical data. For example, 4th Down Decision data is now available for the all too familiar problem on what to do when the play reaches fourth-down—go for the first-down or punt to the other team. Next Gen Stats' decision equation compares win probability (how much the game's final outcome will change in the event of each play) and conversion probability (how likely the offense will convert on the two-point conversion or fourth-down play).
The #Ravens decision to go for it on 4th-and-1 from their own 43-yard line was unequivocally the optimal call according to the NGS Decision Guide.

🔹 Win % if GO: 82%
🔹 Win % if PUNT: 58%
🔹 Recommendation: GO FOR IT (by 24.8%)

Ravens win, 36-35.#KCvsBAL | #RavensFlock pic.twitter.com/UaTd4PErGg

— Next Gen Stats (@NextGenStats) September 20, 2021
NFL Next Gen Stats are created through the use of a tracking system installed at all NFL venues, complete with 20-30 ultra-wideband receivers and RFID (radio-frequency identification) tags installed in players' shoulder pads, officials, and inside balls, pylons, and first-down chains. In addition to the Next Gen Stats Decision Guide, the NFL and AWS debuted four other stats that will be available for Super Bowl LVI: Quarterback Expected Rushing Yards, Quarterback Dropback Type, Next Gen Stats Big Play Score, and Expected Fantasy Points.
Health
With the COVID-19 pandemic still going on during Super Bowl LVI, the NFL, L.A. County Public Health, and SoFi Stadium have taken many health precautions to ensure the highest level of safety for the over 70,000 fans that will be in attendance. 
First of all, every attendee will receive a free KN95 mask and will be asked to wear it when they're not eating or drinking, regardless of vaccination status. Additionally, anyone 5 and up must provide either proof of COVID-19 vaccination, a negative PCR test from within 48 hours of game day, or a rapid antigen test from within 24 hours. 
Free test kits and vaccinations will be available ahead of the game at the Super Bowl Experience, which runs for two weekends at the Los Angeles Convention Center ahead of the game. For extra COVID precautions, SoFi Stadium will not accept cash payments, and hand sanitation stations will be available around the venue.
Safety
In terms of safety for the Los Angeles Rams and Cincinnati Bengals players, the NFL has implemented many safety initiatives for the 2021/2022 season that will be on display in the Super Bowl. For example, A team of biomechanical engineers at Biocore developed a system of testing, scoring, and ranking the effectiveness of helmets. The technology findings of their laboratory tests were shared with NFL players and will be on display in the Super Bowl LVI locker rooms.
The statistics from this Super Bowl will also be used to improve the Digital Athlete, an Amazon Web Services virtual representation of an NFL player that can be used to better predict and prevent player injury. Together with AWS's technology, the Digital Athlete uses the NFL's data on things like player activity, equipment choices, speeds, weather, and hours of video to improve understanding of injuries. This will hopefully inform future safety initiatives such as equipment, rule changes, and coaching techniques.