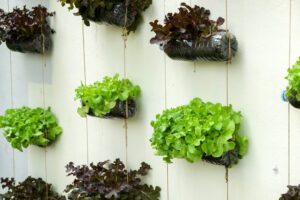 Growing a vegetable garden at home can be difficult, especially if you're short on space. A few herbs or a strawberry plant might be feasible, but full heads of lettuce and other produce? Impossible…Or is it? If you try these vertical farming methods at home, the freshest of greens will be on your table in no time.
METHOD 1: THE BOTTLE TOWER
Using a system designed by Belgian professor Willem Van Cottehem, it's possible to create a vertical garden for your kitchen using plastic bottles. The system is automated, despite not using electricity, and is extremely water-efficient. A considerable number of plants can be grown, from tomatoes to cabbages. Best of all, it's affordable (unlike large-scale vertical farms). You can find the full directions on how to build one here.
METHOD 2: HANGING BASKETS
While flowers traditionally go inside hanging baskets, there are plenty of veggies that can be grown in them too. Cherry tomatoes are a popular choice, but you can also try peas and some varieties of peppers. Even eggplants can be grown if they're kept small enough. While some may argue if this is truly a "vertical garden," it is technically a garden that grows vertically, so… special case.
METHOD 3: THE PALLET GARDEN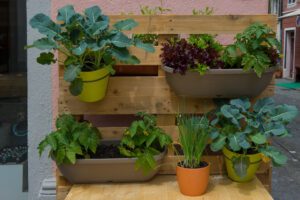 If you fancy yourself a craftsperson, you can try repurposing a wooden pallet into a vertical garden. Sand down the edges of the pallet and attach a back (if there isn't one) using nails. Attach landscaping paper, fill with soil, and place plants in between the slats of the pallet. Water and leave on its side for two weeks, watering occasionally. Once time is up, prop it up on its side and ta-da! Your very own vertical garden!
METHOD 4: SHELVING AND CONTAINERS
Buy (or make) a sturdy shelf that can be used outdoors. Drill holes in the bottom of each shelf above where the containers will go, about half an inch around. Fill the containers with soil and vegetables of your choosing- kale and cucumbers are great picks, along with what's listed above. Stack them on the shelves above the holes. When you water the top plant, the water will trickle down and water the next (although they'll still need assistance from you to stay hydrated).
METHOD 5: UPCYCLING
With enough ingenuity and creativity, anything can become a vertical garden. Have an old shoe organizer you never use? Adapt it into a planter. Found a dresser in the attic you would never use? Fill it with soil and stagger how far out each shelf goes for a waterfall effect. Leftover coffee cans or Tupperware containers? As long as there's adequate drainage, anything can be a planter.
METHOD 6: THE LAZY METHOD
If you have the cash but don't have the energy, you can always buy a vertical garden online. Prices vary, depending on the design, materials, and size, but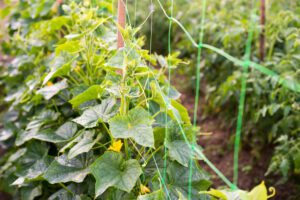 they're easy and quick to install. Do read any and all instructions included with your garden, however, as it may have limitations that the other planters listed here may not.
METHOD 7: THE TRADITIONAL TRELLIS
The trellis is a tried-and-true method of growing vine plants like tomatoes and beans. Even squash– including pumpkins– can be grown on a trellis. By encouraging the plant to grow upward instead of outwards, you save space and give the plant more access to sunlight. They're also easy to make using wood and wire, although more durable options may be needed if you choose to grow pumpkins.
What methods do you use to keep your vertical garden up and running (no pun intended)? Let us know on social media and in the comments!