The world's largest and most powerful wind turbine is now operational. The 16 MW wind turbine, the MySE 16-260, is located at the Mingyang Qingzhou 4 offshore wind farm in the South China Sea.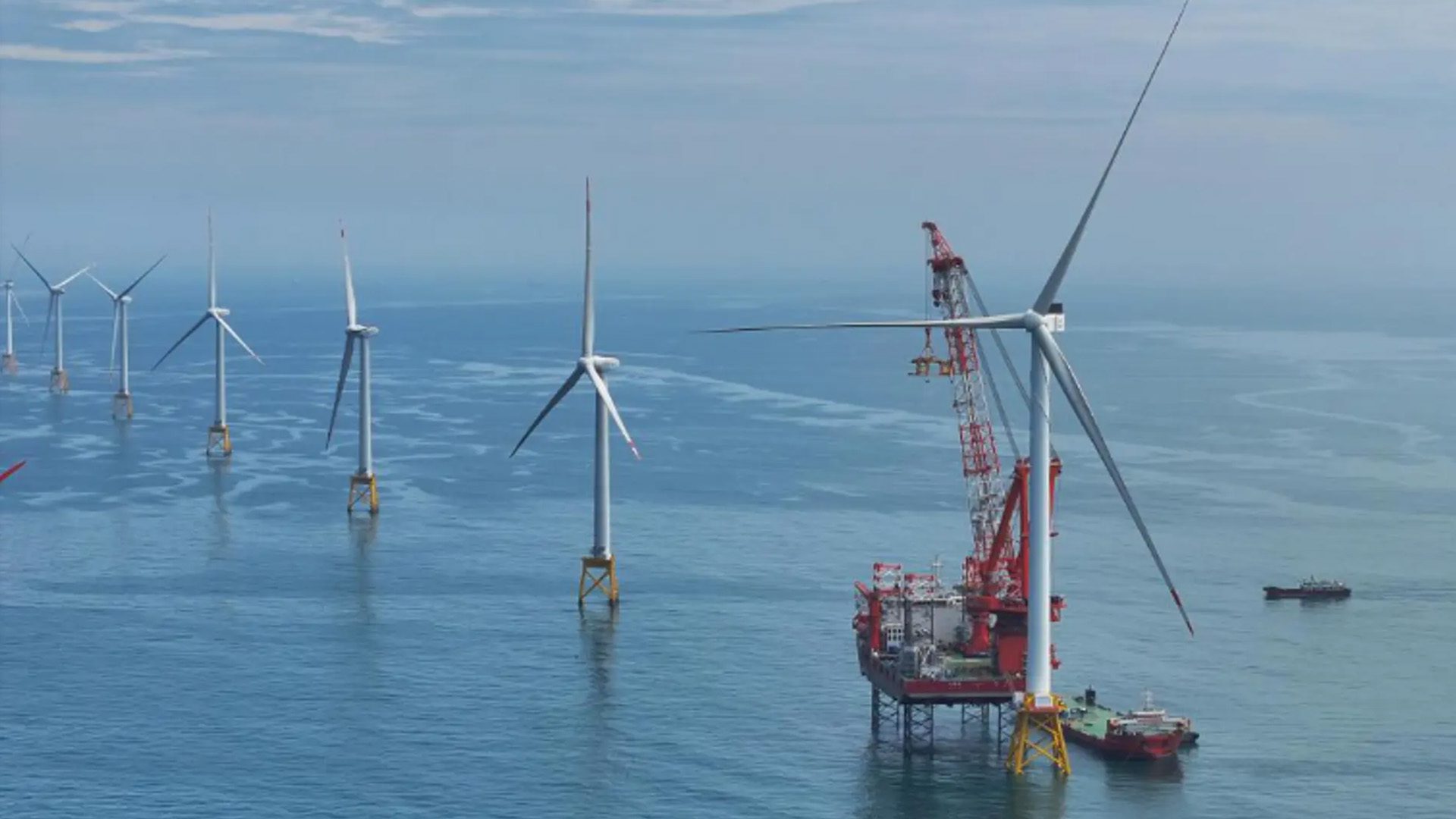 The Massive Turbine
Every time the turbine completes a full revolution, it sweeps about 540,000 square feet of air, which is equivalent to about seven soccer fields, and sends up to 34.2 kWh of energy into the Chinese power system. With a rotor of 853 feet, the turbine can produce 67 gigawatt-hours of power every year. According to Mingyang Smart Energy, that is enough power to supply green electricity to 80,000 residents and reduce carbon emissions by 56,000 tonnes annually.
The MySE 16-260 is reportedly able to withstand extreme wind speeds of 178.5 miles per hour. This is necessary given the wind farm's location—over 200 days a year, the Guangdong Province experiences Level 7 Near Gale conditions, with winds exceeding 32 mph. To better prepare for strong winds and typhoons, the turbine is also equipped with over 1,000 sensors. Using digital twin technology, the sensors allow it to adapt to weather conditions in real time by making intelligent judgments and proactively responding to typhoon attacks.
The wind turbine was already put to the test when Typhoon Talim hit China's Guangdong Province on July 17. The typhoon had maximum winds of 85 mph, forcing nearly 230,000 people in Guangdong to evacuate. However, the pilot offshore installation model emerged unharmed. 
As the CTO of Mingyang Smart Energy said in an interview two days before Talim, "Most of China's coastal areas are in typhoon zones, and if there is no wind turbine that can withstand typhoons, it can be said that wind power has little future in China…We have to tackle these challenges and grow in the process of solving them, and ultimately to lead."
Wind Power Around the World
The number of wind turbines has grown increasingly in recent years. According to the International Energy Agency, wind electricity generation increased by a record 265 TWh in 2022, growing 14 percent. This was the second-highest growth among all renewable power technologies, behind solar PV. 
Notably, China was responsible for half of global wind capacity additions in 2022, with 37 GW of wind energy added in the year. The European Union is also accelerating wind deployment, adding 13 GW in 2022 with plans to invest more in the industry. 
In the United States, the Inflation Reduction Act is expected to give a massive boost to the industry in the coming years. The 800MW Vineyard Wind 1 Project has already begun to be constructed off of Martha's Vineyard in Massachusetts. Once it comes online in 2024, this will be the first commercial-scale offshore wind farm in the United States.