Among the more terrifying ways nature displays its power are volcanoes. Few would want to venture anywhere close to an active lava flow, even if it meant getting the perfect picture. Of course, Francisco Negroni isn't your usual photographer.
Negroni, who lives in Chile, originally studied advertising photography and tourism. This changed when he witnessed his first volcano, the Llaima eruption in 2008. "It was so little that I saw of that eruption, but it was enough for me to feel something strange and motivate me to be aware of the next eruption and travel to take pictures of it," he told MyModernMet. His new focus would be on nature and the miracles- or disasters- it can bring about. Eruptions do make up a large part of his portfolio, but he also captures lightning storms and other marvels.
Granted, Negroni does recognize the danger he puts himself into when he ventures out for photos. He carefully tracks both future eruptions and the risk factors before setting out. The expense and difficulty of such travels also forces him to pack light, with only his backpack, a laptop, camera, tripod, and a handful of lenses. Longer trips mean camping out in his car. He does offer tours and workshops that, after the photoshoot, brings guests back to a café or cabin.
Both Negroni and his pupils must have plenty of bravery to face the elements in this fashion. He told Colossal.com that he visualizes his pictures beforehand. "When I go outside to take photographs," Negroni said, "I try to leave with the images in my mind: I imagine what I am going or want to achieve that day in that place… Although many times I don't get what I imagined or thought would be a good photograph, and I get others that I couldn't have imagined and they are much better, it's strange. But almost always I work in a direct documentation, with an idea in base [sic], but trying to always obtain an understanding of something more difficult for the spectator."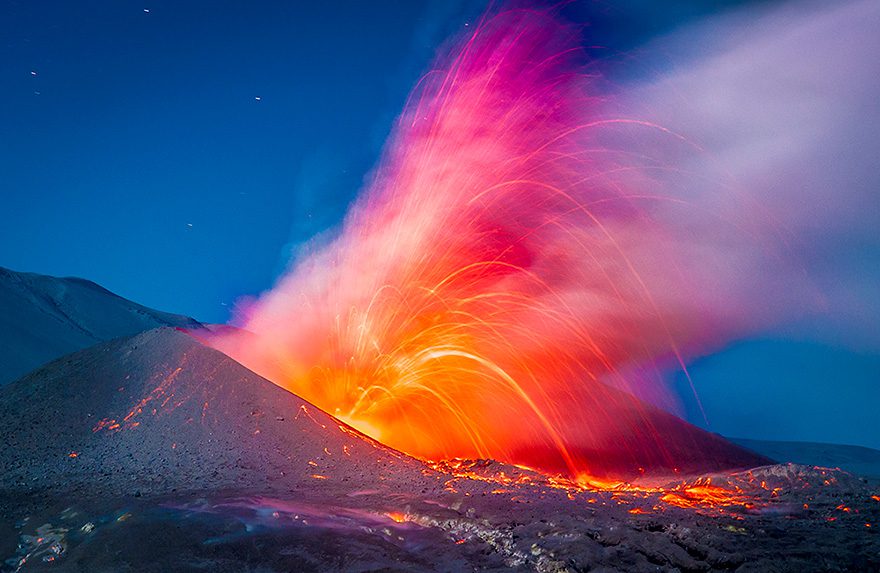 Even if he isn't always pleased with his results, the media certainly is. His work has been published with National Geographic, the Associated Press, and Terra. He also won second place at 2017's Epson Pano awards. Several of his prints are also available for purchase on his website.
On the photo that won him second prize (pictured below), Negroni told Engadget that it "was taken during the violent eruption of the Volcan Calbuco, located in the south of Chile. The technique was simple: long exposure, tripod, and an 80-200mm lens. Approximately 10 minutes to achieve an incredible image that, without a doubt, is my best photograph of an eruption and I think the best taken in the world."
Negroni isn't planning on giving up capturing volcanoes, storms, or a mixture of both in his pictures anytime soon. This is despite the phenomena of both occurring, called a dirty thunderstorm, only present up to 35% of the time at an eruption. While it's rare, the sheer number of active volcanoes in Chile– 90 in total and the second most in the world- makes it a little easier for Negroni to find his chance. It should be noted that he doesn't take any of his pupils with him to active volcanoes.
Francisco Negroni has a unique style, even for the vast world of nature photography. It's a risky job, but one that has reaped plenty of rewards for the Chilean native. "Photographing volcanoes is very dangerous and I do not recommend it to anyone," he told Engadget. "But if you have the opportunity to do it from a very safe place, it will be an incredible show that nature gives us."
Follow our World of Creation where "what if" becomes "what is."