The NFL has chosen Arizona-based artist Lucinda Hinojos to create key artwork attached to Super Bowl LVII, including the artwork featured on the tickets. The Super Bowl, which will be held at State Farm Stadium in Glendale, Arizona, will also feature Hinojos's work displayed across Arizona in the month leading up to the game.
View this post on Instagram
"Six months ago the NFL reached out regarding a project. I sent my proposal in and within days I was selected," Hinojos wrote in an Instagram post. "I cried as I got the call. I was overwhelmed with emotions and (saw) a quick glimpse of all the hard work I have done to get here."
According to the league's announcement, Hinojos, also known as "La Morena," is the first Chicana and Indigenous artist to be selected by the NFL for such a collaboration. Additionally, working with Indige Design Collab of Cahokia Socialtech and Artspace, Hinojos will create a 9,500-square-foot mural (the largest in Super Bowl history) with fellow Indigenous artists Randy Barton (Diné/Navajo), Anitra "Yukue" Molina (Yaqui), and Carrie "CC" Curley (San Carlos Apache). The mural will be painted on the Monarch Theatre, on Washington Street between First and Second streets in downtown Phoenix.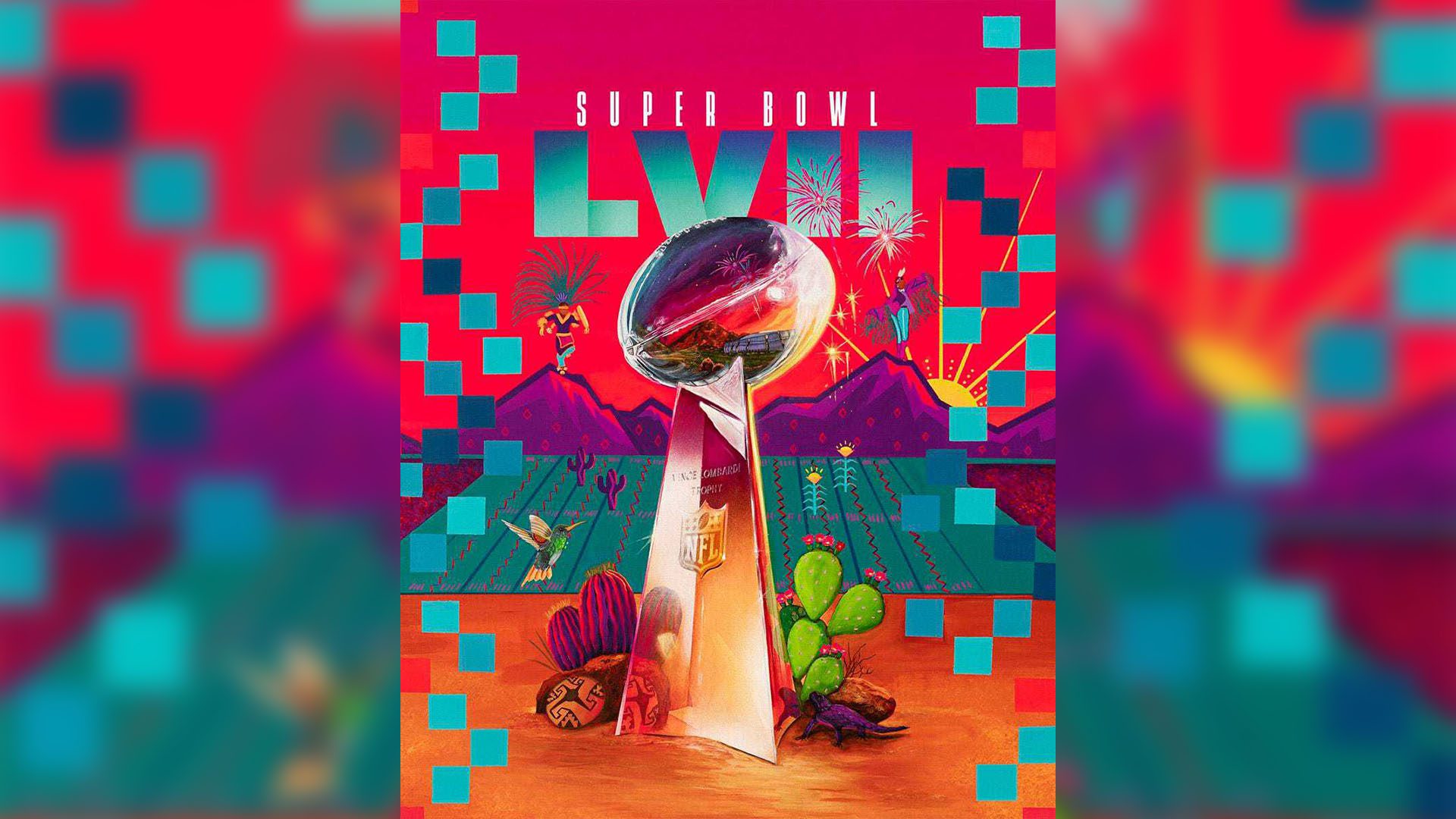 Hinojos will also collaborate with the NFL and Wilson to create a new football design that, according to the NFL press release, is, "inspired by the progression of Lucinda's own personal artistic journey and how important heritage and community are to her." The football can be purchased at wilson.com and at the Super Bowl event which will take place February 4-5 and 9-11 at the Phoenix Convention Center.
In a statement, Marissa Solis, the NFL's senior vice president of global brand and consumer marketing, said, "Lucinda's insight and direct, personal connection to the amazing and diverse history in Arizona made her the perfect partner for this project. She is a gifted artist, a football mom, and a woman who authentically represents her Chicana heritage, and we are so thrilled to use Super Bowl as a platform to showcase her beautiful artwork and by extension, spotlight the local communities integral to Arizona."
Last year, Hinojos designed a hat for the Arizona Coyotes that honors the state's Chicano people. A few of Hinojos's most well-known local murals include one in south Phoenix featuring a young migrant field worker releasing doves and butterflies from a cage and another about missing or murdered Indigenous women and girls in downtown Phoenix.
Hinojos spoke in a promotional video regarding how the NFL ticket design honors her family ties to Mexico and the Pascua Yaqui, Chiricahua Apache, White Mountain Apache, and Pima (Akimel O'odham) Tribes, "My family's roots run deep in Arizona… My family is born and raised from this land. We're currently on Ohn Akimel O'odham Jeved land, which is Salt River people. This land is important to me because of our ancestors' use of this salt river here is what created and started the city of Phoenix."
Featured in one painting are the White Tank Mountains, reflected on the Vince Lombardi Trophy and seen from the State Farm Stadium. On either side of the trophy, which includes Hinojos's signature hummingbird, are a Fancy Shawl dancer and an Azteca dancer. This imagery highlights the state's diverse population of Mexicans, Mexican Americans, Chicanxs, and the 22 distinct Native tribes whose ancestral lands encompass Arizona. Prehistoric remnants at the White Tank Mountains have been attributed to the Western Archaic culture, a nomadic desert people who may have inhabited these lands (2000 BCE) and the Hohokam people who created settlements in the mountains and rock art still visible today (500 CE-1100 CE). Prior to colonization beginning in the 16th century, the land was home to the Western Yavapai.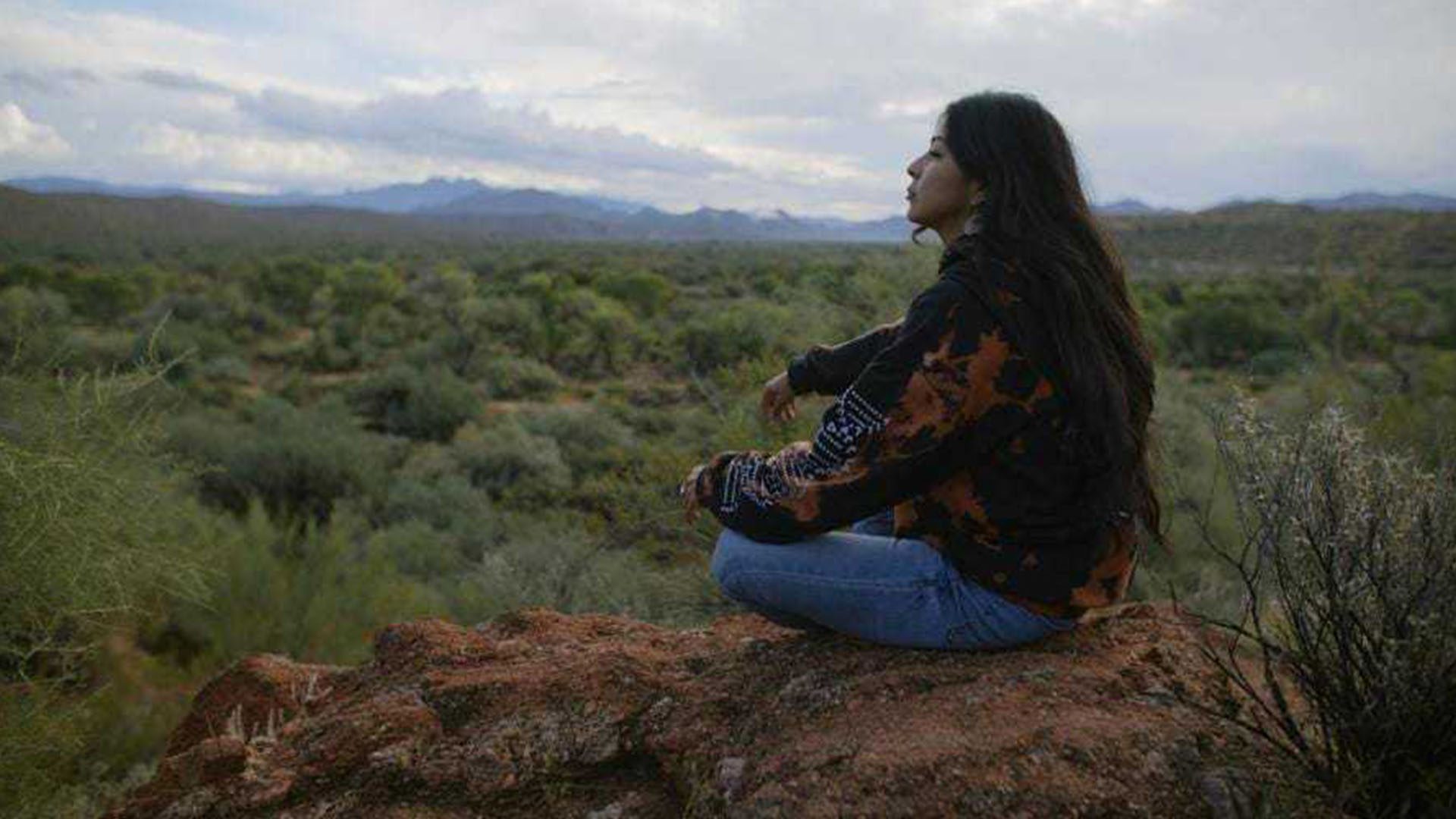 "I do this work in hopes of providing healing and medicine to people, but what also happens is there's a human connection that happens," she said. "It naturally draws people in, and it brings people together. That's with every mural, with every painting, I've seen that happen. So I'm hoping that the same energy is brought with this painting."