Inspiration can come from the most interesting of places—a good book, the first power chord at a rock concert, or simply from the world right outside our window.
Recently, we chatted with Asheville-based artist Kelly Saunders to find out what inspires her to put paint to canvas, capturing the melodies and musical experiences that she has collected as memories across her lifetime. Her unique style and ability to make past musical memories a tangible work of art help her stand out from the crowd of the bustling Asheville, NC art scene.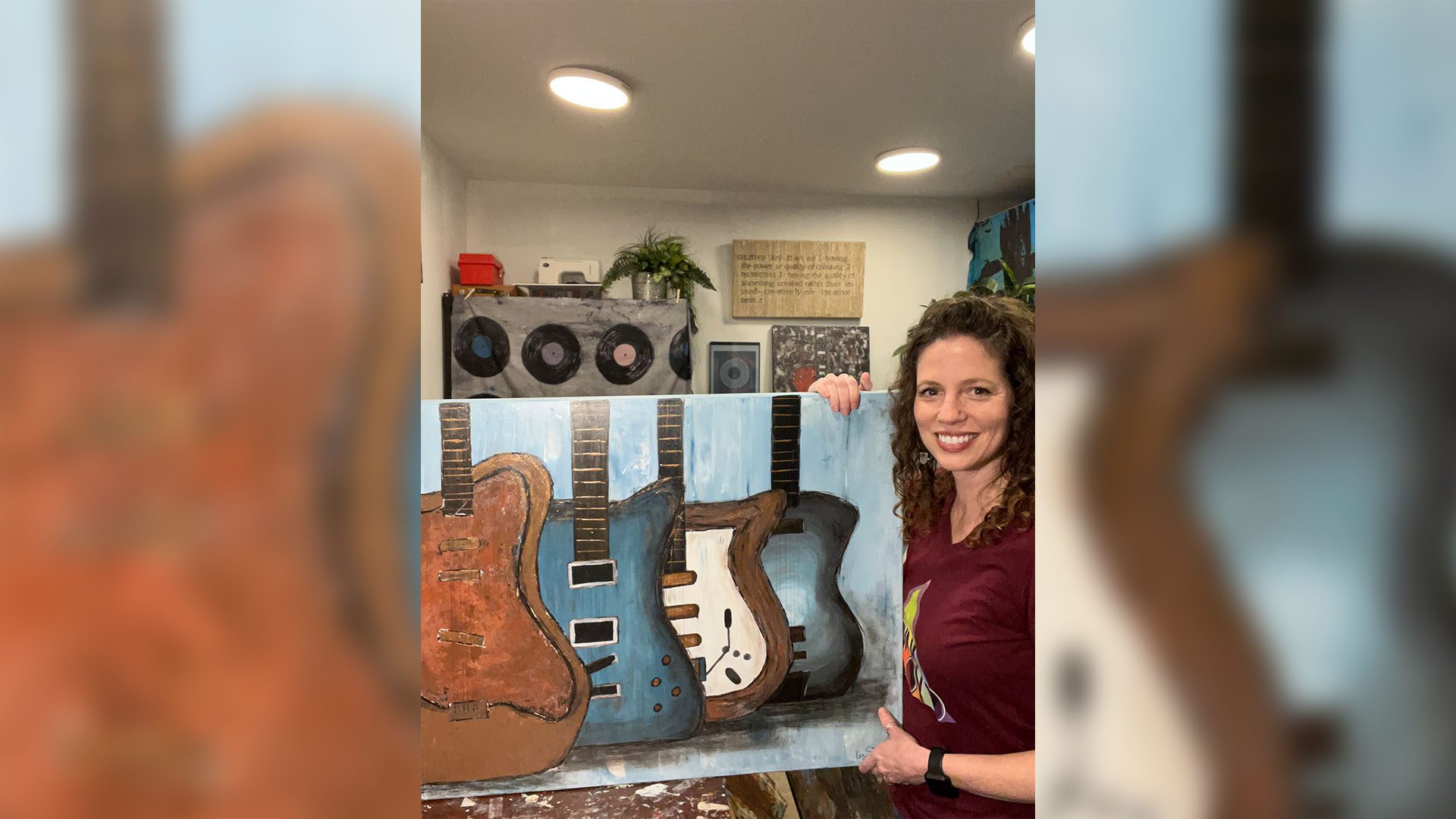 Tomorrow's World Today (TWT): How did you get into painting?
Kelly Saunders (KS): I dabbled in painting throughout my life, but I never would've thought it was a practical career choice. I had a successful 20+ year career in corporate marketing, and I enjoyed every day of it. But I always felt that I was born to be an artist. 
TWT: How long have you been painting, and explain your style?
KS: I brought out the paints again during covid lockdown in an effort to entertain my kids. What began as an activity to pass the time, presented a turning point in my life. I realized that the flame within me was never put out.
I've always thought that I'd rather try something and fail than to never know what could've been. So with a leap of faith and baseless confidence, I dove right in – and quickly grew my art business with gallery representation, commissions, and merchandise.
I am self-taught, feeling liberated to express myself without any formal boundaries. I work primarily with acrylics and appreciate the messiness and forgiving nature of palette knives. I am known for my signature style of layers upon layers of textures and colors.
TWT: What other mediums do you work in?
KS: I only paint with acrylics but many tools make their way to my easel. I play with old-fashioned curlers, a fly swatter, Saran Wrap, credit cards, and more to create texture. If there is an item missing in the house, there's a good chance that I'm painting with it.
TWT: What is your inspiration?
KS: As a lifelong music lover, my work comes from the heart, expressing things that only music and art are able to say. Having been to well over 1,000 concerts (with the number quickly growing), I draw inspiration from each show and the fellow fans whom I meet.
And there's never a lack of inspiration in my life. We're traveling to attend six Dead & Company shows within a few weeks during their last-ever tour. I take away so much from each show – conversations with old and new fans, the music, the instruments, the lights bathing over us, the shared experience with tens of thousands of other fans.
TWT: Why did you choose to paint about music?
KS: I started painting the basics – landscapes, portraits, etc. – but was frustrated because the fire I had inside of me just wasn't translating to the canvas; until I painted my first guitar, and it clicked. I began cranking out paintings of other instruments and musicians. I was painting what I know and what I love. 
Within the last month, I've painted commissions for an internationally acclaimed musician, a dorm room, a second home's rec room, a third piece for a collector, and quite a few milestone birthdays. Music is one of the most powerful and beautiful human connectors, and, as such, my buyers span all demographics.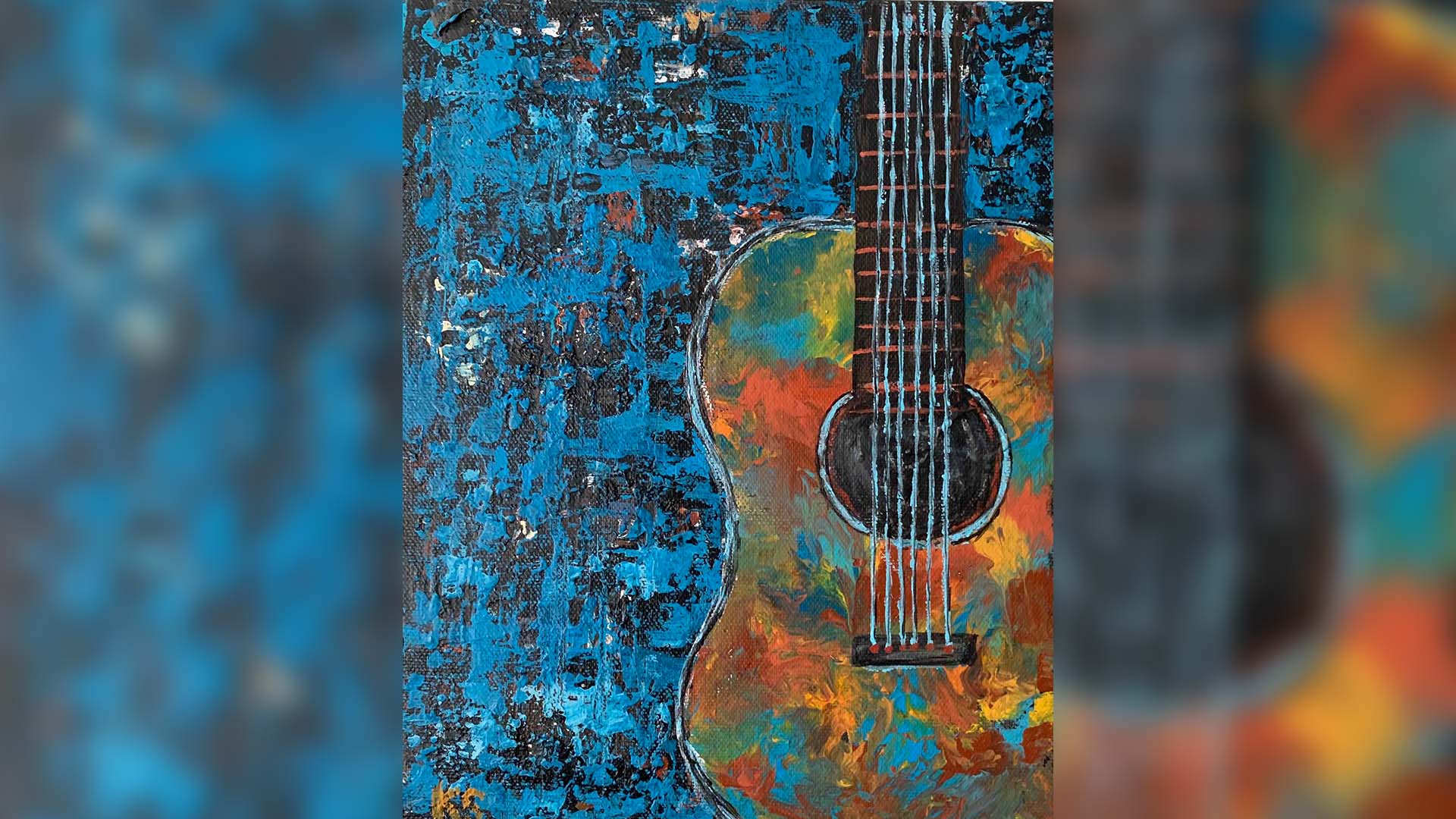 TWT: What are your two favorite paintings that you created? Why are they your favorites?
KS: "Magical Mystery Tour" is one of my favorites because it has resonated with so many people. It was one of my earlier paintings, and it continues to be my best seller with nearly daily sales (prints and merchandise). It was inspired by its namesake and has a bold, bright tie-dye-like guitar and electric blue/black background. 
My piano paintings are also very special to me. I love painting all instruments because they are such beautiful pieces but I grew up playing the piano and married a musician who is incredibly talented on the keys. My daughter is learning to play on my great-grandmother's piano, which, of course, was one the subjects of one of my earlier paintings.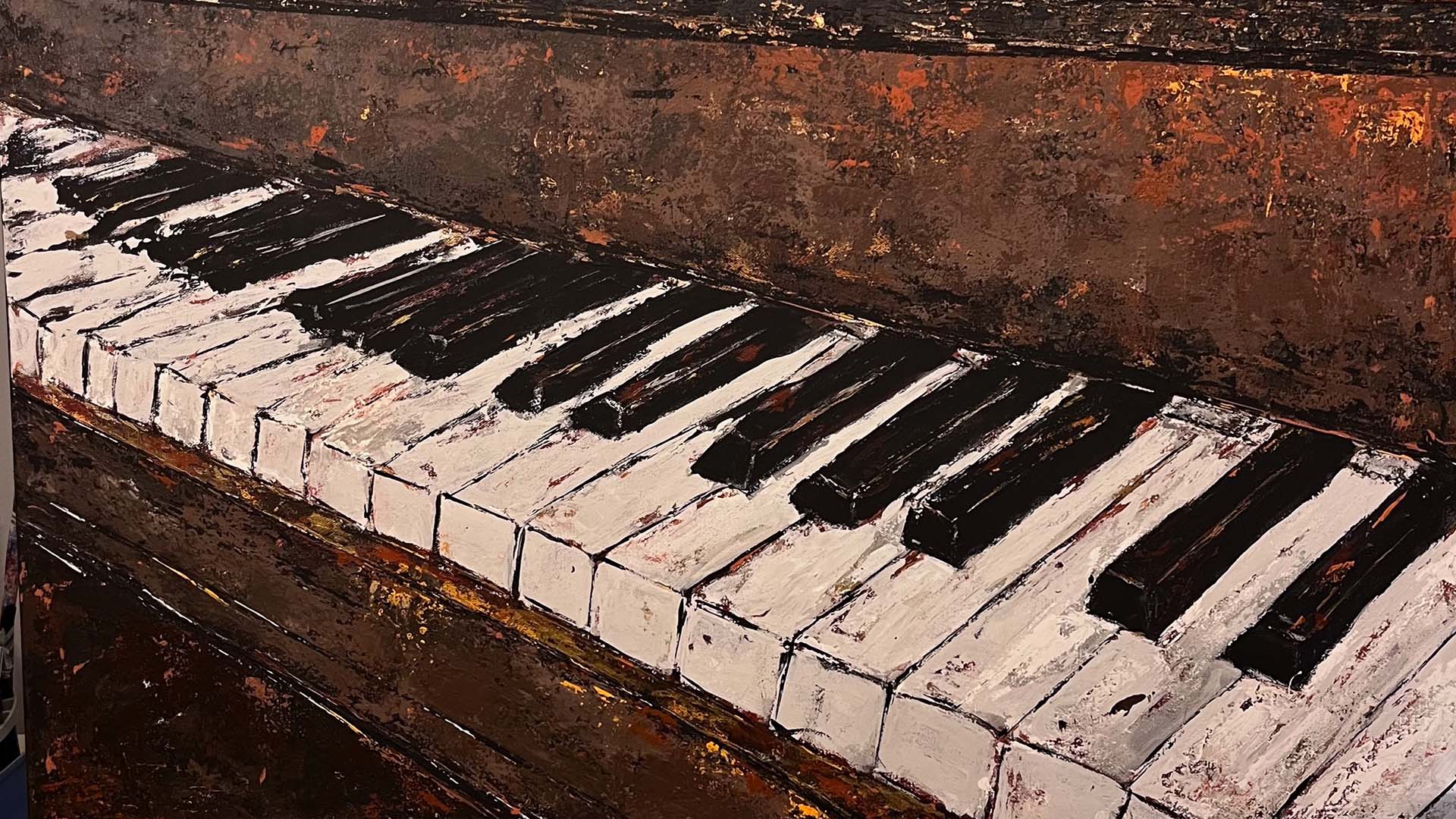 TWT: What brings you the most joy when people see your paintings?
KS: A painting of a guitar is never just a guitar. It represents personal experiences and emotions. It might remind someone of the guitar their late grandfather used to play. And to someone else their favorite musician's go-to guitar. And to someone else the colors that complement their music studio. I've heard all of these stories and many more, and it's an honor to tell stories that only art and music can tell.
For the most current information about Kelly Saunders and her projects, follow her on Instagram and be sure to visit Kelly Saunders Art.