The Sphere in Las Vegas, the world's largest spherical structure and video screen, hosted its first-ever show last Friday featuring U2. This venue is a giant orb covered inside and out with more than half a million square feet of programmable video screens that are said to be the highest resolution in the world.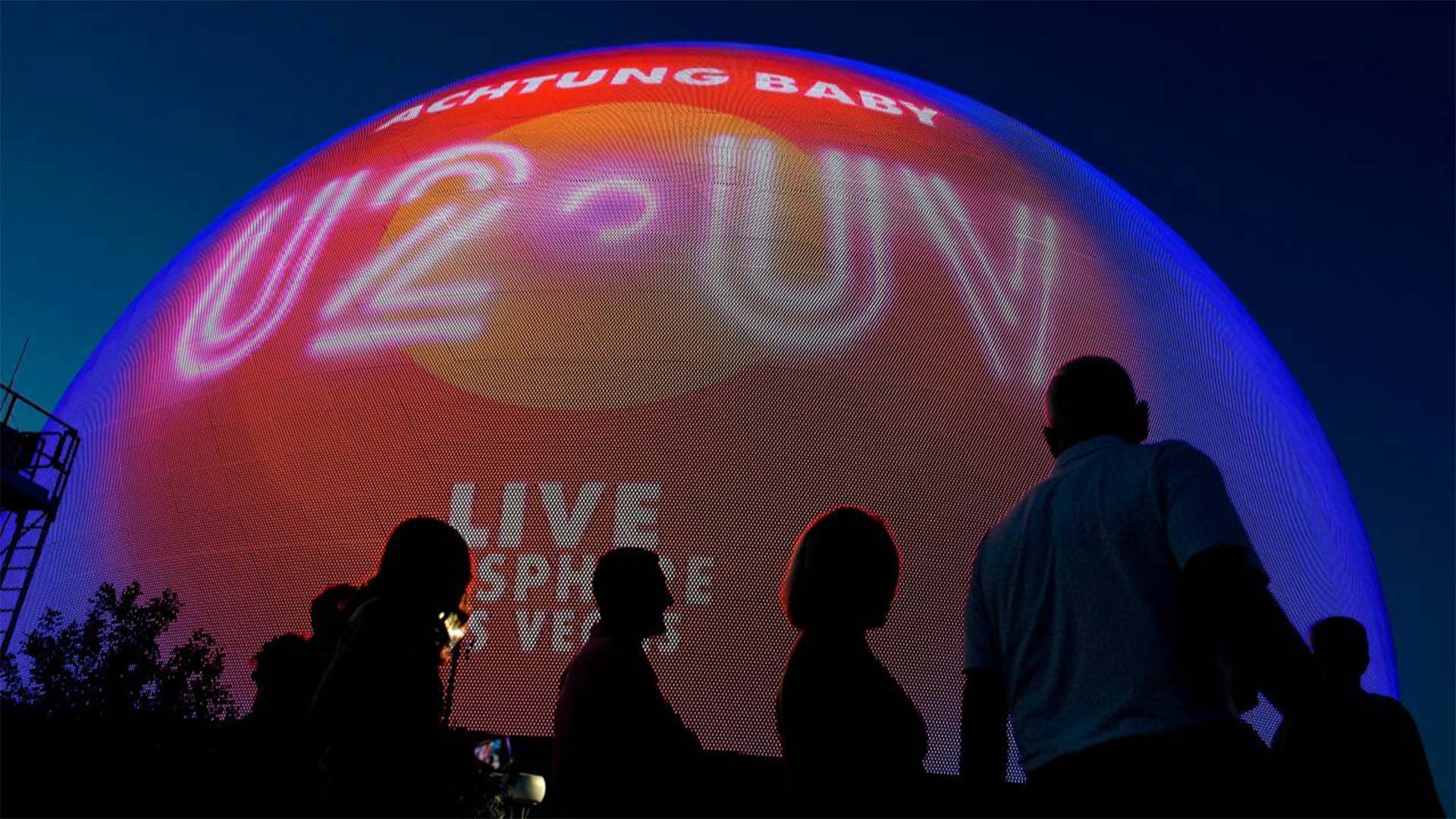 Capable of seating 18,000 people, the arena cost $2.3 billion to build. This weekend, U2 became the first production to ever perform in the establishment. The show involved digital collages jumbling together images such as showgirls and neon and even images of Elvis.
"What a fancy pad," Bono said not long into Friday's two-hour concert. "Look at all this stuff. Elvis has definitely not left this building."
U2's residency at the venue is scheduled to run for 25 dates through mid-December. The show is constructed around the band's 1991 album, "Achtung Baby," which they played in full, but split into two halves and outside of the original order. This was a follow-up to their pre-pandemic 30th anniversary stadium tour in 2017 and 2019 which focused on their previous album "The Joshua Tree".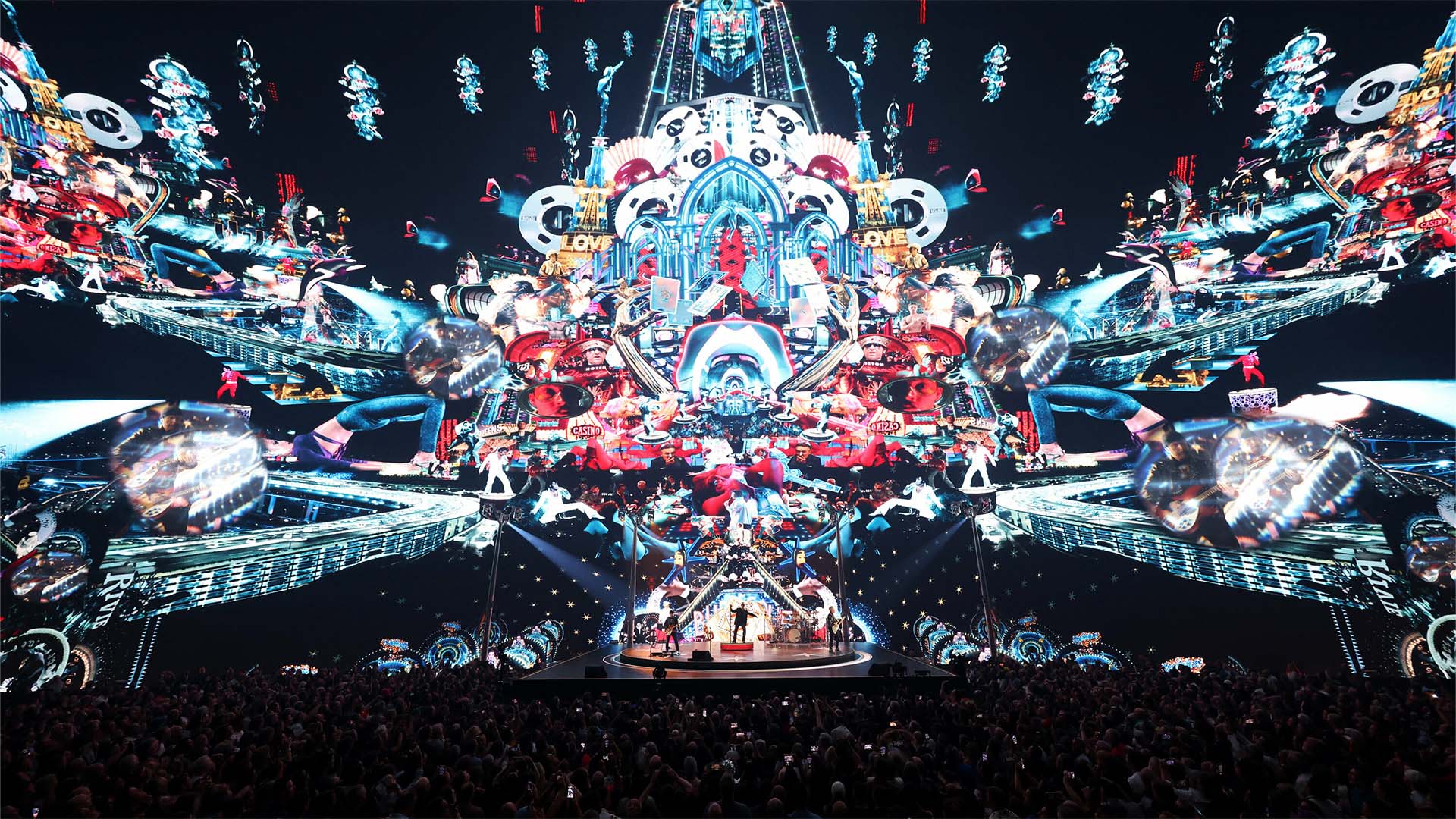 As U2's performance history has consisted of screens both as a backdrop and structure through which the audience experiences the imagery and music, this experimental venue seemed to be tailor-made for the band's performance style. There was a section overseen by masters of cinematic illusion, Industrial Light and Magic.
The show also featured installations by video artists. Marco Brambilla and John Gerrard and a specially commissioned piece by Devlin. The sound system was built by German AV specialist Holoplot (who also worked on David Hockney's Lightroom installation in London), the system consists of a vast matrix of speakers – 167,000 in total – seamlessly integrated behind the screen.
A look inside the immersive MSG Sphere arena in Las Vegas, which opened with a U2 concert.

The 18K resolution wraparound LED screen measuring 160,000 sq ft (15,000 m²) with 166,000 speakers. The largest and highest-resolution LED screen in the worldpic.twitter.com/sHid0DEuZu

— Massimo (@Rainmaker1973) September 30, 2023
Audiences at the show saw a stunning sequence of cascading numbers and letters that appeared to visually turn the sphere into a smaller box. There was a sequence that showed a photo-realistic Las Vegas landscape that tricked the senses into believing you could see the outside of the sphere. Bono also had a sequence where he pushed a fan on a real rope swing that was attached to a realistically illustrated balloon.
James Dolan, Madison Square Garden and Sphere owner, is proud of the intense photorealism of Sphere's wrap-around big screen. "When you look up and you look at the blue sky on that screen, it looks just like the blue sky if you stuck your head out your window now. It is difficult to tell the difference." He says he took inspiration for the design from a science-fiction short story by Ray Bradbury, called "The Veldt," about a children's nursery with immersive screens on the walls.
Variety also spoke with some of the key players in the development of Sphere and bringing U2 into it, including Dolan, Williams, Live Nation's Arthur Fogel, and Irving Azoff. The latter uber-manager has been a crucial bridge between some of these parties, being a longtime pal of Dolan's who consulted on the Sphere project for years before he took on the venue's first musical tenant, U2, as a management client in 2022.
"I was involved in helping secure the land where [Dolan] decided to build this," says Azoff. "So I've been around it since the very earliest stages. You know, a lot of people have great ideas, but it's a combination of great ideas and executing them. I just watched this through many, many years and through the ebbs and flows of the pandemic and what it did to delivery, because these are one-of-a-kind technological parts that he needed to make this happen."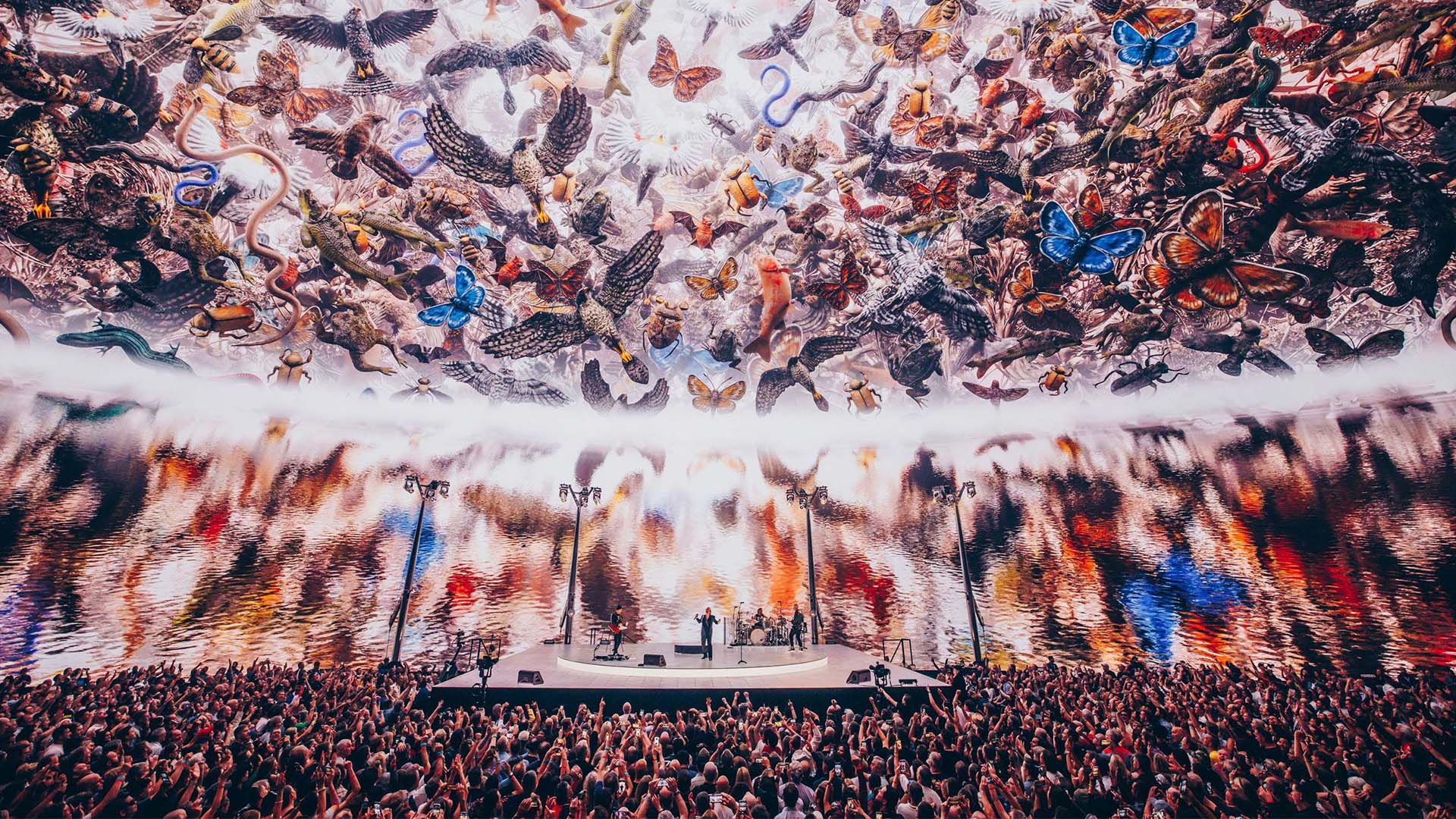 After learning early in the design process that domes are typically terrible for audio, Dolan says the team more than solved that with thousands of small speakers — everywhere from behind the LED panels on the screen to within individual seats — that overcompensated for the problem. "The beamforming sound technology not only cures all that, but creates studio-quality sound for every seat in the house. I will tell you artists that come in there and play the venue are going to be very spoiled, because, I've never heard anything like it, in any venue, and I've been to a lot of venues —distortion-free, crystal-clear sound without any bounce, etcetera. I was listening to U2 the other day and it's like they're playing for you in your living room."
"What we have enjoyed about the Sphere venue is that actually it's very small," says Willie Williams, U2's Stage Designer for the past 35 years. "Even though it has this gigantically huge roof, It's 18,000 — it's not a stadium. And certainly for the band standing on stage, the audience feels incredibly close. It feels like a theater stage, actually. And having just done the 'Surrender' show with Bono, you definitely feel something similar in the language. Because it's people standing on a stage, facing in one direction, playing to an audience, or looking back at them."