Snapchat is transforming the Halloween costume shopping experience with its new AR virtual try-on technology. Now users can try on, share with friends, and purchase Halloween costumes directly through the app.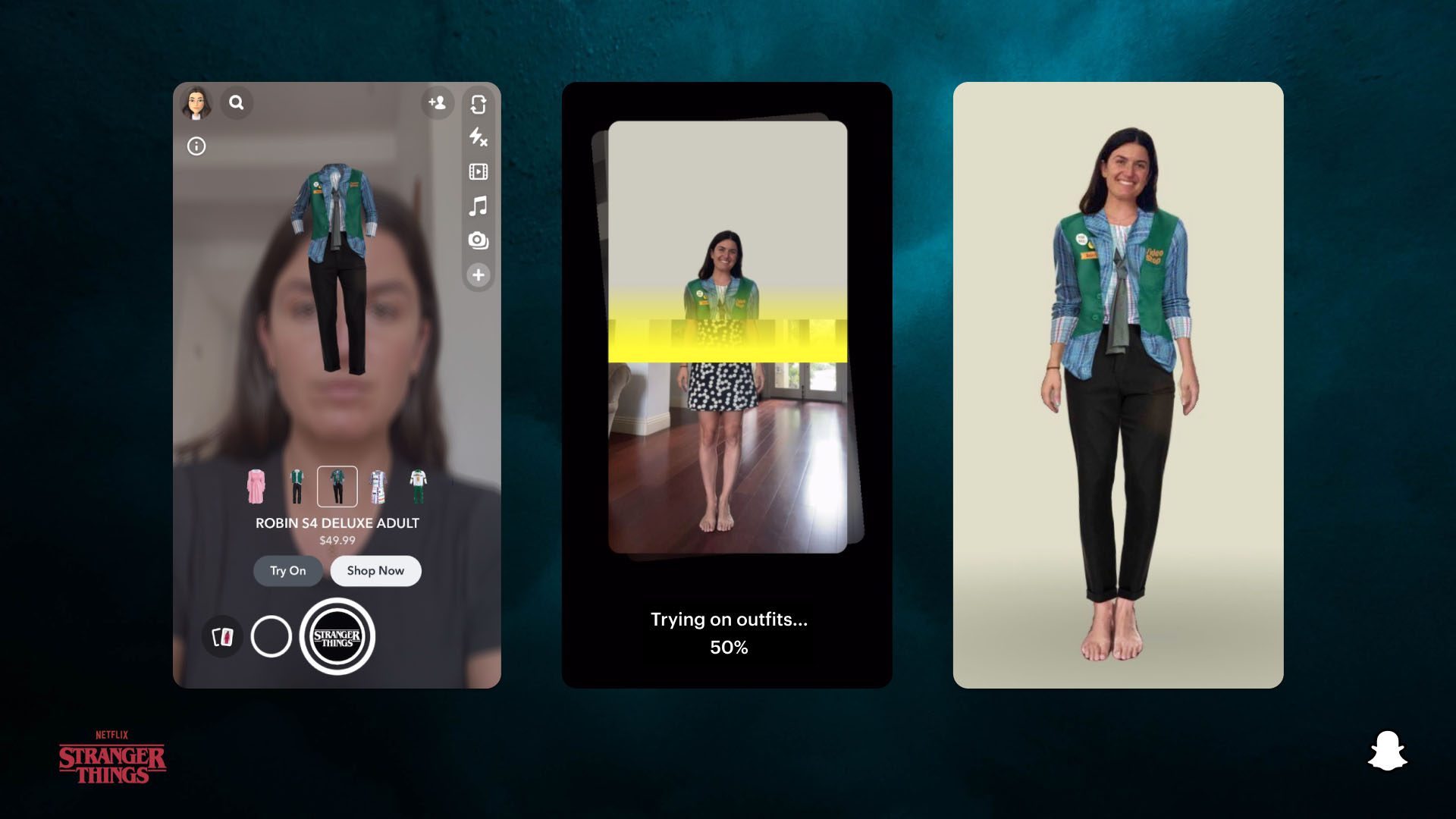 Snapchat's new AR experience includes costumes from popular movies and TV series including Harry Potter, Power Rangers, Transformers, Ghostbusters, Disney, Squid Game, The Office, Chucky, Cobra Kai, Jurassic World, Minecraft, and Stranger Things. This feature was created in partnership with the costume company Disguise Inc, a subsidiary of JAKKS Pacific, Inc.
"Imagining what a costume will look like on you is a big part of Halloween shopping. Snapchat's new AR try-on capabilities take the wonder out of your costume shopping experience," said Stephen Berman, CEO of JAKKS Pacific. "Disguise is excited to partner with Snapchat this year to bring these Lenses to life. We have enlisted some of our top licensors to help us create an enjoyable try-on experience for customers and fans. All Lenses will also have a direct line to purchase if you like what you see!"
Since January 2021, more than 250 million Snapchatters have engaged with AR shopping Lenses more than 5 billion times, with 92% of Snapchatters showing interest in using AR for shopping. After conducting a survey in partnership with consulting firm Ipsos, Snapchat found that 92% of Gen Z users are interested in using AR shopping.
Earlier this year, Snapchat announced its plans to expand its investments in AR shopping experiences. This included first creating a more prominent placement for Snapchat's "scan" feature inside the camera section and upgrading it with eCommerce capabilities. The announcement also involved introducing new AR tools that turn retailers' photos into 3D assets and the launch of an in-app destination for AR fashion and virtual try-on called "Dress Up."
The announcement regarding Snapchat's AR Halloween costume try-on feature is one of several AR shopping initiatives announced by companies over the past few years. Other companies such as Google, Pinterest, and Amazon are also leveraging AR shopping experiences to allow shoppers to virtually try on makeup, apparel, and accessories.
To utilize the new feature, simply search 'Disguise Costumes' or search the specific type of costume you want to try on like 'Harry Potter,' 'Power Rangers,' etc. in Snapchat's Lens Explorer. Snap a few full-body photos of yourself and then Snapchat's computer vision technology will instantly apply the product image directly onto the photo.
"These Halloween AR try-on experiences represent what makes shopping on Snapchat so seamless and fun," said Ben Schwerin, SVP of Content and Partnerships at Snap Inc. "We're thrilled to partner with Disguise to bring these Lenses to our community, as well as make choosing a Halloween costume that works for you, without ever having to step foot in a store, easier than ever on Snapchat."
For more of the latest news, check out surprising things that use VHB™ Tape, the bladeless wind turbine that generates 50% more renewable energy, the transparent ghost sculpture exhibit, and how VHB™ Tape could also save homes from hurricanes.