As travel continues to increase back to pre-pandemic levels, the tourism industry has had to evolve rapidly to keep up with the influx of visitors. To find out more about the current and future state of tourism, we talked to Greg Stevens, the Co-owner of the Circa Resort and Casino in Downtown Las Vegas.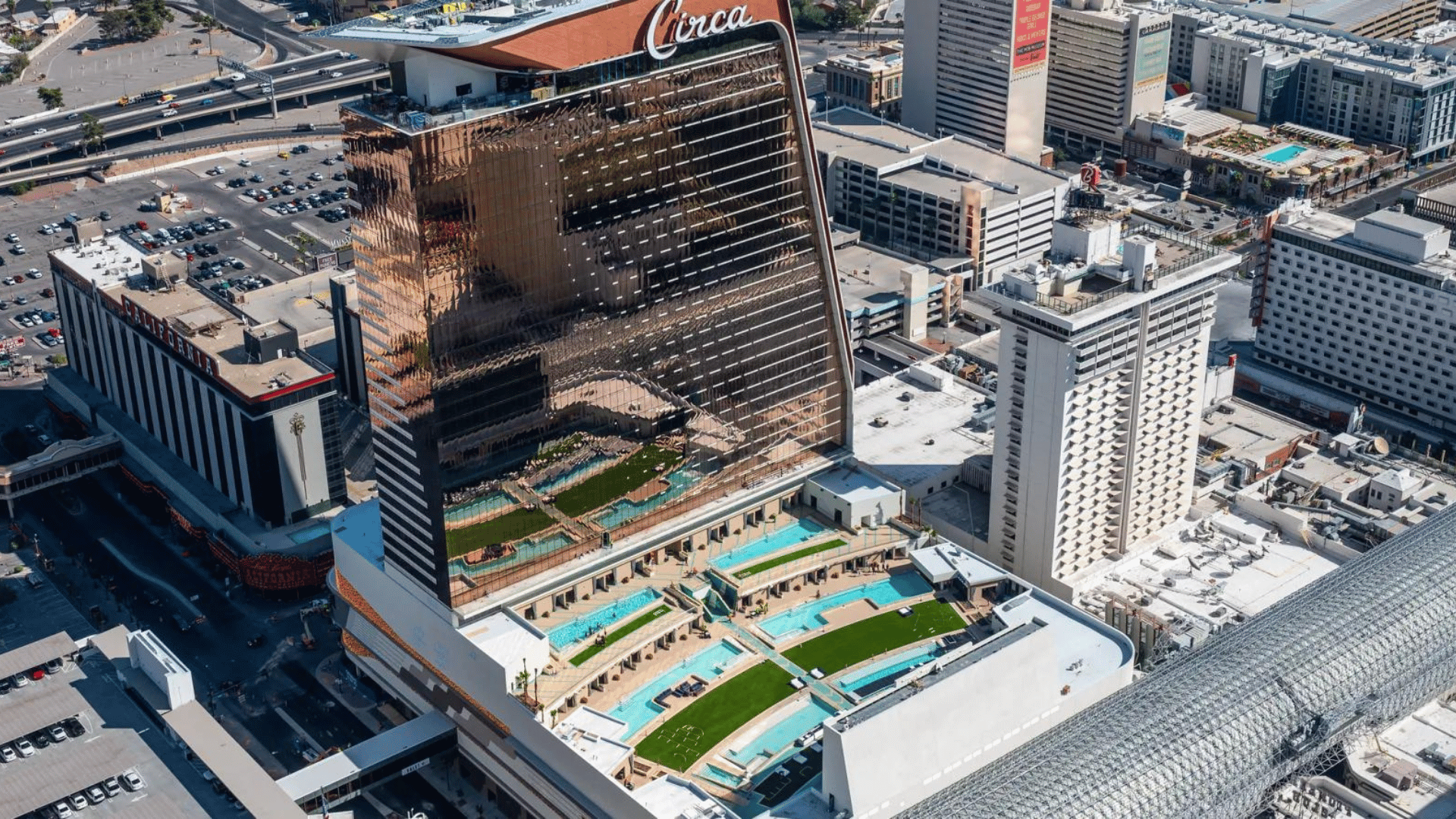 Tomorrow's World Today (TWT): Circa is the first hotel-casino to be built from the ground up in downtown Las Vegas since 1980. What have you done to set Circa apart from the many other hotel-casinos that are in the city?
Greg Stevens, Circa Hotel and Casino (GS): We wanted to take advantage of the "green sheet" and the ability to address some of the things that I think people have kind of seen around the city; we were able to use modern designs and new technologies to make the environment for our guests better, cleaner, and more pleasurable. We also have a set of amenities and attractions that are sports-based that are state-of-the-art. They really take advantage of the latest technology to give people the best viewing experiences for sports.
TWT: Circa has implemented many cutting-edge technologies to keep the hotel-casino running. In your opinion, what is the most technologically-advanced thing at Circa?
GS: The coolest guest-facing thing that I like is the way that we deliver the air into the building. It allows us to have a hundred percent fresh air from outside, and the air comes out of the floor. Most buildings have air ducts that are in the ceiling, but that's where all that hot air, smoke, and junk goes in the air. Why would you blow your clean air all through the dirty air? 
We bring the hundred percent fresh air right up from the floor, and it literally flushes from the floor to the ceiling constantly, flooding the ground from the floor up. For example, if somebody's smoking a cigar next to you, the cigar smoke goes straight up, and you can imagine anything else that comes out of their mouth or air that they're breathing is also going straight up. It's really the cleanest environment for the guests to be in.
TWT: In the episode, you show the Tomorrow's World Today team several ways that Circa stays as environmentally friendly as possible. Do you have a favorite sustainability innovation that you can share?
One green technology thing would be our refrigeration system, so how we keep our facilities cold. We have a variable-speed water-cooled central refrigeration compressor system that supplies the refrigerant to about 278 different coolers.
That's probably the greenest thing that we do, and it's pretty amazing—it can keep every single cooler exactly the temperature that I want it to be, no matter what the temperature is outside.
TWT: From the relatively new NHL team of the Golden Knights to the relocation of the NFL's Raiders and the tentative agreement to bring an MLB team to the city, Las Vegas is becoming a sports town. How have these major sports moves changed things from a hotel-casino perspective, and do you think they will change how people look at Las Vegas tourism?
GS: Oh, for sure. There's always been this invisible line between sports and gambling, and now it's the opposite—it's embraced. Having the teams in town means that many more fans from opposing teams are coming in and visiting.
My brother and I have always been huge sports fans and embraced this entirely. When we were designing the building, everybody said, "Why are you building a big sports book?" Everyone was getting rid of their sports books and putting in slot machines instead. We said, no, we're going the other way, we're going big. I think it's shown that we probably made the right decision there. I think the city as a whole is definitely embracing sports more, and that's the centerpiece and core of what we do.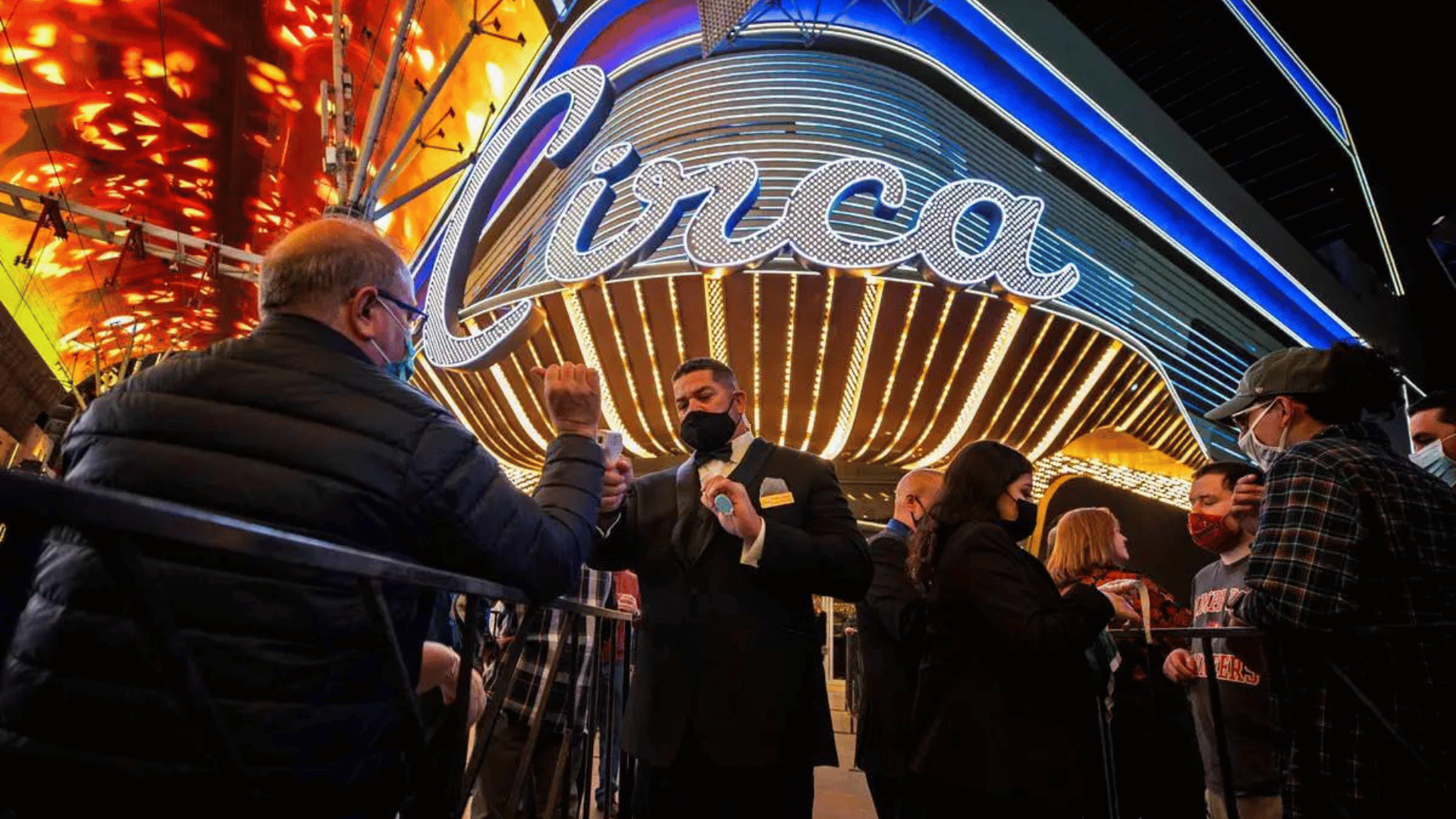 Guests getting their temperatures taken outside Circa while waiting to enter the resort during its first night in 2020; Photo Credit: Benjamin Hager/Las Vegas Review-Journal
TWT: Circa opened amid the COVID-19 pandemic. Can you talk more about what opening in a pandemic was like?
GS: It was difficult, there's no question about that. It was kind of scary to open up right smack in the middle of it, and we had to be able to be flexible and pivot quickly and adapt. Fortunately, the governor gave us the go-ahead to stay under construction during the whole thing.
Having some outside venues like our stadium swim really helped because it was outside so people could be out there and not have a mask on. The pool water is clean and heavily chlorinated, so that helps!
The pandemic also validated some of the basic things we do, like bringing fresh air from the floor. During COVID, we didn't get a whole lot of credit for that because it's so different, but we know our guests appreciated the fact that we flush our building with a hundred percent fresh air right from the floor. It's stuff that made sense and dominoes fell in the right direction and made one good decision sort of lead to another.
TWT: What change do you think will be made in the tourism industry in the next few years?
GS: I predict to see in the industry a more customized experience for better customer service. With new technology, you can definitely create more personalized and customized experiences where people can register their likes and dislikes. As a hotel operator, you can address those ahead of time and have the space ready for your guests when they get there and know the things that they like. Technology can also put things more in the guest's hands to get what they want easily, like voice commands and different lighting controls.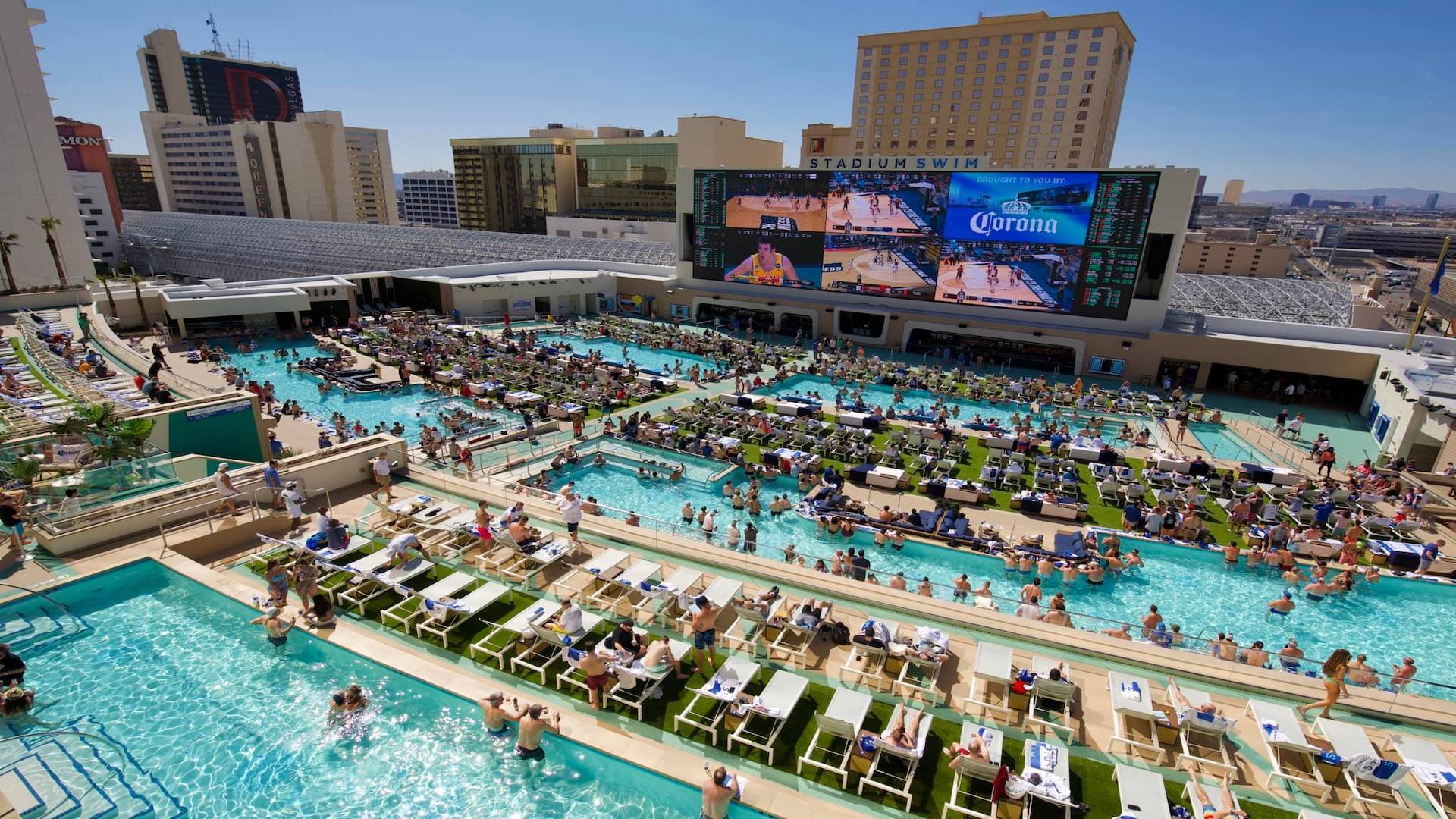 Photo Credit: Circa Stadium Swim via Facebook
TWT: What changes would you like to see in the tourism industry?
GS: I think cleanliness is an increasingly important thing to everybody, and I would like to see higher levels of care for sanitation. We have super clean water in our pools, and I think this was something that was taken for granted before and not really addressed. We took it very seriously and wanted our water to be clear, clean, and perfectly sanitary all of the time. We did some testing where you take a petri dish and see what grows there—a lot of the pools in Vegas have done very badly when it comes to that test on a Saturday afternoon. But we've done that test at Circa at the worst possible times in our pools, and we've always come back with non-detectable results, which is the absolute best result. It means that there's absolutely nothing in the water that can grow at all.
For more information about Circa Resort and Casino and the future of tourism, check out our full episode below.