In January 2022, Mercedes-Benz unveiled their new VISION EQXX electric vehicle concept car which has a range of more than 1,000 km (620 miles) on a single battery charge. This means that a single charge can take you from Berlin to Paris and from New York City to Cincinnati! In production, this would be the world's longest-range electric vehicle.
Longest Range & Groundbreaking Efficiency
The 1,000 km (620 miles) range means that the car has an energy consumption of less than 10kWh per 100 kilometers, an efficiency of over 6 miles per kWh. The VISION EQXX also has a drag coefficient of 0.17, a record value for electric vehicles. By comparison, a football has a drag coefficient of 0.18 to .2, meaning that the car is more aerodynamic than a football! Furthermore, the car's energy efficiency is 95 percent, meaning that 95 percent of the energy stored in the battery reaches the wheels. An average vehicle with an efficient internal combustion engine achieves just about 30 percent efficiency.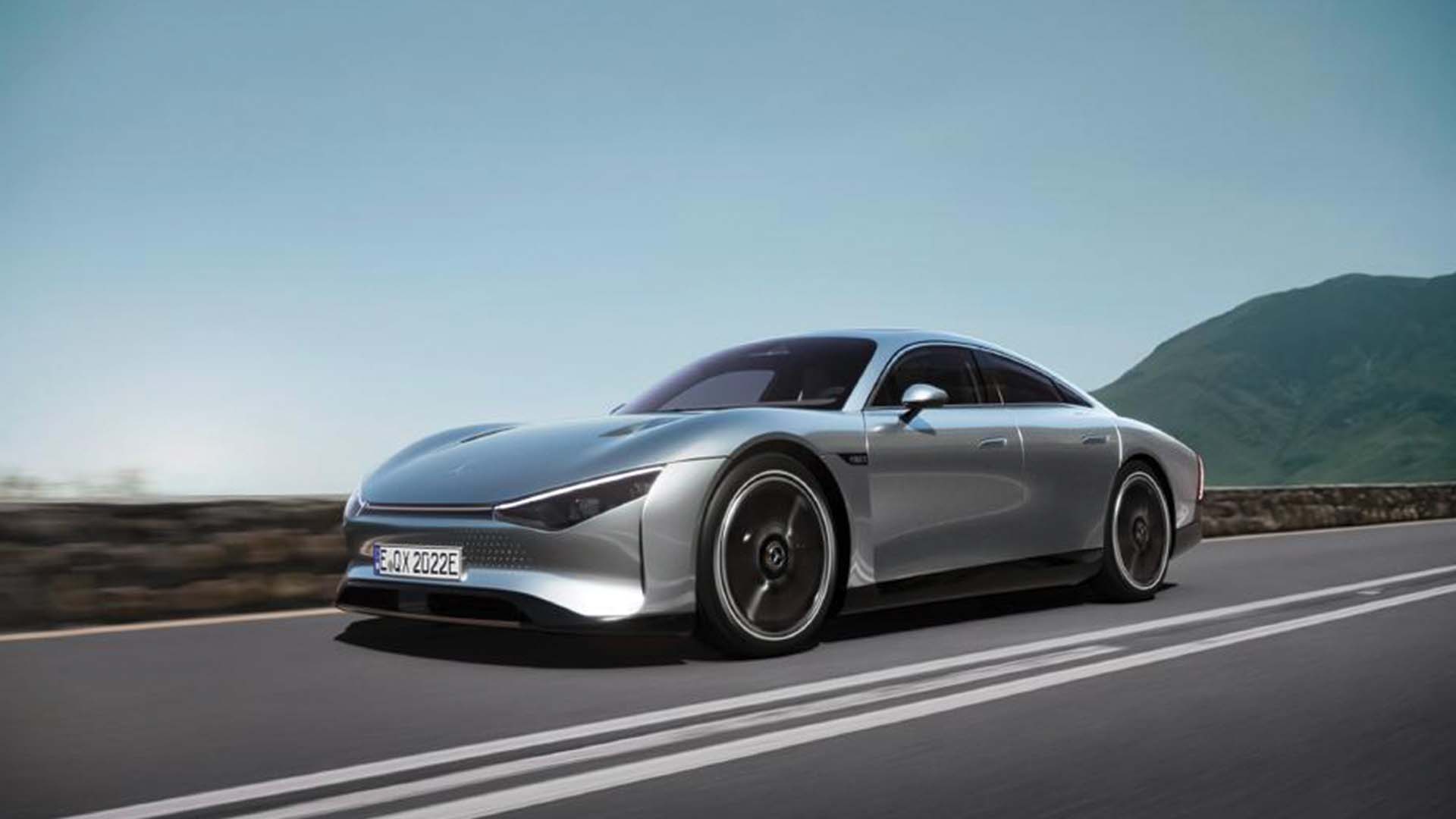 Mercedes-Benz achieved this range and efficiency due in part because of the car's innovative exterior design and aerodynamics. For example, the car's front face is small, the rear wheel track is narrow, and the wheels have transparent external covers, all to prevent a great deal of air turbulence and to allow air to flow more efficiently. Given that a typical electric vehicle dedicates about two-thirds of its battery capacity to counter air resistance, the 0.17 coefficient, 95 percent efficiency, and 1,000km range are groundbreaking. 
Solar Energy
VISION EQXX's electric system is also extremely innovative—it draws additional energy from the 117 solar cells on the roof. This solar energy reduces the energy demand of the battery system, leading to an increase in range. On a single, sunny day, this can produce up to 25km (15 miles) of extra range for long-distance journeys, perfect for road trips! 
The car's solar energy is stored in a lightweight lithium-iron-phosphate battery, and it supplies a climate blower, the lights, the infotainment system, and other ancillaries. Fraunhofer Institute for Solar Energy Systems ISE, Europe's largest solar energy research institute, collaborated with Mercedes-Benz to develop this cutting-edge electric system.
Sustainability
In addition to the use of solar energy, VISION EQXX is full of other sustainable aspects. For example, AMsilk, the inventor of biofabricated fiber, makes the door pulls out of BioSteel fiber, a biotechnology-based and certified-vegan silk-like fabric. The leather in the seat cushions of the car is MyloTm, a bio-based, verified vegan leather alternative made from mycelium (the underground structure of mushrooms. The floor's carpets are made from 100 percent bamboo fiber, a fast-growing and renewable raw material.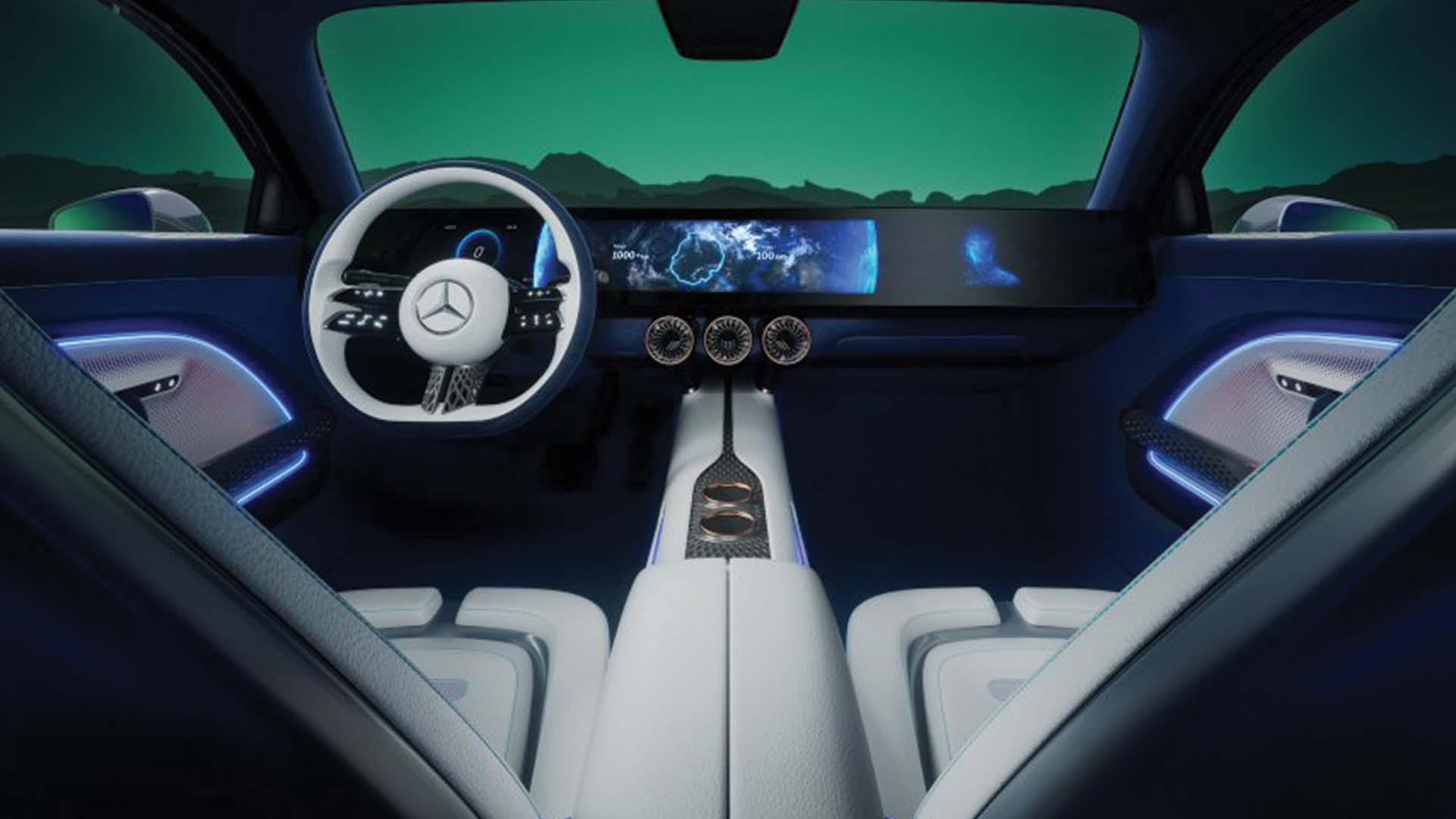 Furthermore, the outside of VISION EQXX makes extensive use of recycled waste materials, such as the recycled PET bottles used to enhance the floor area and door trim. The interior also features UBQ material, a sustainable plastic substitute made from household and municipal landfill waste.
Future of VISION EQXX
Many companies create concept cars to showcase outlandish technology that is too expensive and too improbable for use in actual production. However, Mercedes Benz emphasizes that this is not the case for VISION EQXX. They call it a research car, where the focus is on highlighting reasonable technology that can and will be used in the future. The company hopes to have a similar car in production by 2024.