Hilton Hotels and Voyager Space, a global leader in space exploration, have announced plans to design an Earth-orbiting space hotel called Starlab. Although it's initially being designed for use by astronauts, this project is taking humanity one step closer to making space travel more commonplace and accessible.
First announced in 2021, the complex is currently under development by Voyager Space Holdings and Lockheed Martin. Voyager, along with its operating company Nanoracks, were awarded $160 million in NASA funding in 2021. The Starlab Space Station is one of the four being built by U.S. companies to succeed the International Space Station in 2030.
"Starlab will be more than just a destination, it will be an experience made infinitely more unique and artful with the Hilton team's infusion of innovation, expertise, and global reach," Dylan Taylor, Chairman and CEO, of Voyager Space, said in a press release. "Voyager and Hilton are acutely focused on creating innovative solutions for the future of humanity and this partnership opens new doors to what is possible for comfort-focused space exploration and habitation."
Though the hospitality and space industries have envisioned the idea of a hotel in space for quite some time, this partnership is the first of its kind among private stations in development. At the 2022 International Astronautical Congress, Taylor told CNBC  that he's excited by the "unique perspective" that Hilton brings to the project because "they're not space people".
"It's almost like looking at it with a fresh set of eyes and saying: How do we reimagine this experience?"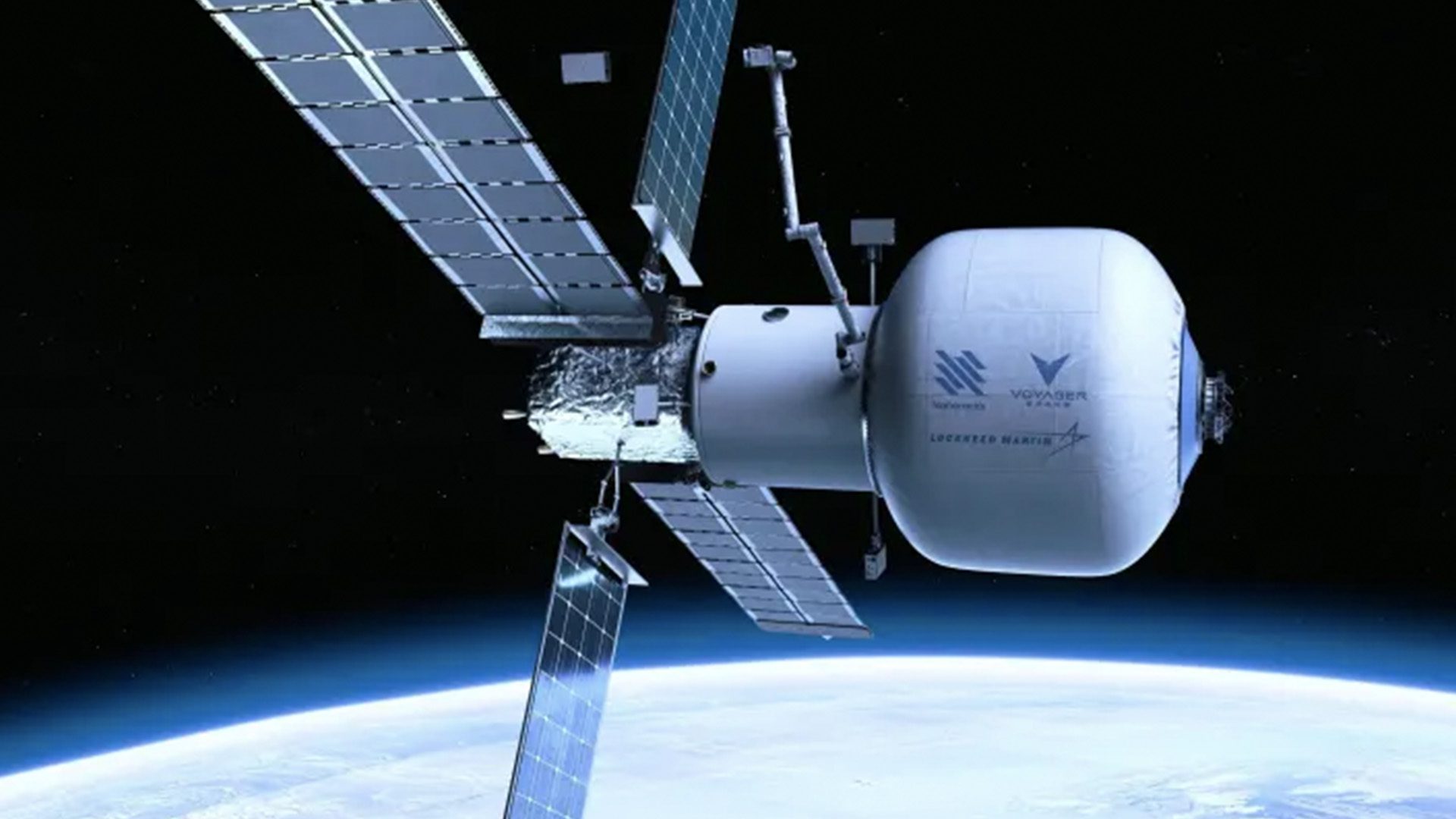 In addition to designing hospitality suites, sleeping arrangements, communal areas, and crew headquarters, Hilton will also work with Voyager to create opportunities for marketing the space station and astronaut experiences onboard. This would include long-term efforts such as global co-marketing and branding, "ground-to-space" astronaut experience, and additional educational, tourist, and commercial efforts. "Hilton will bring the company's renowned hospitality expertise and experience to support the design and development of crew suites aboard Starlab, helping to reimagine the human experience in space, making extended stays more comfortable," officials said in the joint statement.
The partnership originated during Hilton's first space-related project "Cookies in Space" in 2020. This project involved tasking astronauts aboard the ISS to bake DoubleTree chocolate chip cookies as the first experiment on baking food in space. Hilton has hinted that the Smithsonian may display at least one of the chocolate chip cookies that returned from this trip.
 Voyager anticipates beginning manufacturing in the third quarter of 2023 and hopes to have the station up and running in low Earth orbit by as early as 2027. The long-term goal is to create multiple stations for different market needs and they currently have plans for nine space infrastructure and technology businesses.
"For decades, discoveries in space have been positively impacting life on Earth, and now Hilton will have an opportunity to use this unique environment to improve the guest experience wherever people travel. This landmark collaboration underscores our deep commitment to spreading the light and warmth of hospitality and providing a friendly, reliable stay – whether on the ground or in outer space," said Chris Nassetta, president and CEO, of Hilton.
For more space news, check out James Webb's incredible images of Neptune, a new proposal for an extremely powerful nuclear reactor in space, the newly discovered planet that could be suitable for life, and the graphic designer behind the James Webb Telescope images.