NASA announced that the Artemis 1 mission will launch on either September 23 or September 26. The Artemis 1 mission will be the first integrated test flight of NASA's Deep Space Exploration Systems including the Orion spacecraft, Space Launch System rocket, and the Exploration Ground Systems at Kennedy Space Center. The launch was first set for August 29 but was delayed because of a faulty sensor on an engine cooling system. Artemis I failed to launch for the second time on September 3 after the Space Launch System (SLS) suffered a leak in a liquid hydrogen valve.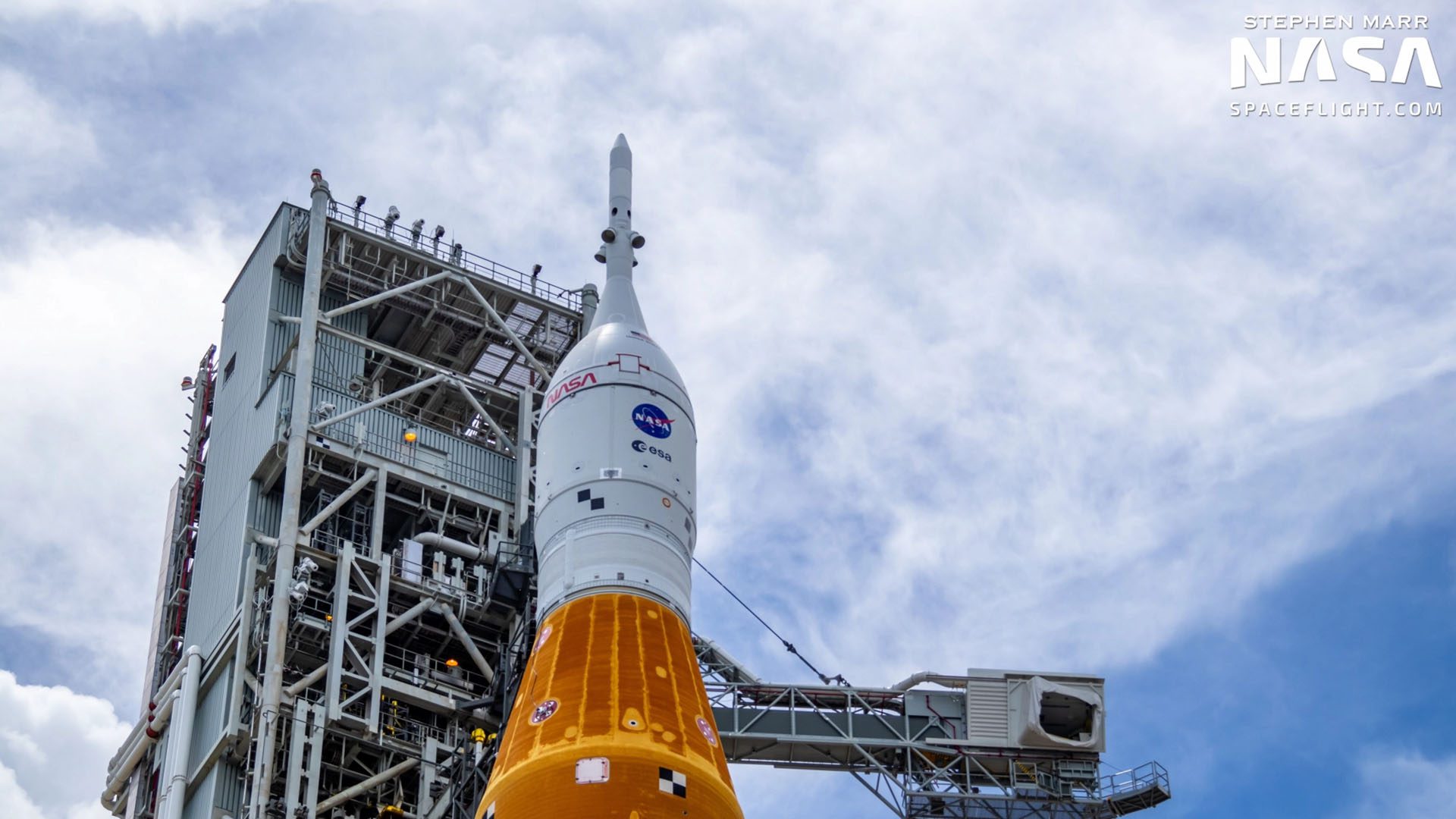 What is Artemis 1's Purpose?
Artemis 1's primary objective is to carry out a safe crew capsule entry, descent, splashdown, and recovery. The mission will provide a foundation for future missions in deep space exploration—Artemis 1 is the first in a series of increasingly complex missions in the Artemis program to enable human exploration of the Moon and Mars. 
As Mike Sarafin, Artemis 1 mission manager at NASA headquarters, explains, "This is a mission that truly will do what hasn't been done and learn what isn't known. It will blaze a trail that people will follow on the next Orion flight, pushing the edges of the envelope to prepare for that mission." 
How Will Artemis 1 Launch and Return?
NASA¹s Space Launch System (SLS) rocket will launch with Orion at the Kennedy Space Center in Florida. The SLS rocket is designed for missions beyond low-Earth orbit carrying crew or cargo; it will produce 8.8 million pounds of thrust during liftoff.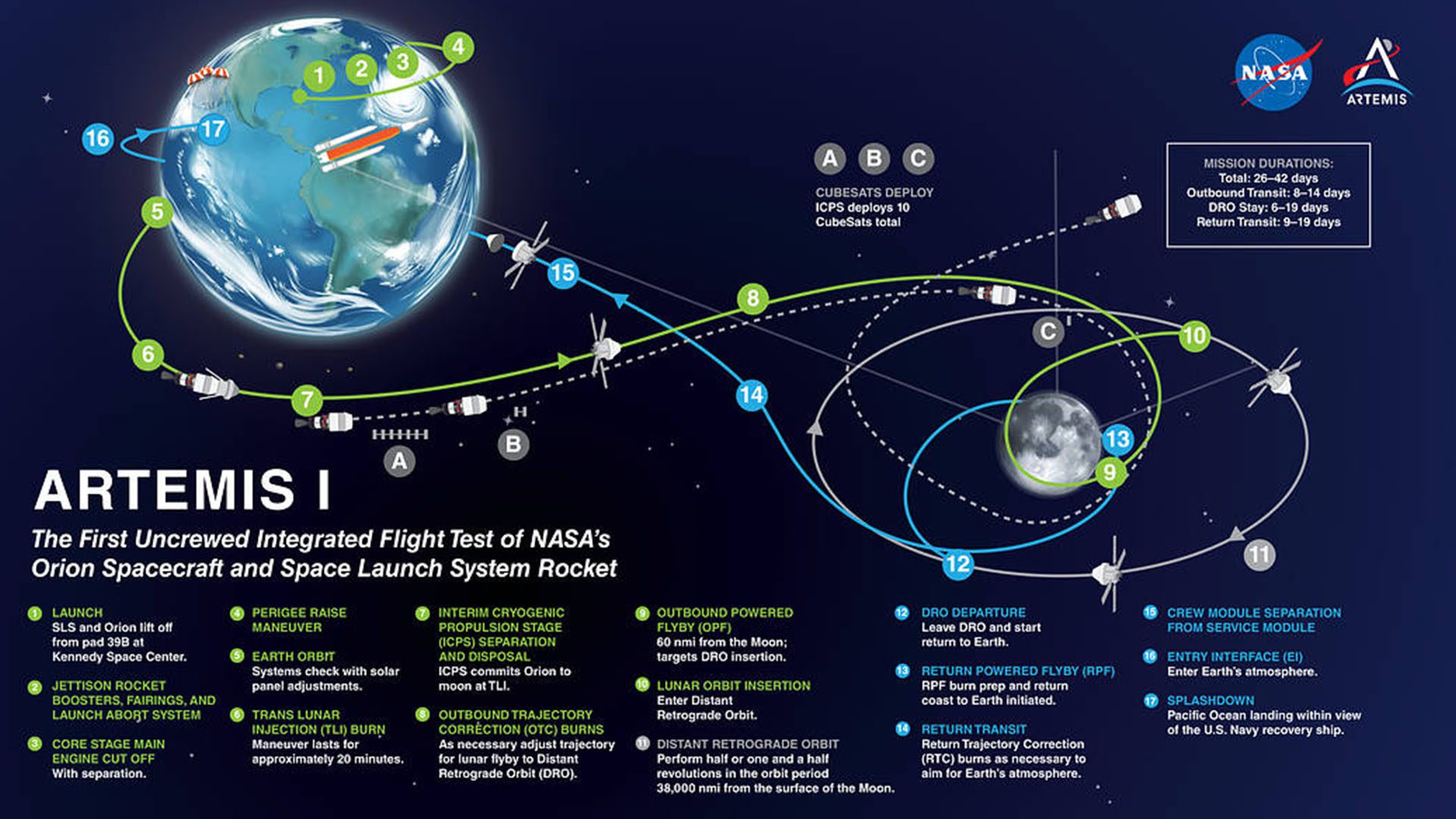 As the spacecraft makes an orbit of Earth, it will deploy its solar arrays and the Interim Cryogenic Propulsion Stage that will allow Orion to detach and leave Earth's orbit. Orion will travel 280,000 miles from Earth—farther than any spacecraft built for humans has ever flown. Orion will be propelled by a European Space Agency (ESA)-supplied service module that will supply the spacecraft's main propulsion system and power. 
After several days of traveling to the Moon, the uncrewed capsule will do a close flyby of the Moon before entering Distant-Retrograde Orbit about 38,000 miles from the lunar surface. Orion will remain in lunar orbit for about six days to collect data and have its performance assessed by mission controllers. After completing another close flyby to the Moon, Orion will leave lunar orbit thanks to ESA's service module. The capsule will reenter Earth's atmosphere and splash down in the Pacific Ocean about six weeks after its launch. 
What Comes Next?
Unlike Artemis 1, the Artemis 2 mission is expected to launch a crew of four astronauts into space. The astronauts on Artemis 2 will test Orion's critical systems with humans aboard and will travel farther into the solar system than humanity has ever traveled before. Artemis 2 is expected to launch in 2024. 
By 2025, NASA hopes to return humans to the moon's surface on the Artemis 3 mission. These astronauts will be the first humans to walk on the moon since Apollo 17 in 1972. Through the Artemis missions, NASA will also land the first woman and the first person of color on the Moon.
How Can I Watch The Artemis 1 Launch?
If you can't make it to the Kennedy Space Center in Florida to watch the Artemis 1 launch in person, don't worry. NASA will begin its live stream coverage of the event on its YouTube channel at 8:33 PM EST on Monday, August 29. You will also be able to watch the live coverage here at Tomorrow's World Today.