There are some artists who keep their identities secret. This makes sense to a degree: graffiti artists would understandably want to be kept on the low, given their art is essentially vandalism. But while the Banksys of the world hide in the shadows, HuskMitNav is more than happy to be in the spotlight. Almost.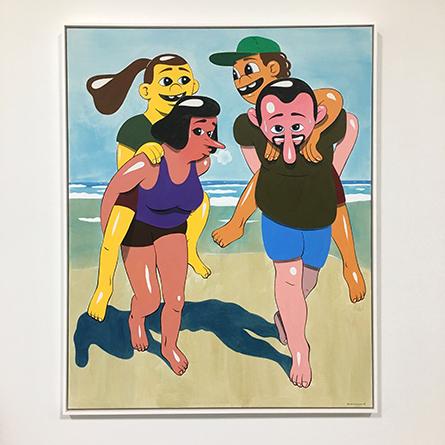 HuskMitNav ("Remember My Name" in English) is a Danish artist whose art style resembles the animated cartoons of the 1950s. Wide, Astro Boy-esque eyes, oversized noses, and expressive mouths- you'd be forgiven if you thought you stumbled across stills from Felix the Cat. These characters are often engaged in everyday scenarios turned on their head. For example, one work depicts a man on a stepladder changing a lightbulb… while his young son is barreling towards him in an Angry Birds costume.
While he's done several exhibitions showcasing his acrylic paintings and murals, his latest series is more old-school. Pen and paper sketches are ripped or folded in a way to give the appearance of a 3D image. In an interview with Colossal, HuskMitNav said "it's a long process coming up with 3D drawings. I have been making so many drawing [sic] on flat paper my whole life and one day a few years ago I just started to experiment with the paper to see if I could add another dimension to it." It works- a tear becomes the water from a hose or faucet, and folds become a set of stairs.
The art style is also not a coincidence. HuskMitNav told TheHundreds that his biggest inspirations include Walt Disney, Charles Burns, and the Asterix comics. At least, those are the people he's been influenced by. "My simple everyday life is my main source of inspiration. I try to squeeze as many ideas out of it as possible." This is also why his scenarios are often more grounded in reality.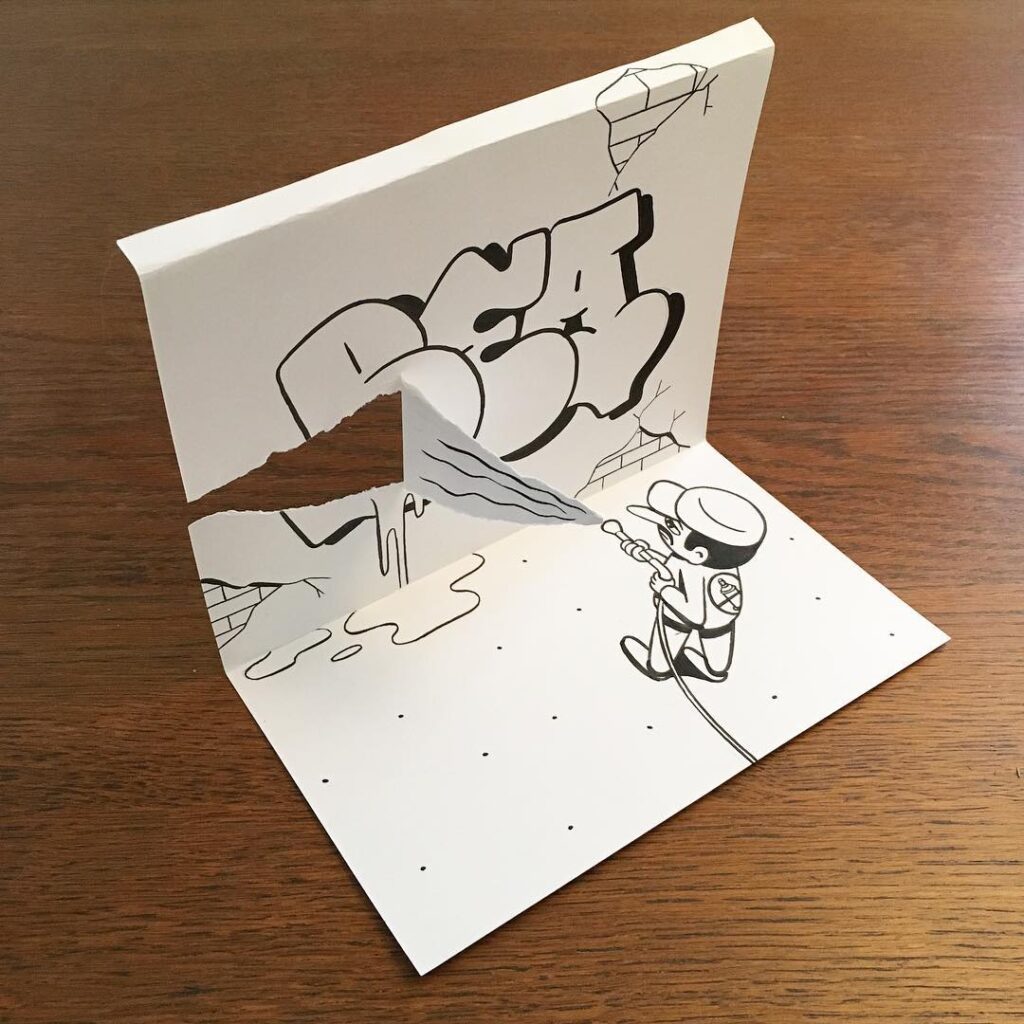 He also developed his style in school. "I studied to become an art teacher," HuskMitNav explained, "but I never wanted to teach. I spend a big part of my life alone in my studio working on developing my art. You really have to like your own company to become an artist." However, HuskMitNav is not necessarily alone; many of works have found their way into collaboration/group exhibitions.
His last group exhibit was "Beyond the Streets," a showcase of vandalism in a contemporary art context.  The show included art by Kilroy Was Here, Keith Haring, and yes, Banksy. It was curated by Roger Gatsman, who is described on the "Beyond the Streets" website as having "made a career of being the cultural connector between street artists and the world."
HuskMitNav's current solo exhibit is called "TEGN" and is on display at the Nikolaj Kunsthal in Copenhagen through January 2019. "Tgen" translates to "draw," sees the Lower Gallery "transformed into a colorful universe." The exhibit is appropriate for both children and adults, if you're lucky enough to be in town during the exhibition.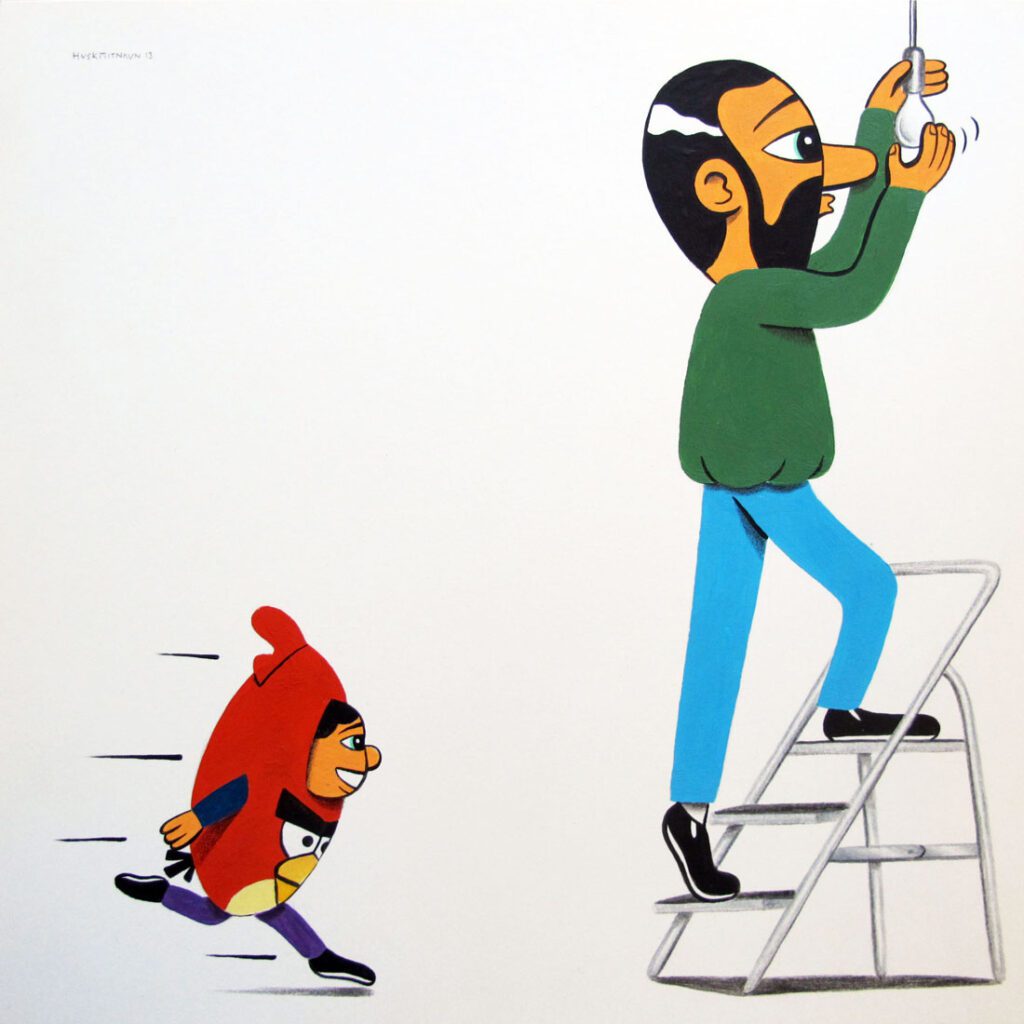 If not, HuskMitNav is easily found on Tumblr, Instagram, Facebook, and his own website. You can also buy prints to enjoy at home, or a copy of his book, The Wrong Book. And no, even with a handful of print books under his belt, his identity is still under wraps. "It's like wearing a uniform," he told It's Nice That. "I can leave it at my studio and when I walk out the door no one connects my work with my face, which gives me the possibility to not think about work all the time."
Follow our World of Creation where "what if" becomes "what is."